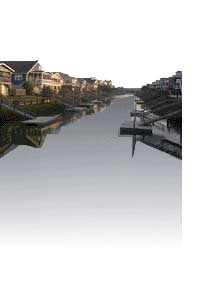 Veness Travel Media

Various Bloggery!

What We're Doing and Where We've Been
The Heart of Hawaii

While we have written reams about our December trip to the Aloha Isles, we couldn't let it pass without a few extra thoughts here on Veness Travel Media as it made a huge impression on us and is definitely in our Top Three of must-visit cruise destinations (along with Alaska and Chilean Patagonia). When it comes to the truly great areas of the world, you need memorable sights and experiences in equal measure and Hawaii definitely has this, in spades, along with some of the friendliest people you will ever meet. Much is made of the Aloha spirit, and it sounds too good to be true, but it is genuine and convivial and definitely one of the factors that gets under your skin and leaves you wanting more when you leave.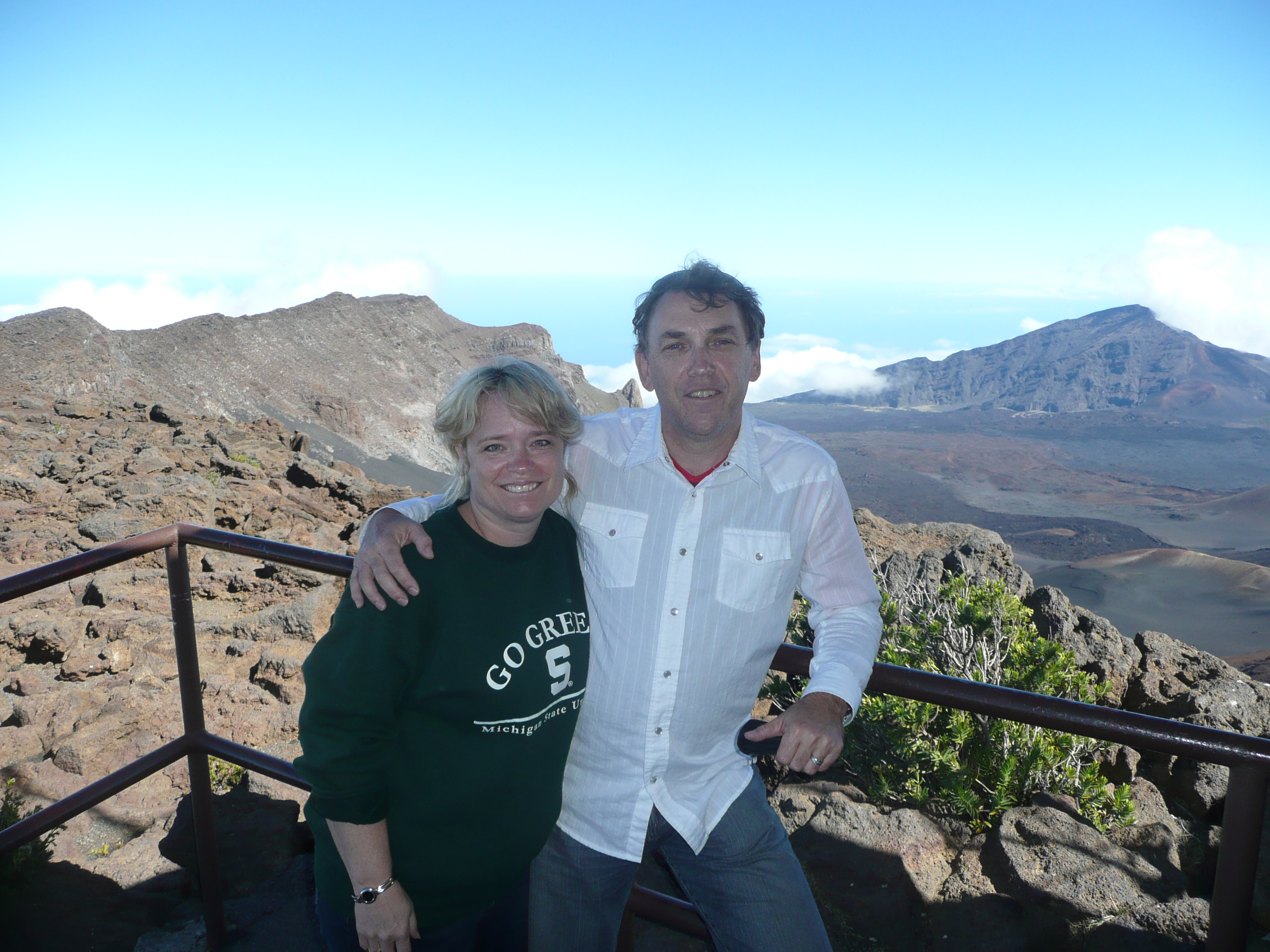 Each of the islands offers something vivid and new, from spectacular volcanic mountains and other rugged peaks to tropical rainforest and beautiful beaches. There's great coffee (Hawaii is the only US state to produce coffee and vanilla, thanks to its blissful, year-round climate), superb water-sports, excellent local food (especially the seafood) and even a great local brewery. The obvious attractions of Volcanoes National Park, Pearl Harbor, Waimea Canyon and Haleakala Crater (left) are truly epic in their scope and views, but there is plenty of small-scale delight, too, with great plants, birdlife and the island delicacy of Macadamia nuts.

It's actually hard to go wrong with just about anything you do on the islands, and the discovery of amazing adventure-attraction places like the Kualoa Ranch on Oahu, with its superb setting (that makes it very popular with film-makers), added an extra layer of excitement to the trip. We explored with both the expert local tour service of Roberts Hawaii and under our own steam with a hire car, and we wre lucky to discover things like a surfing contest on the North Shore on Oahu and the little town of Makawao, that proved a minor shopping treasure. When we looked back at a seemingly endless array of amazing sunsets, great meals (both ashore and onboard the Pride of America), unique shopping, mountain backdrops and superb coastal scenery, it was hard to credit just how much we packed into the 11-night/12-day trip. Our hotels on Oahu - the Modern Honolulu and Kahala Resort in Waikiki and Disney's stunning Aulani Resort on the west coast - were all different and all immensely comfortable and attractive and even if you just fly to Oahu and stay on that island, you will be sure of an amazing experience. But do try to take in more, especially by ship. We can promise it will be the trip of a lifetime.
Soyka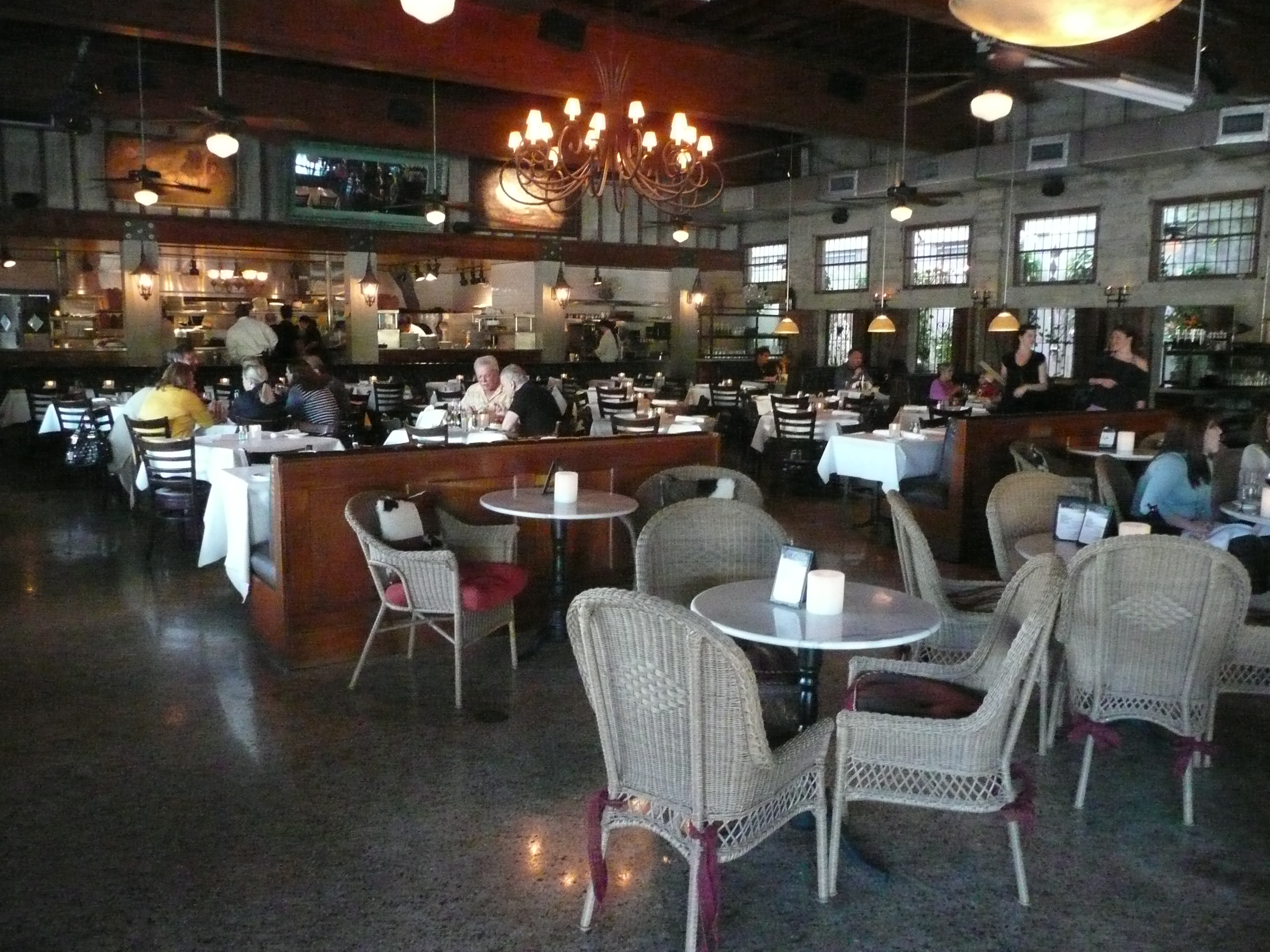 Located about 25 minutes outside of the South Beach area, Soyka began its life as a train station, then became the warehouse for a wealthy man's vintage car collection, and now attracts Miami residents to its comfortable surroundings and equally comfortable menu. From the outside it looks like the upscale restaurant that it is. From the inside you can see its former incarnations, with an overlay of elegance that softens the cement walls and turns a small interior alleyway into a wonderfully eclectic—and pleasingly private—seating area. While the main dining area is perfect for families, business associates, and casual acquaintances, this slender strip of real estate one step down and off to the side is just the place you want to be for a girlfriend's lunch when there are secrets to be shared, or for couples who want to gaze into each other's eyes and whisper sweet nothings.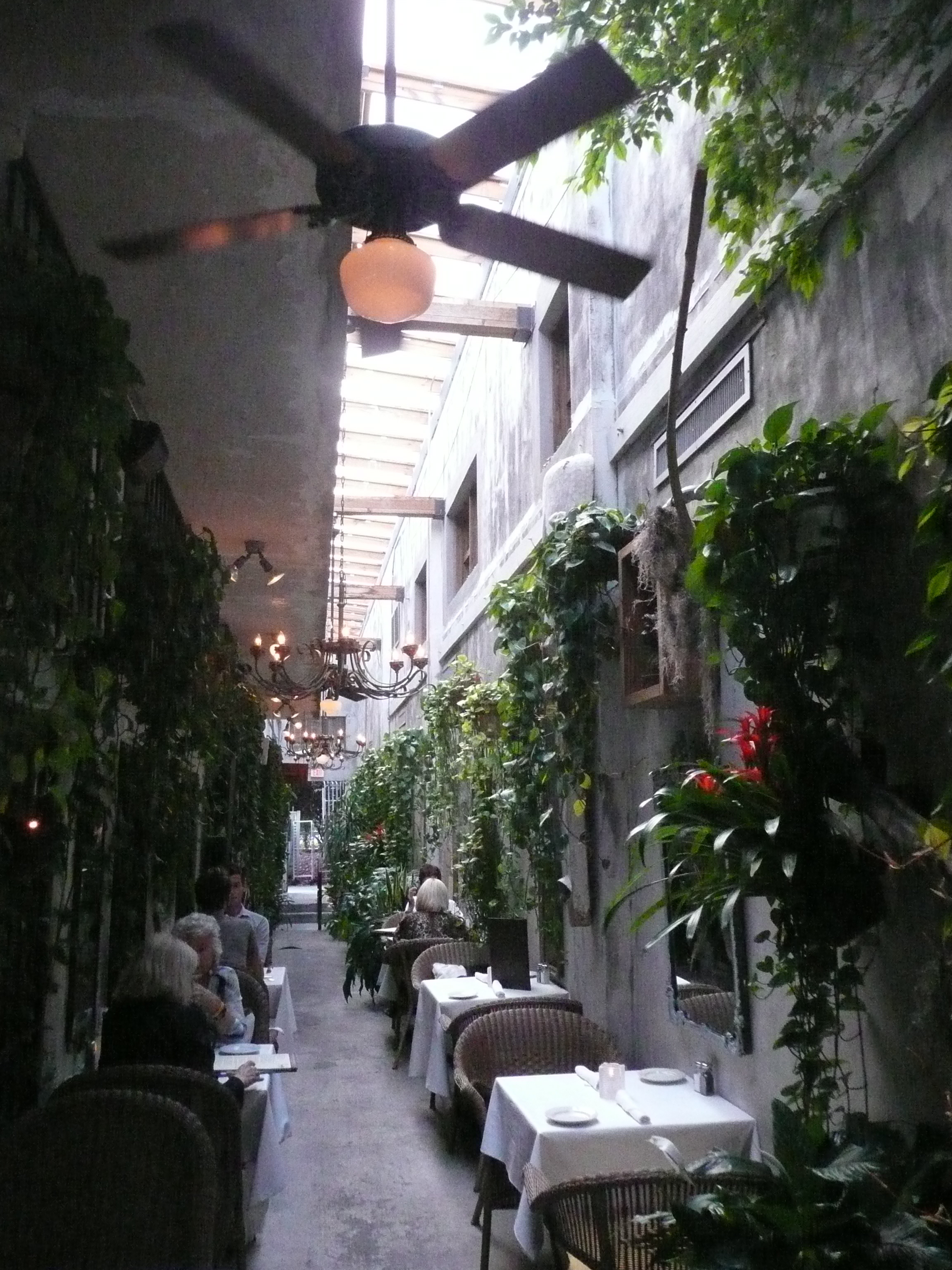 Mr. Soyka, the car collector/restaurateur, got it right when it came to creating a casual yet refined dining experience. The menu features comfort foods such as deviled eggs, beer battered onion rings, burgers, and pizza, coexisting seamlessly with Peruvian ceviche, lobster ravioli, and sesame seared salmon. We shared a ceviche and house-made tortilla chips starter and some citrus rosemary marinated olives as we unwound from our busy day, aided by a mojito for each of us.
Then it was on to the main course. Simon chose the seared Yellowfin Tuna, done rare, with rice, stir-fry vegetables, and a lime soy sauce. The tuna came in two generous triangles that had been threatened with a bit of heat so that the outside was beautifully tanned but the inside remained red. I had Grilled Chicken Paillard with mashed potatoes and wilted spinach, ringed with a red wine reduction, pine nuts, and sundried tomatoes. Again, the portion was more than enough; a whole chicken breast pounded thin and quickly seared to retain its moisture. Both meals were wholly satisfying, and when we were done we were able to resist the waiter's suggestions for dessert, though Simon was severely tempted by the Sticky Date Pudding with warm toffee sauce and vanilla ice cream. But you have to know when to say "enough is enough"—which we don't say nearly often enough—and we had another meal coming the next night, so we called it a night and plunged back into the mania of South Beach.
The Beacon Hotel, South Beach

Mid-way through our Miami stay we moved to The Beacon hotel on Ocean Drive. Smart, modern, and perfectly positioned for all the fun on South Beach, the hotel is light, bright, and an excellent spot for people watching. With the beach right across the street it would be hard to imagine a better placement.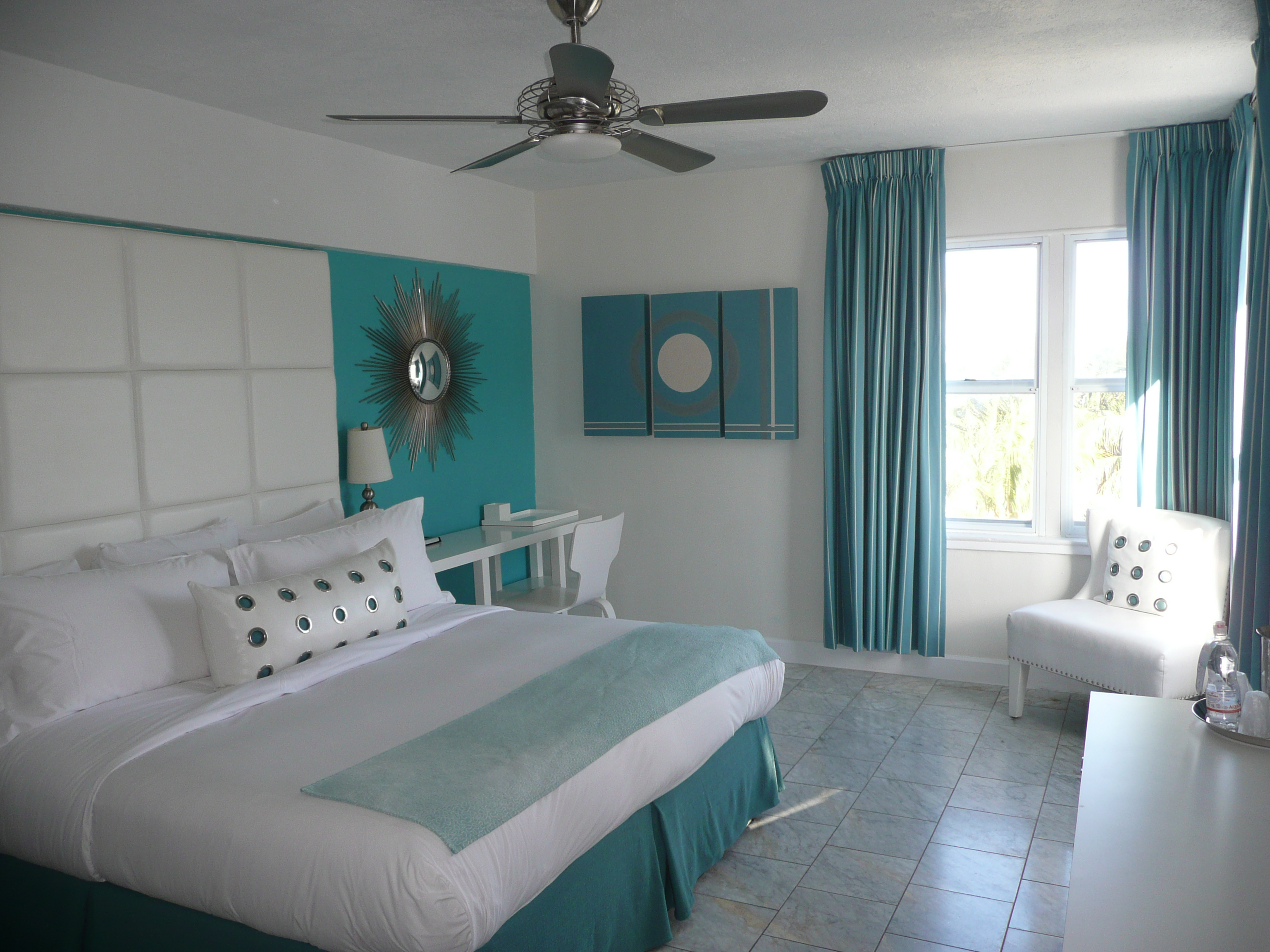 As it happened, Spring Break was in full swing during our stay. It's a time of year in south Florida that takes me back to my own Spring Break, which is not something I intend to talk about here, or anywhere else for that matter. Suffice it to say, things haven't changed much, and if you're looking for one heck of a party, you'll find it every night of the week for about a month. The atmosphere is super-charged with "see and be seen", though there are times when you'd rather skip the "see" part, and surely there are times when others prefer not to be seen. So it was with some trepidation that we made the move. By "we", I mean "me." Simon was all in favor, being one who thrives on high-energy settings, and this was certainly it. If South Beach were a movie scene, it would be the scene in Spinal Tap where the guitarist, referring to his amplifier, says to the documentary maker, "Yeah, but ours goes up to 11!"

Ocean Drive was spam in a can, the sidewalks were shoulder-to-shoulder, and I expected the worst as we checked into The Beacon, giving our car to the valet out front since there is no parking right at the hotel. Rather than being a curse, this was a blessing. Quick, efficient, the valet whisked off down the road to some hidden spot, and in the course of the two nights we stayed there, never once did we wait for the car to be returned, nor did we have any hint that it wasn't in the best of hands. We were very impressed by these hard-working men who were always ready with a smile and our car keys. Our room faced the ocean, and while it was slightly sparse in some ways, it did give off the Art Deco vibe the area is known for, and was a perfectly comfortable retreat for the next couple of days. We heard no noise from our neighbors on either side, and while each night featured a Flamenco dancer on the patio right below our 5

th

story room, the staccato sounds as she stamped around the raised wooden stage she brought with her were never obtrusive. I was astonished, and delighted.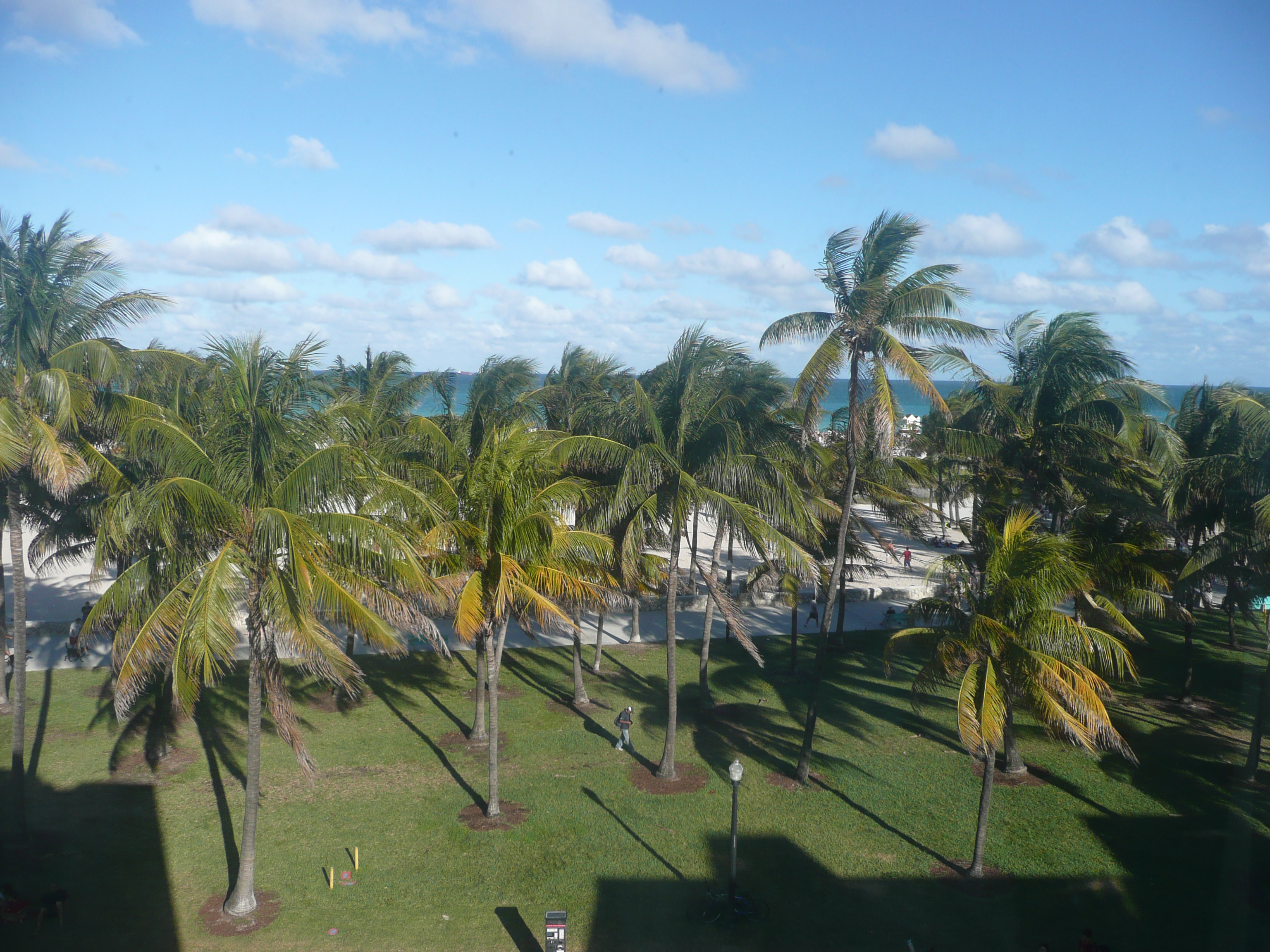 Each morning we were given a voucher for a full, hearty breakfast, which we enjoyed outside on the covered two-tiered patio. This was more my scene than night-time had been. To be fair, we never saw or heard anything out of line in the evenings, just a big, rowdy party going on. But I like sedate, and I could imagine visiting outside of Spring Break month, when the area would be truly enjoyable with just a bit less traffic, both human and vehicular. And it was a wonderful place to people watch, with families, couples, Seniors, and college students setting themselves up for a fabulous sun-soaked day at the beach. If we had had more time we would have grabbed a couple of beach towels from our room and the two sun-lounger chairs from our closet, high-tailed it across Ocean Drive, and joined them in a blissful day or two listening to the sound of the waves. Instead, we imagined how lovely that would be, and wondered if a return trip in autumn might be on the cards for us.
Salumeria 104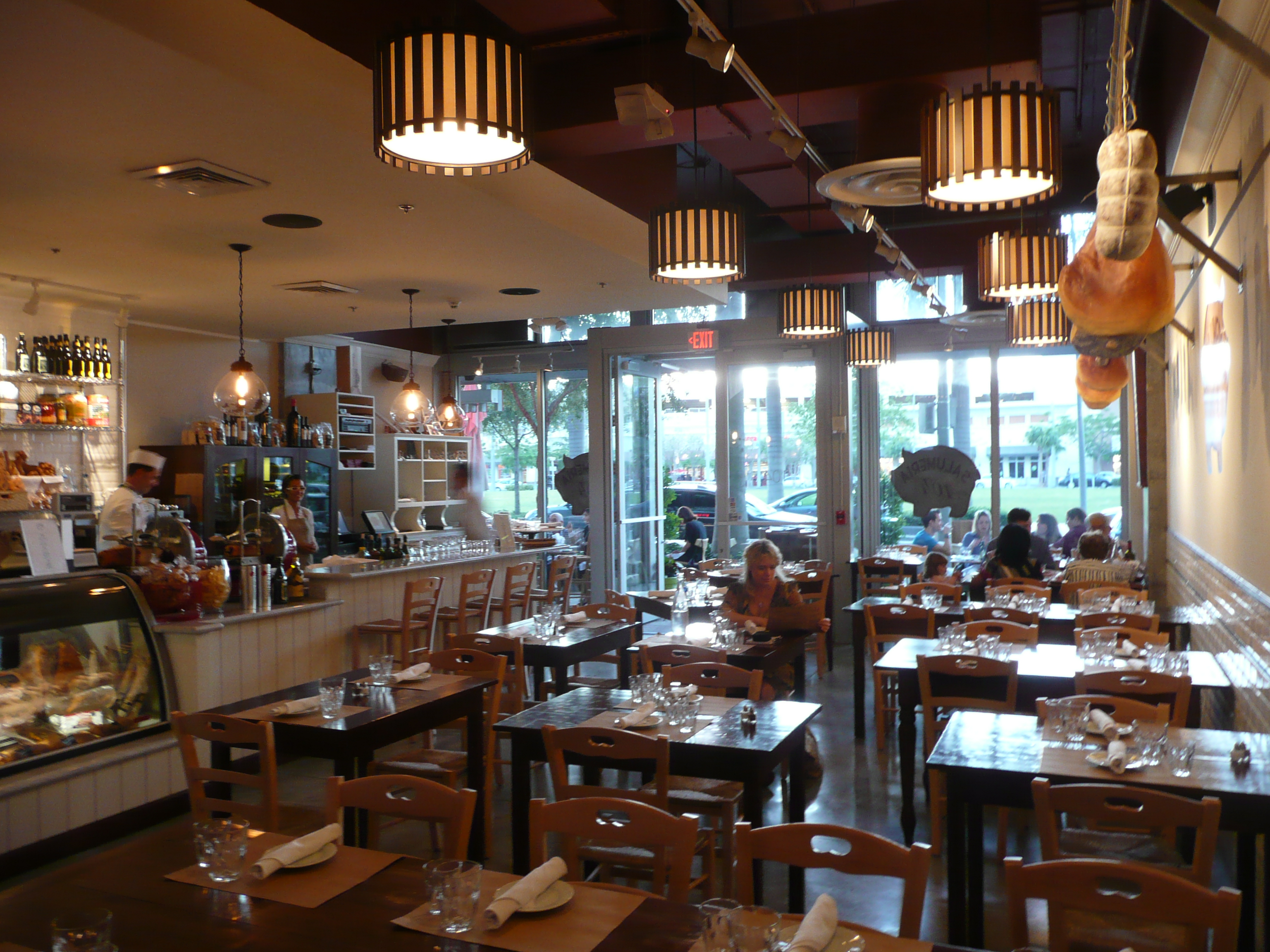 One of the reasons we love visiting Europe (and Boston, for that matter, and probably Chicago) is the intimate nature of the restaurants. You know what I mean; those wonderful little family owned places tucked into an impossibly small section of a building, where, somehow, the most amazing dishes come out of a kitchen the size of the one you had in your first apartment when you were in your early 20s.

Salumeria 104 is just such a place. Small, homey, with smells wafting out the door that make passing by without stopping an unbearable thought. The name itself, from the Italian word "salumi" (meaning, cold cuts), invokes thoughts of the Mother Country, where happy villagers bring their wicker baskets into town to stock up on fresh breads and meats at the local shops. And that role is played out here too, with a cooler inside the trattoria so you can enjoy fresh, authentic salumis at home.
But we were here to eat without doing any of the preparation or clean-up. And eat we did! Normally I shy away from pasta because, well, I'm a girl and I bought into the idea that too much pasta makes your pants bigger. Faced with the prospect of homemade pasta done right, by someone how has the culinary artists touch, I was thankful for all the times I had foregone the dried out version that comes in boxes at Publix. This was worth waiting for.

But first the appetizers. You really can't start and Italian meal without teasing your appetite into a full-on stomach-rumbler with the delicate taste of fine prosciutto, spicy salami, creamy mortadella, and the beautifully sublime flavor of Speck ham, paired up with a small bowl of mixed olives, a basket of homemade bread, and the earthy delight of an exceptional parmesan, tenderly rendered free from the main wheel. Chef Angelo Masarin (whose birth town is Treviso, Italy) insisted we should start with a glass of prosecco, and who are we to argue?

Don't you just love life?

Simon ordered the Baccala, a creamy salt cod stew, slow-cooked and served over a bed of pillow-soft polenta. A humble fish taken to heights of greatness at the hands of a master, as so many authentic Italian ingredients are. Here, it's not about flash, and while the end result may be slightly eyebrow-raising aesthetically, the flavor…oh, the flavor!...makes you wonder how the likes of Olive Garden or Macaroni Grill ever convinced anyone they offer "a taste of Italy."

I had the ricotta cheese Cavatello with tomato sauce and basil, and while I will be the first to say the sight of it made my eyes pop open, I suppressed the obvious comparison to the sort of bugs only the poorest of people in the poorest of countries consider a food source, and dug right in. Heaven in a bowl! Honest to Pete, this was the most tender, luscious pasta it has ever been my good fortune to encounter. It has to be the ricotta that makes it so creamy, and if my pant size went up by one, I'm ok with that. I could eat that dish every day of my life.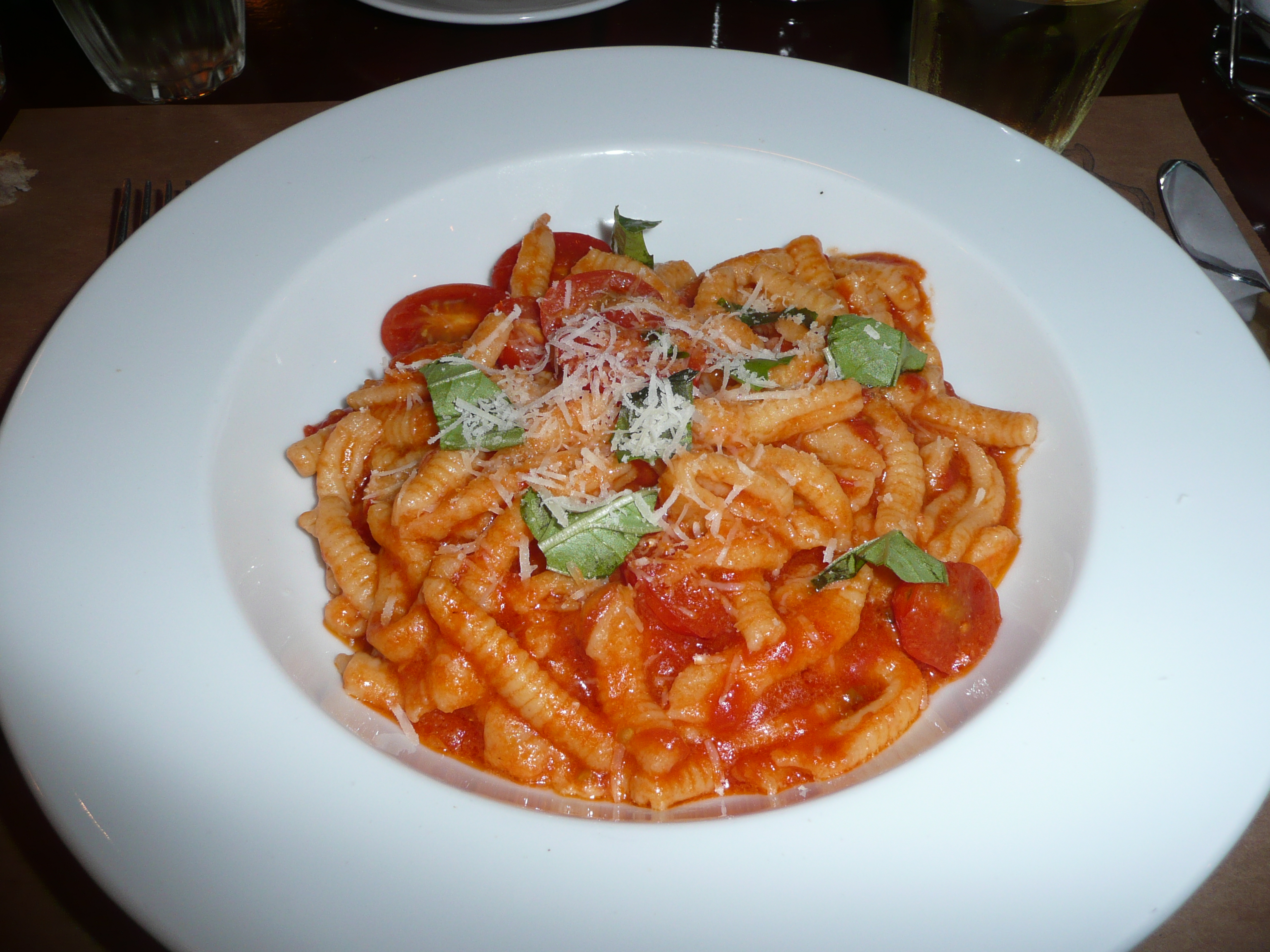 Italian Lambrusco arrived, more prosecco was poured, and when we had eaten ourselves to a standstill Chef Masarin figured we could fit just a bit more into our swollen bellies, presenting us with a slice of that timeless layered concoction of sweet, slightly caffeinated, cocoa-dusted delight, Tiramisu. I had room for one small bite, Simon had room for the rest, but the walk we took around the pretty Midtown shops in an effort to digest did little in the way of bringing about relief. We were stuffed, and frankly, didn't care who knew it. Salumaria was worth eschewing pasta night at home, saving it up for the real thing. www.salumaria104.com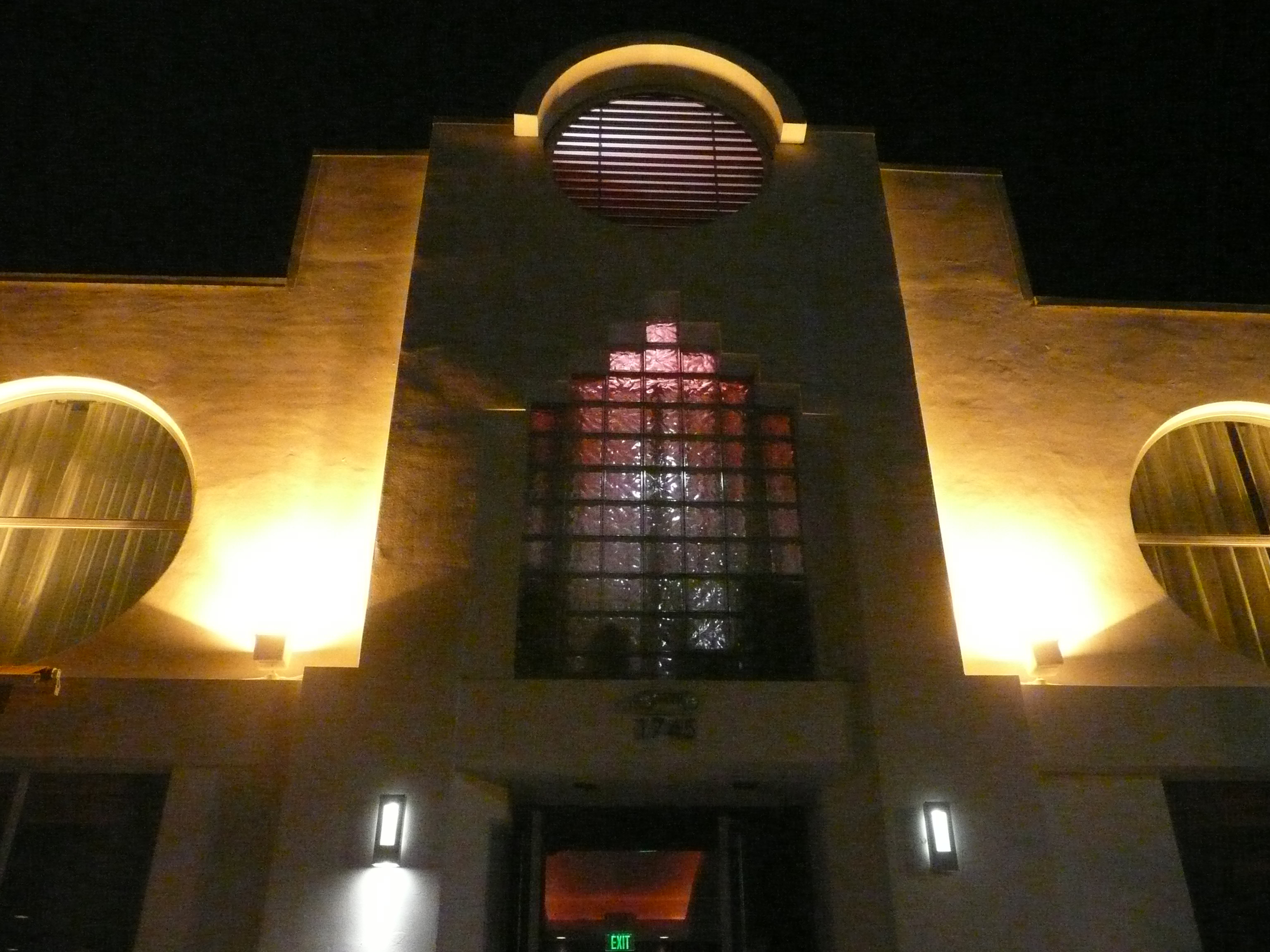 OLA Miami!
That's the name of the restaurant we dined at the first night, but it's also what you want to shout when all those succulent Latin American flavors hit your taste-buds. Actually, its proper name is Ola at Sanctuary, but everyone seems to call it Ola Miami, so that's what we called it too.
Surrounded by warm tones and even warmer welcomes, we began where all good meals begin: the cocktail menu. And it was with great delight that we discovered Ola mixes up our favorite South American libation, the jaunty Pisco Sour. That was me done, and when Simon ordered a Classic Mojito we were well on our way to a memorable experience.
Having spent an unforgettable week in Patagonia and some time in Santiago, Chile, two years ago,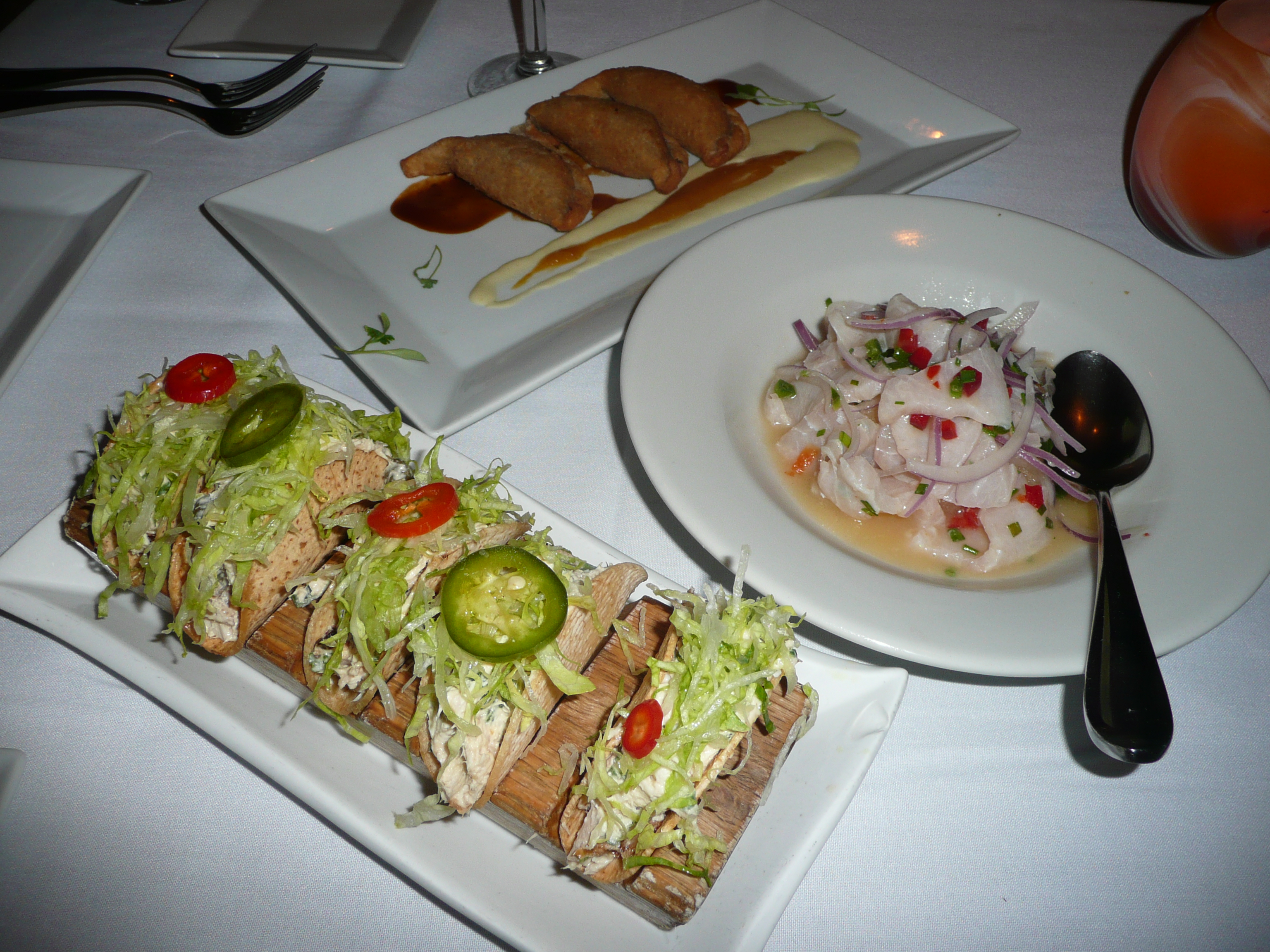 we were familiar with some of the taste sensations our palates would soon be rejoicing over, and we dug into the menu with great gusto. Marco, our server, encouraged us to try a selection of appetizers, tapas style, and we were only too happy to oblige. Tiny plates of interesting things are our favorite way to dine (right), so we chose the
Fire and Ice Ceviche
(Cobia fish marinated in sour orange, thai chilies, cilantro, and jalapeno over saia pear granite),
Smoked Marlin Tacos
with pickled jalapenos, and
Short Rib Empanadas
, their soft meat braised in black beer and complimented by creamy habanero sauce and Smoked Orange Rosemary Marmalade.
While each of the dishes sounded interesting, we had no idea just how creative they really were until we took our first bites. The Fire and Ice lived up to its name, providing the initial sensation of an icy citrus blast before filling our mouths with a slow, satisfying burn. It was positively addictive, this sensory surprise, almost to the point where we forgot to taste the clean, refreshing Cobia. It was simply divine. Next we tried the tacos, declaring them the sophisticated alternative to tuna salad, with the added interest of a tiny, crunchy taco shell and hotter-than-blue-blazes punch of jalapeno heaven. But everyone knows Empanadas are competitive little bundles of culinary joy, not to be outdone by any appetizer, and Ola Miami's version came with a smear of smoked orange rosemary marmalade, sitting innocently—almost coyly—atop a streak of satiny habanero sauce.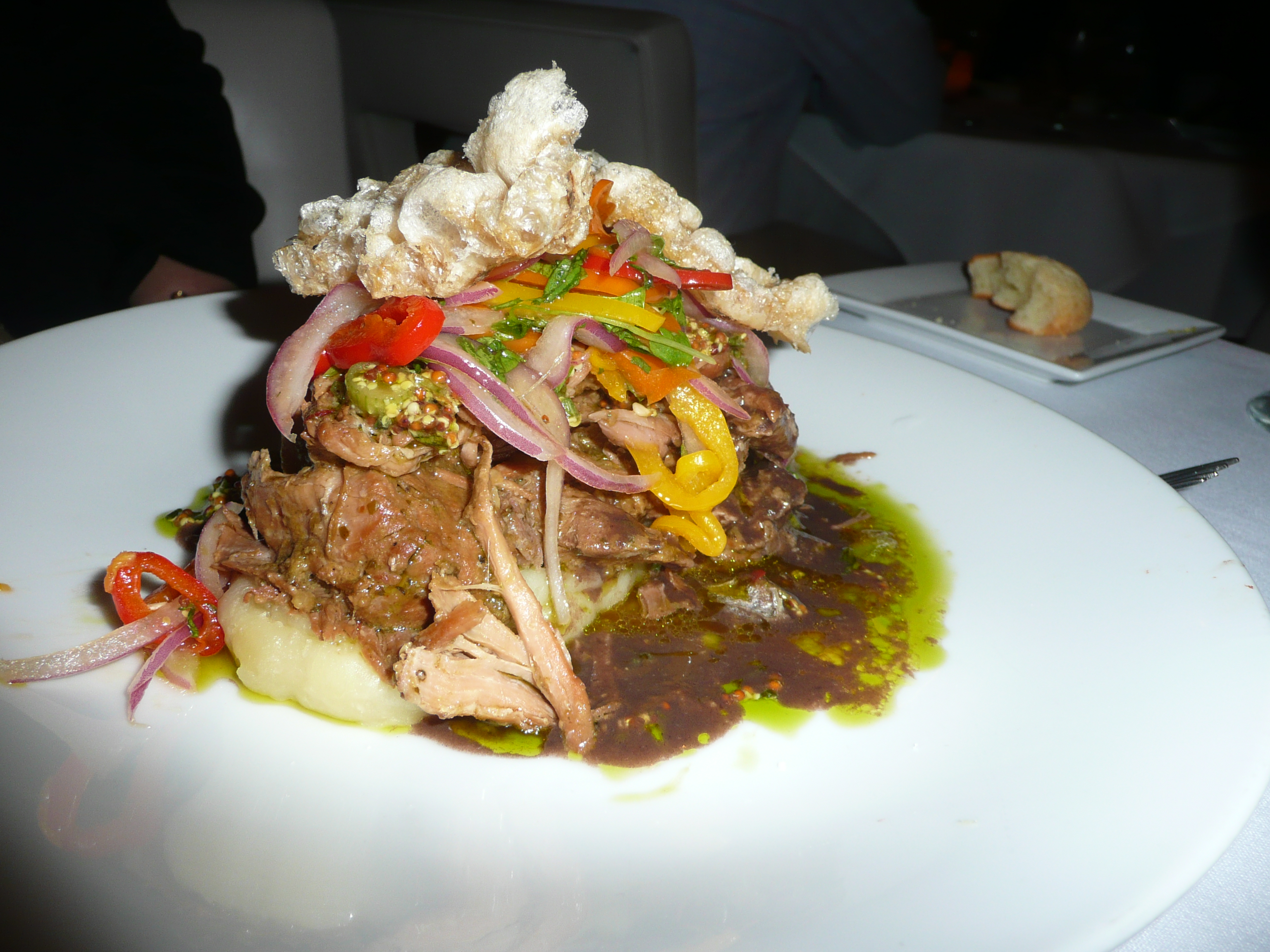 Oh, sure, it looked like a decorative touch. But when you dip your pinky finger into it just to see what it tastes like on its own, the true genius of Chef Douglas Rodriguez becomes crystal clear. Only an artist with a true love for bold, passionate creativity could concoct a condiment that took you at once to all the campfires of your childhood, the warm aroma of an orange grove basking in the heat of the day, and just a hint of your grandmother's herb garden after a good rain riled everything up.
If food could be a scrapbook containing your fondest memories, this marmalade would be the first page.We were startled out of our jelly love-fest by the arrival of our entrees, the Pescado A Lo Macho (fish of the day, today being Red Snapper) with warm spinach and a selection of shellfish for Simon, and a controversial choice for me: Crispy Pork (above left). Crispy normally means fried, and that's not for me. But here, crispy referred to the crisped pork skin sitting on top of tender pork meat gently teased into pulled ribbons in a black bean sauce with yucca mash, creole style pepper salad, and sprinklings of course mustard mojo. It was a towering creation, deceptively light in spite of its size.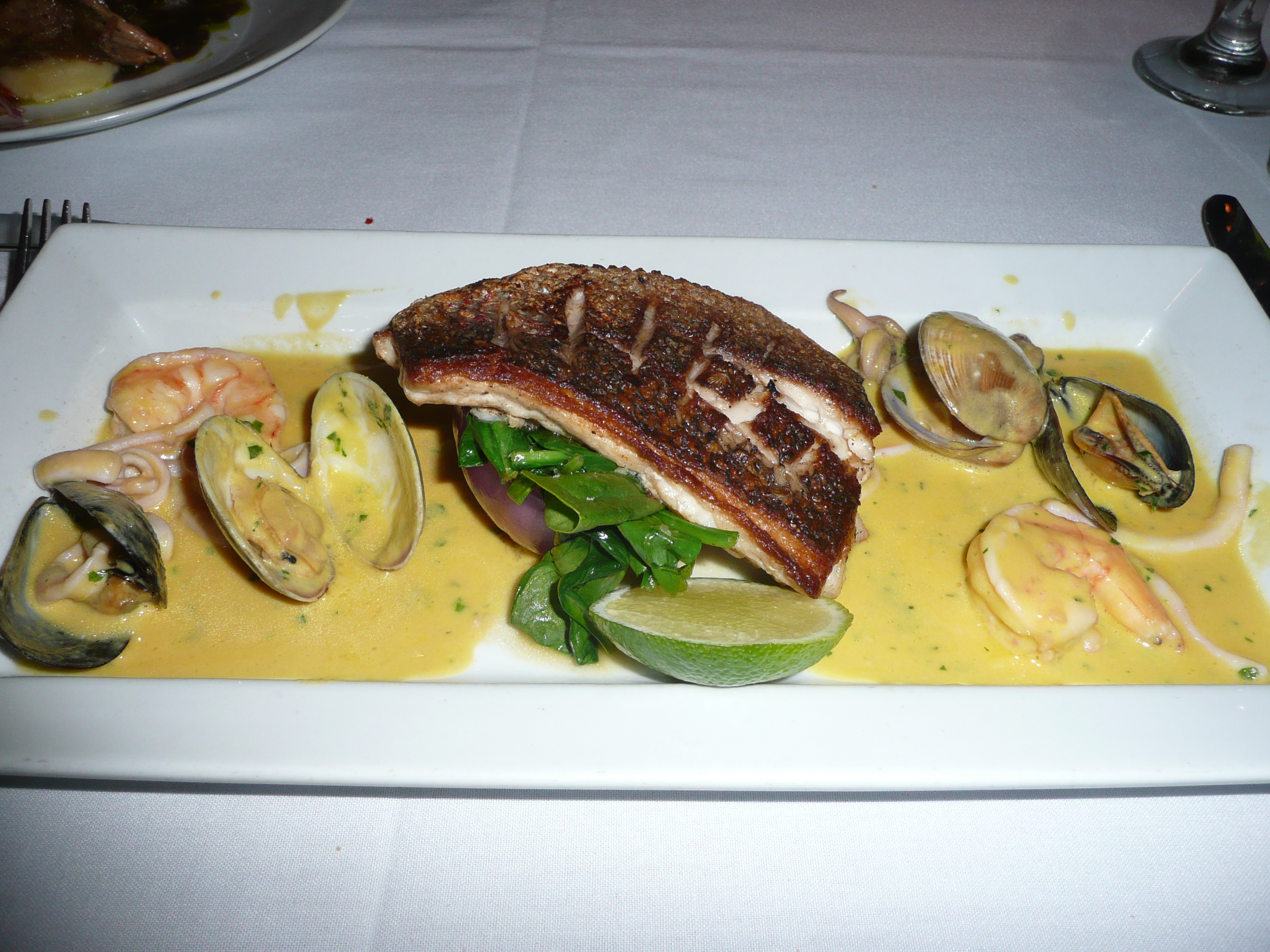 Simon's snapper (left) was a meaty, musky, seafood feast, with tender clams, mussels, shrimp and calamari swimming in a mild aji amarillo sauce. As he spooned up the last drops he swore he wouldn't eat again for a week, but somehow the creamy Bananas Tres Leches Marco placed in front of us was scooped up, slow spoonful by slow spoonful, until that plate too was clean.
Miami is known for its world class restaurants, but starting this evening, all others would be judged by the high bar Ola at Sanctuary had set. Tucked away from the insanity of Ocean Drive, down a small side street that promises something special, Ola is that rare place your thoughts drift back to when recalling exceptional dining experiences, and our evening there started our round of Miami dining on the highest of notes.
GROVE ISLE HOTEL AND SPA, COCONUT GROVE FLORIDA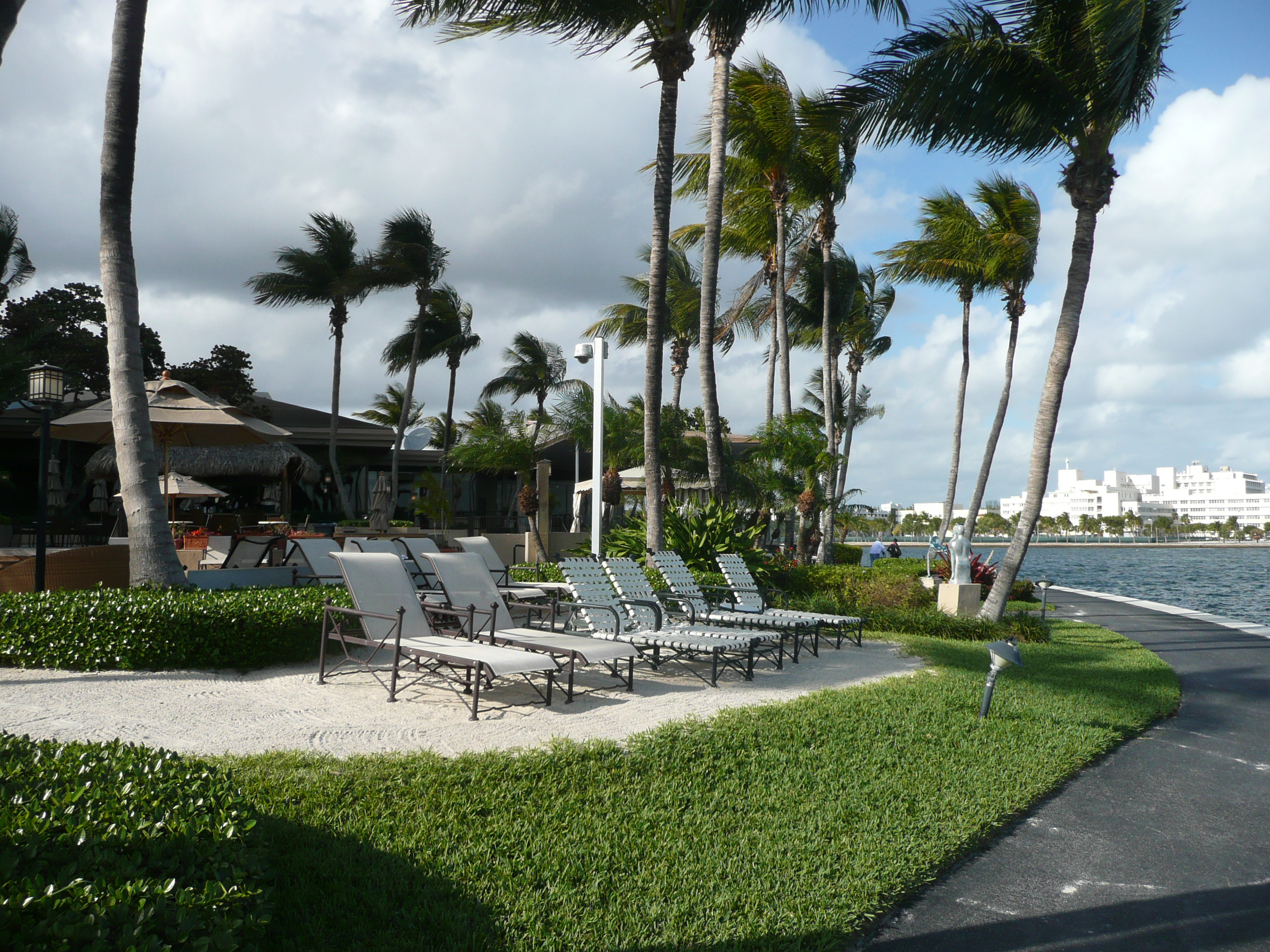 It is the rare hotel that inspires me to wax poetic, but Grove Isle Hotel and Spa in Coconut Grove, only minutes south of downtown Miami, may just be the exception.

Located on a private island (shared with 3 large, upscale condo blocks), it began life as an exclusive country club and now boasts 50 large, luxury guest rooms, 9 of them suites and all with private balconies or comfortable terraces. Grove Isle offers views over beautiful Biscayne Bay, with Miami just beyond; exceptional dining at Gibraltar, overlooking the bay; two bars with friendly, creative bartenders (try the Raspberry Crush. Heavenly!); a full service spa with zen-like outdoor relaxation area; plus a pool, Jacuzzi, "hidden" hot tub with its own waterfall, a fitness center, tennis courts, and even a marina where you can charter a fishing tour or a day of sailing.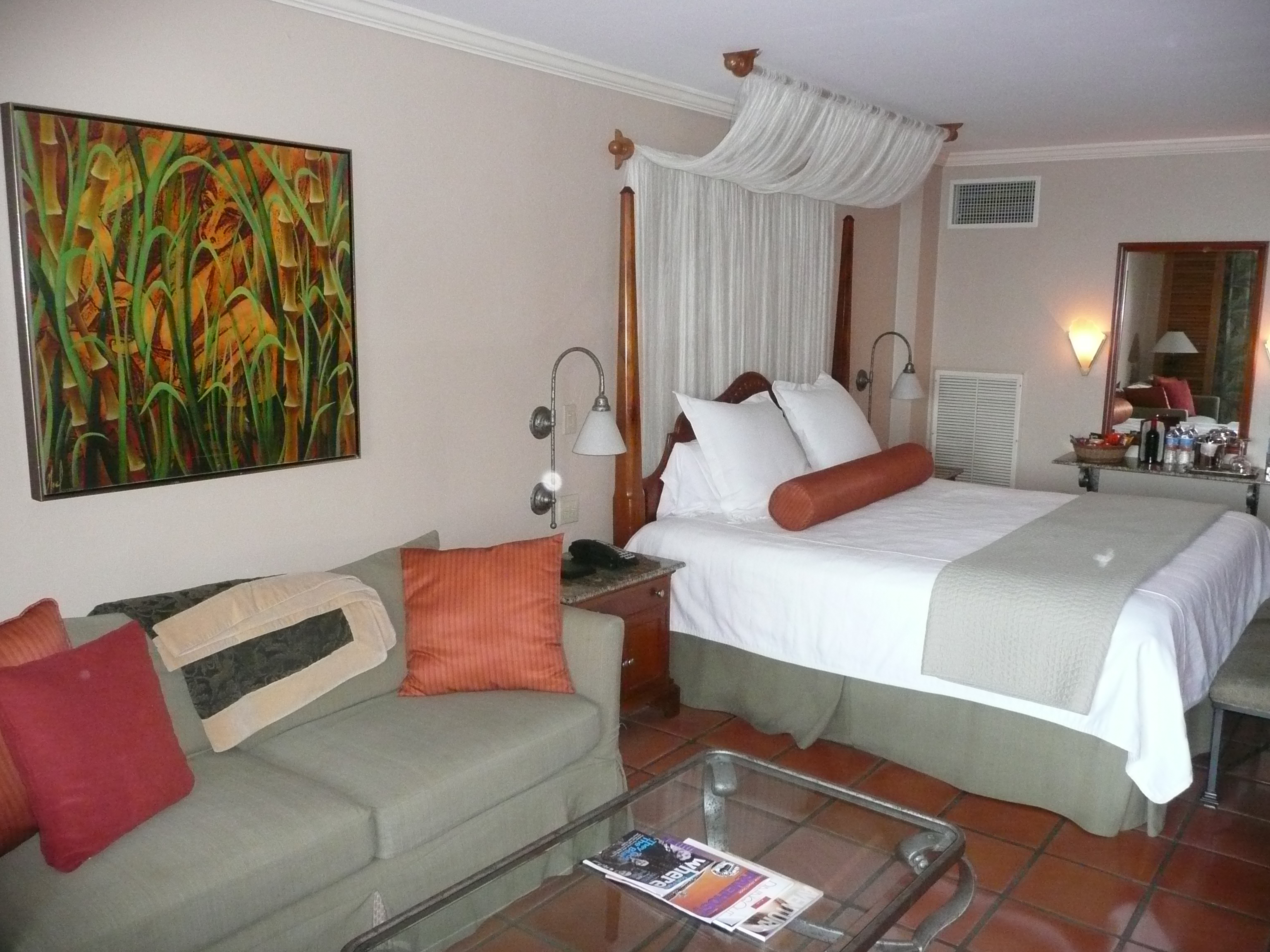 But that's not really what makes this gem sparkle. What really sets it apart is that it's—well—set apart. Swanky South Beach, with its non-stop energy that pounds on late into the night, even on weekdays, is 15 minutes away. A very easy drive when you're ready to see and be seen, but worlds away when it's time to bring down the pace and get some sleep. Or enjoy a glass of wine next to the outdoor fire pit. Or just sit in a lounger and listen to the waves lapping against the island's shoreline. You may even see a dolphin or two playing nearby.

The Port of Miami, where great cruise vacations start, is 6 miles away, making Grove Isle the perfect place for a pre- or post-cruise stay (or both!). Spend the first day or two of your vacation here, winding down and getting into holiday mode so that you fully enjoy that cruise, or disembark at the end of your cruise knowing the pampering doesn't end yet.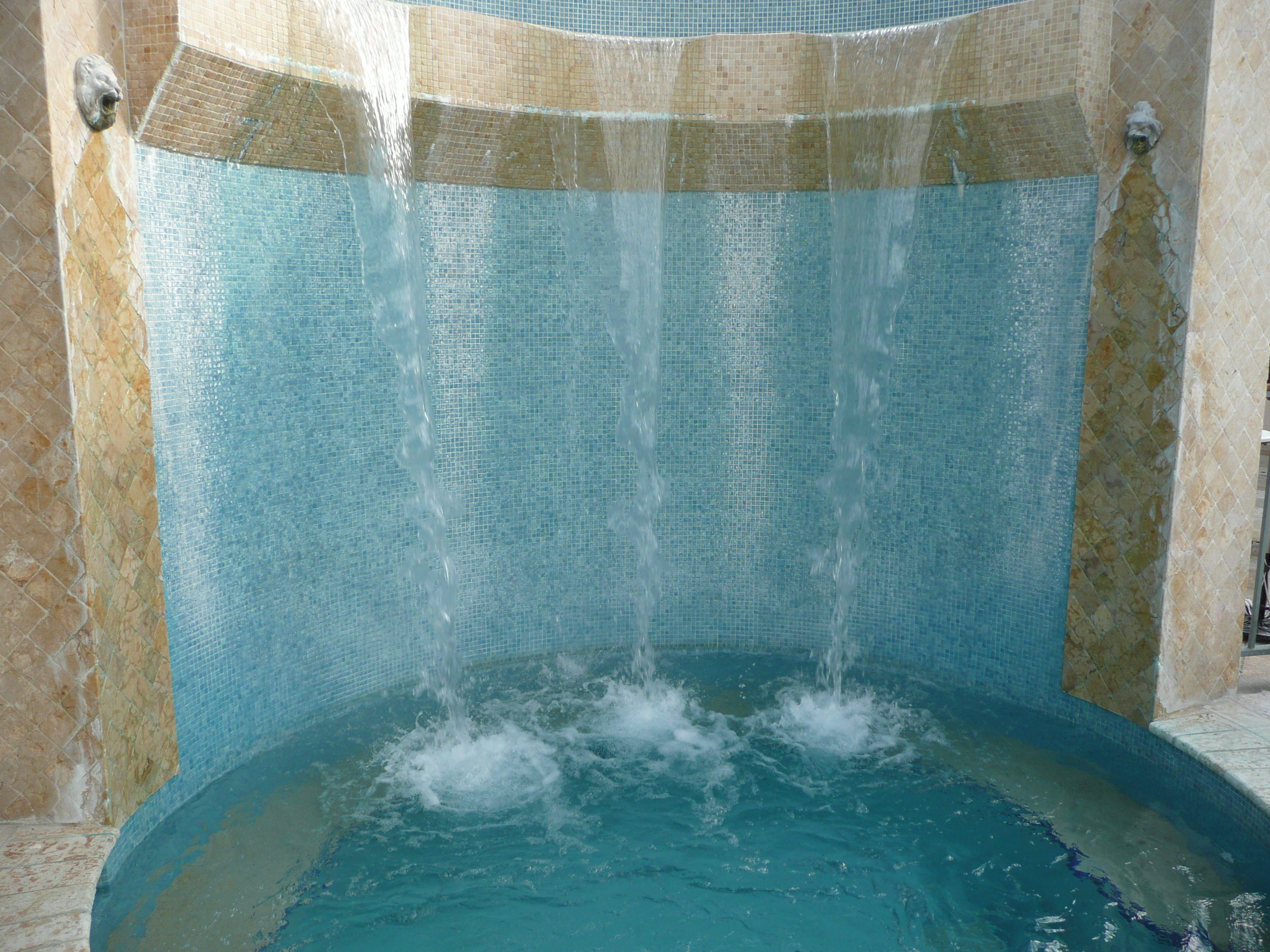 Ok, I sound like a travel brochure. That's not my intent. But sitting here with the double doors wide open and the sea breeze blowing through my hair I'm feeling pretty mellow, and mellow makes me day-dreamy. And truly, Grove Isle is the sort of secluded retreat that figures in my daydreams of a place that takes me away from it all. It's even got the thatched roofs and swaying palm trees that somehow always feature prominently on my vacation wish list.

With a full schedule surrounding the Miami Cruise convention, the time we had at our island retreat was indeed precious. We're inspired to return, perhaps to celebrate this year's Big 5-0, or maybe because everyone deserves a long weekend of pampering now and then, don't they?
Super Bowl Week: I love me some Children's Museum!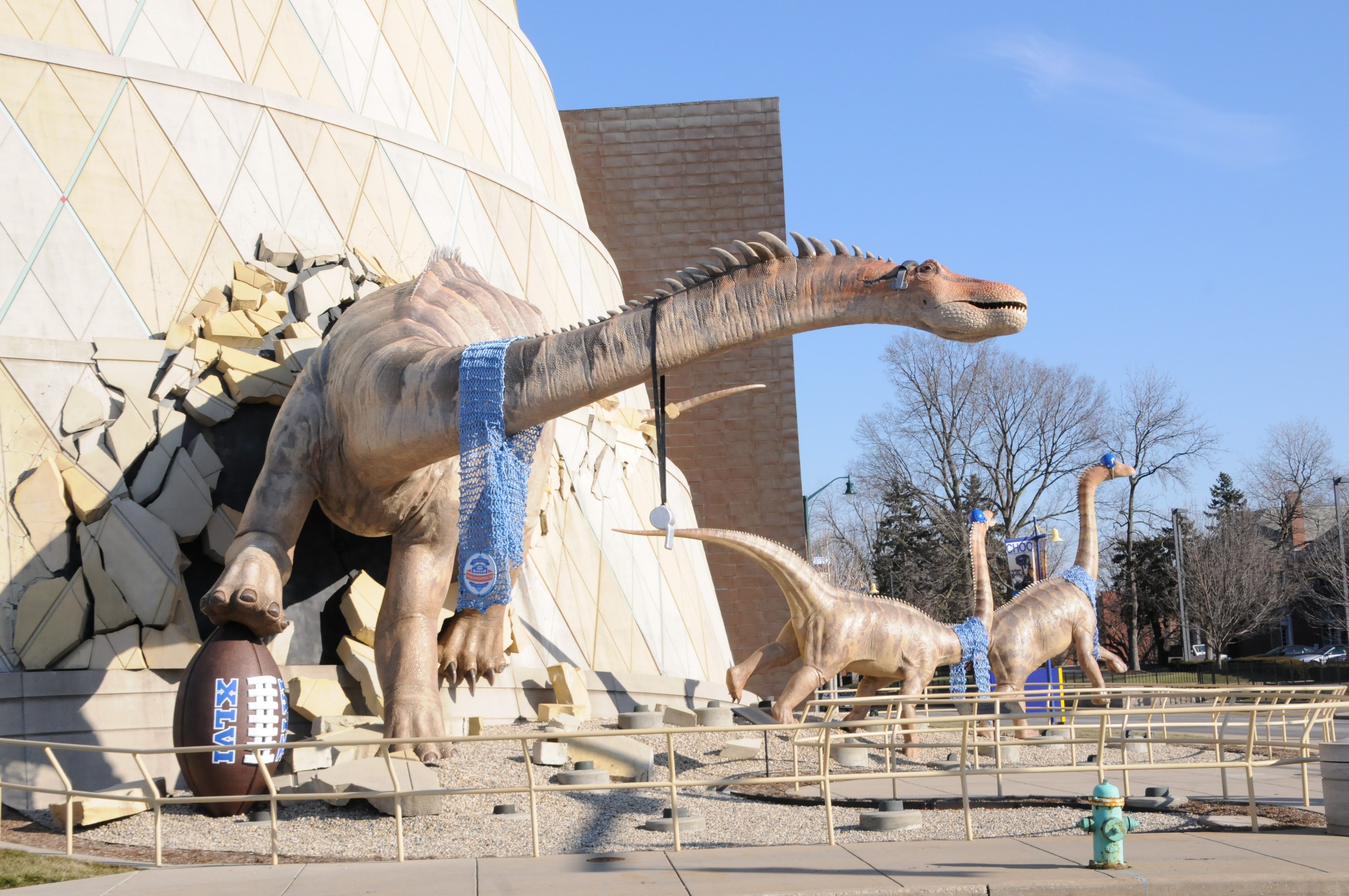 Simon headed off to Media Day, leaving me free to explore the city. At Daltom's suggestion I headed straight for the Children's Museum, a 10 minute drive from our hotel.
The first sign this little gem is somewhere special comes when you round the corner off of Meridian Street toward the free parking lot (yes, free. Orlando take note). Giant alamosaurs, who are making their escape into the wild from the museum's Dinosphere section, and gentle brachiosaurs with dino-sized curiosity are all wearing the blue and white scarves worn by the city's Super Bowl volunteers.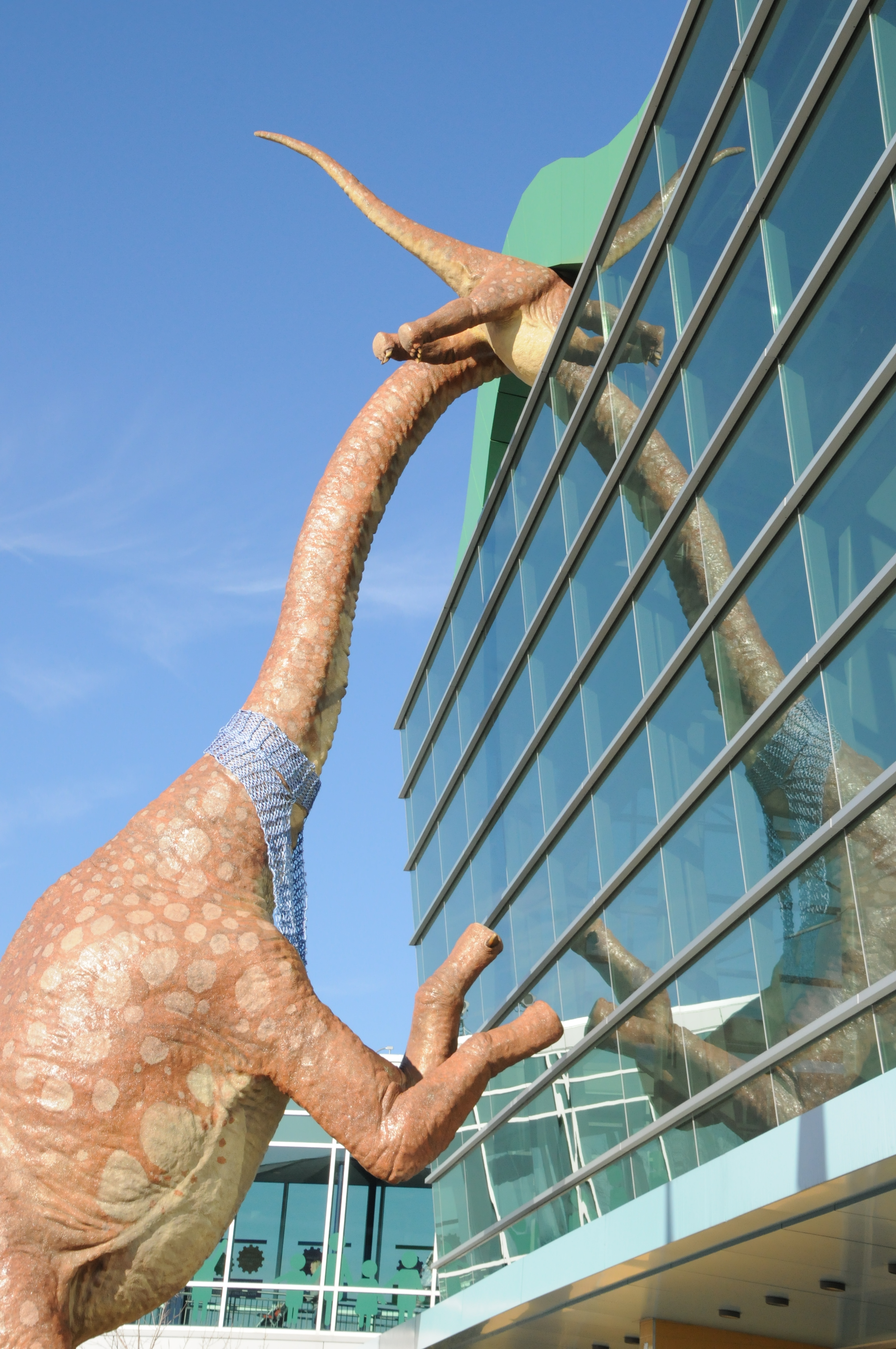 While the volunteers scarves were all knitted by…well…volunteer knitters , out of cozy blue and white yarn using the traditional tools of the knitting trade, the dino versions were knitted on broomsticks, from 5000 feet of blue and white rope. What kind of city thinks of something like that?
Indianapolis, apparently. And it works. Once again, the sense of community spirit that surrounds this week's Big Event is evident, even as far out of the downtown area as this.
But the fun on the outside of the building is nothing compared to the fun on the inside. Now, if you're my age you'll remember when "children's museums" were really just grownup's museums with a milk carton containing a few dress-up items that were meant to keep the kiddies happy during an otherwise dead-boring tromp past old bones, and paintings done by people whose name you can't pronounce. Thankfully, by the time our kids were toddling the concept of a true children's museum had arrived. And as a homeschooling mom, I've seen a few in my day, so I was pretty sure I knew what to expect: hands-on touch screens describing static exhibits, cranks and pullies and whizzy things kids could manipulate, and some cool stuff about dinosaurs and Egypt. They've all got 'em.
But this…this was something different. Yes, there's an Egypt section. But you reach it by taking a special elevator (think Epcot's Living Seas hydrolators; how we mourn their passing!), down, down, down into the depths of Seti's tomb. And down into the hidden underground world of the Terra Cotta Warriors. And just so the ocean is represented, down under the waves to the wreck of the Caribbean's only confirmed sunken pirate ship and the reason for the demise at the end of a rope of one Captain William Kidd. How cool is that?!
And yes, there's a dinosaur section. It was once a Cinedome theater, now converted into Dinosphere. It does have the obligatory T-Rex scene, but again, with a difference. Not only is daddy T-Rex going in for the kill (run, Triceratops, run!), here his teenager is in on the action too. All the while they're surrounded by a domed wall and ceiling, where lighting and sounds cycle through a day in the late Cretaceous, complete with rainstorm and meteorites. But you don't just stand there looking at them, wondering what it would have been like to see such a stand-off. Nope, here you get to watch a computer generated re-enactment (Jurassic Park style) on a screen in front of the life-sized battle, meet the team who are cleaning and preparing actual fossils (and you can stand right there and talk to them as they work!), then visit a touch-screen where you can explore how different body parts would result in different outcomes (what if T-Rex legs were smaller? What if their tails were short?) Kinda makes you think, doesn't it? And that's the whole point.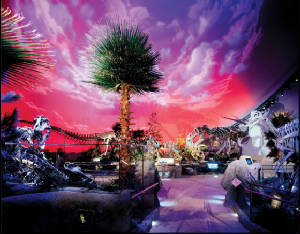 Even little nippers are entertained here, with the ability to see into all the exhibits through low windows, steps, and play areas just for them. Want the most precious picture ever? Dress your toddler up in a full body vest that looks a lot like a dinosaur with a long tail and let them loose in a nest full of eggs, or let them explore a dig site where they can uncover the latest, greatest find. And disabled doesn't mean unable here, either. If you can't quite manage the stairs into the dig site, find a similar experience along a hands-on wall, just at wheelchair height. Brilliant!
Through the course of my Children's Museum day, I went to Cairo in a rotating exhibit called Take Me There: Egypt, where I visited a typical city apartment, a rural house, a chemists, a clothing store, the Nile, and attended a sebou, the ceremony that welcomes a new baby into the community; I met Ann Frank, Ruby Bridges, and Ryan White, children who changed the world by their example of strength during adversity; I wondered at train travel, encountered a spectacular 43 foot high Chihuly tower, hung out with Barbie (as in Doll), and so much more.
Tonight is the big NFL Media Party, and normally our pre-party talk would be around what we might see and do at the event. Tonight it was all about this wonderful little corner of Indiana that brings out the very best explorer in the children who visit. Daltom, our hand-written card kid, was absolutely right; "the Children's Museum has everything!"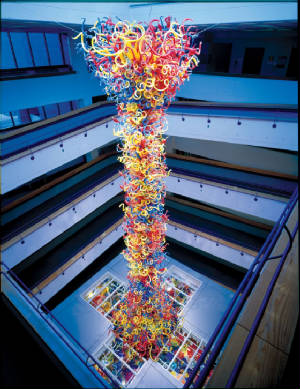 Super Bowl Week: The Trip to *yawn* Indiana.
You know that sense of excitement you feel when you get in the car and point yourself in the direction of something really fun? Like a holiday? Or a trip somewhere you've never been? I didn't really feel that as we set off for *yawn* Indianapolis, Indiana. INDIANA, for gawd sake! What could be more boring? Ok, maybe Boise, or maybe Gary, which, by the way, is also in Indiana. Plus it's cold, and I don't do cold any more.

But Super Bowl week starts the Monday before the game, so off we went.

With Florida behind us, then Georgia, we veered west once we reached Chattanooga Tennessee (of Chattanooga Choo Choo fame), heading for our hotel in White House Tennessee. The most exciting part of the journey was when we left Wendy's restaurant in a huff because they couldn't seem to serve the 2 people in front of us, and it became clear we were going to be standing there for a long time waiting for the 6 people on staff to sort out who had a baked potato, why that tray full of food was still sitting on the counter, and how to make a cup of coffee for the elderly gentleman ahead of us.

We got all up in the indignation and headed to a gas station, where we picked up the most miserable egg salad sandwich I have ever eaten (it had all the flavor of thick air) and a truly vile turkey sandwich for Simon. To make ourselves feel better we each got a candy bar, but we've been off sugar for weeks so it just tasted mind numbingly sweet, and it burned our throats.

We slept a restless sleep that night, as our room heater seemed to be alternately moaning and wheezing. By 5am we had had enough. We got up, did some work, had the most soulless breakfast possible (hideous cold egg squares and greasy sausage patties) before making the remaining 5 hour drive to *yawn* Indianapolis. Of all the cities that didn't deserve to be suffered for, Indianapolis was it.

Then we arrived. And every minute leading up to that point was worth it. The city is cloaked in banners for Super Bowl XLVI, and it looks absolutely fantastic! Everything is centrally located in the downtown area, which is where our hotel is located. We were greeted warmly by volunteers every time we turned around, and in stark contrast to Miami, Houston, and even Jacksonville, there is a buzz in the air here (which, by the way, is beautiful; bright blue sky, sunshine, and 50F). Locals have turned out in their Colts jerseys (the home team, who are not playing in Sunday's game), and the sense of pride is just wonderful to see.

Indianapolis is just….cool!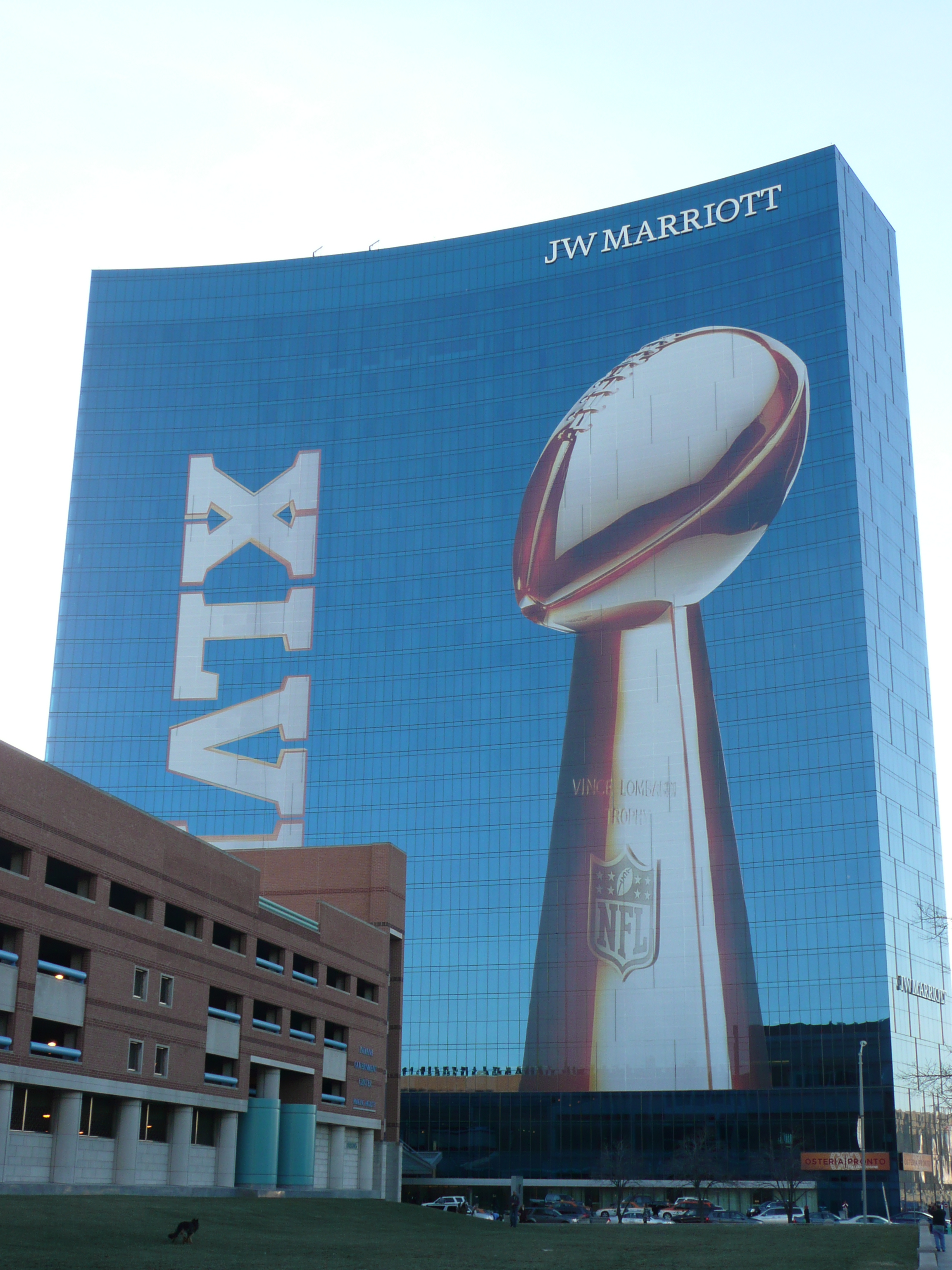 We took a walk through Super Bowl Village to get an overview of what's going on, then returned to our room to get ready for dinner. The Two Nicks (you'll remember them from past Super Bowls) will be meeting us soon, so I'll leave you here with a few pictures, and we'll explore the city tomorrow!

Oh…and just to make us feel like we were truly welcome guests in this exciting Midwestern town, a Snickerdoodle (Indians's "official State cookie"), bottled water, visitors guide, and a card hand-done by Dalton, who goes to school here in Indianapolis, was waiting for us when we got to our room. How sweet is that?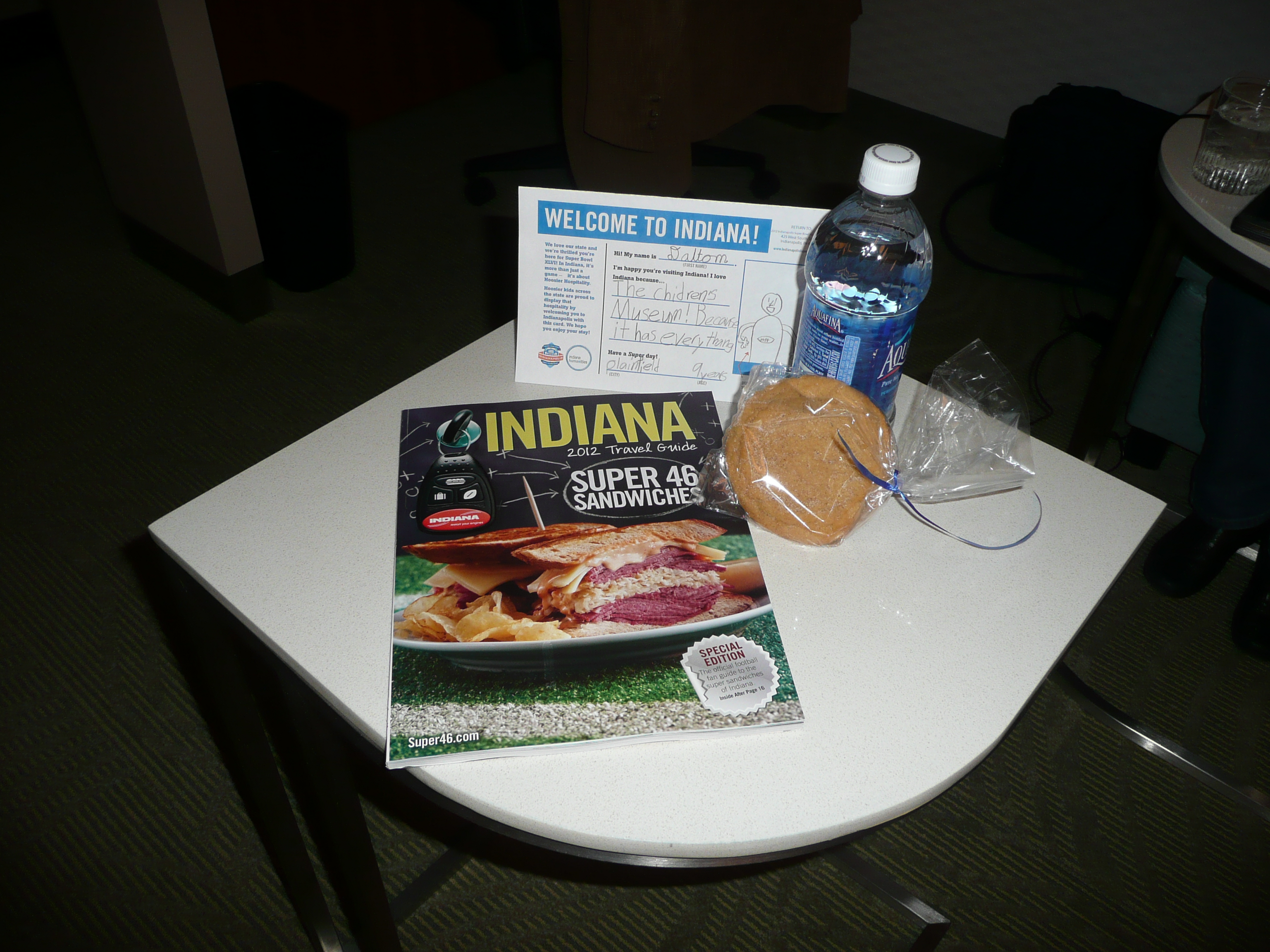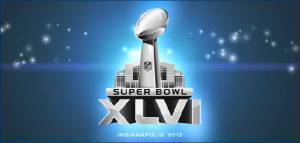 INDY HERE WE COME!
No, it's not the Indy 500, which most people will associate with Indiana's principal city but the very first Super Bowl to be held in the Hoosier State. Probably not the first place football fans would think of as the perfect venue for the NFL's annual marketing-fest (as in, "Can't we go somewhere warm?"), but, thanks to the building of the Lucas Oil Stadium in 2008, it has earned the city the right to display its shiny (almost)new arena to the eyes of the world.
Will it snow? Possibly. Will it be cold? You bet. Will we have fun? Absolutely guaranteed. For, if the good folk of Detroit are anything to go by (Super Bowl XL), taking the annual sports jamboree to a cold-weather city is no drawback to everyone having a wonderful time (Dallas take note - you have to PLAN for possible bad weather, not sit in a corner and sulk when you're socked in by ice and snow).
We'll be taking the long (c. 15 hours) drive up to Indianapolis at the end of the month and enjoying a full week in The Circle City, which will be a completely novel experience for both of us. Simon will again be writing for The Sun and SkySports.com (and anyone else who needs smart, original copy on America's No 1 sporting event!) while Susan will confine her writings here and elsewhere to what it's like to go to the Super Bowl year after year - and never actually see the game!
Yes, that's right - Susan is the ultimate sporting 'widow,' traveling along for all the city-wide hype and hoopla, but then having to resort to watching it all on TV on game day like most of the rest of the country. A bad assignment? Not a bit of it. Just being near Super Bowl central in the build-up to Packers v Steelers (Simon's pre-season tip, and one he's sticking with at the start of the playoffs) is enormous fun and usually reflects significantly on the local culture, atmosphere, and sense of adventure. Travel-writing nirvana, in other words.
Indy has a lot to live up to, though. Recent years have seen great Super Bowl memories provided by the likes of San Diego, Tampa, Phoenix, and Detroit (if below-average performances from Houston, Miami, and Jacksonville). So, we'll be really keen to see what happens in downtown Indy for seven days at the end of January and early February. It's not likely to be dull!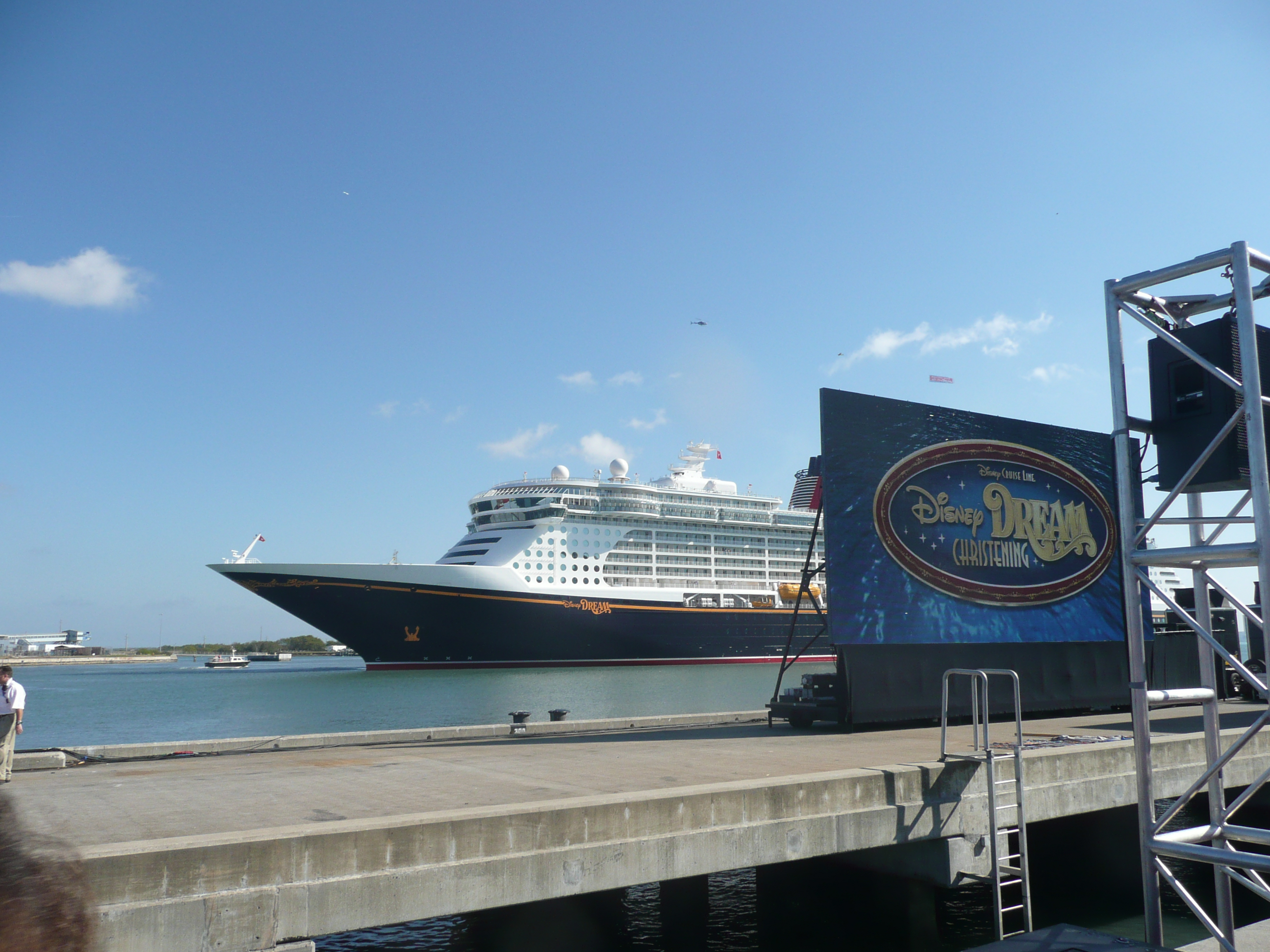 THAT WAS 2011?
It wasn't quite a 'blink-and-you-miss-it' year, but 2011 definitely had us wondering where the time went on more than one occasion. For example: Simon - "What month is it, Su?" Susan - "It's October 16." Simon - "Really? I thought it was still only half-past June!"
You get the idea. After the first few months, which consisted of a wonderful Disney press event to launch their latest ship, the Disney Dream; a trip to Dallas where Simon and several UK media colleagues braved the snow and ice of - a distinctly unprepared - Dallas for Super Bowl VLV; and a memorable Caribbean voyage with Celebrity Cruises, the rest of 2011 kind of rushed past in a bit of a blur (not the British pop group, but that state of mind where time just disappears just when you need it most, a kind of existential calendar).
We did have some memorable moments with friends and family, notably the visit of Matt and Deb in Orlando, who periodically pay the area a visit in a single-handed effort to keep all the bars and restaurants in business, and Simon's parents, who, after years of urging to come over and visit the wonderful state of Michigan, waited until we had actually moved full-time to Florida before deciding they might take us up on that idea. Cue a LONG drive back 'up north' to act as tour guides for a couple of weeks, and then the LONG drive back south again with all four of us, which actually tutned out to be one of the best family vacations we've had in years.
All of a sudden, though, it was December and we were preparing for our first proper Orlando Christmas and New Year. No shovelling snow off the drive; no thermal underwear; no frostbite; and not even any heating needed in our house! This December was an absolutely blissful period os sunny, dry warmth, highlighted by visits to the theme parks for the various festive events - and unanimous plaudits for SeaWorld, where there big Christmas makeover was stunning to behold.
The New Year's Eve fireworks in front of the Magic Kingdom were another hugely memorable moment and then we were left looking back on a fairly tumultuous 12 months in the life of Veness Travel Media. No longer two-home commuters between Florida and Michigan, we areamazed to find ourselves more settled than we have been for years. And yearning to start traveling again!
So, on to 2012...!