Michigan's Winter Wonderland - December

With all there is on offer in Michigan in winter, it was inevitable we'd eventually get around to writing about it. With two commissions lined up, we set off with our three boys, Ben (16), Anthony (12) and Mark (10) for a few days of family fun in the Alpine-inspired town of Gaylord, about 60 miles south of the Mackinaw Bridge. Dave Lorenz, our PR contact for Michigan, had arranged a Thursday to Saturday stay at the beautiful Treetops Resort, where golf is king in the summer months, but the resort's hilly terrain really comes into its own when the snow is flying. Along with downhill skiing, Treetops boasts snowmobiling trails, extreme snow tubing, snowboarding, horse drawn wagon rides, kids clubs, a spa, fitness room and 3 restaurants, making it the perfect spot to kick off our pre-Christmas celebrations.
Winter brings out the best in Lower Michigan's northern quarter, and this year the festivities started early. When we arrived on December 18, Treetops' slopes were already blanketed in a 50 inch base, one of the best starts to the ski season the area has ever seen. We were delighted to hear that 17 slopes were open, 80% of the skiiable terrain was ready to go and the snow was listed as Powder and Packed Powder. It all just sounded so exciting, even if we didn't really know what it meant! Simon's last ski adventure was in 1983, and the rest of us had never strapped the sticks on, so we were essentially rank beginners.

Dave had taken that sad fact into account and scheduled a ski lesson for us for Saturday morning. As we enjoyed dinner at Legends on the Hill that evening with Dave and the resort's marketing manager, Tish, she suggested the guys might like a night ski on Friday evening and that I was welcome to visit the spa for a pedicure. Who could say no to that? The prospect of skiing after dark and our snowmobile tour scheduled for Friday morning sent us off to a happy, if over-excited, sleep that night.

It was a brisk 20-below F with the wind chill when we set out for Marsh Ridge resort and our first experience driving snowmobiles (or, in the case of the two younger boys, riding, due to liability regulations). Rob and Madonna greeted us when we arrived and informed us they would be our guides for a three hour trip on the beastly snow machines parked out front, already warming their engines with a satisfying roar.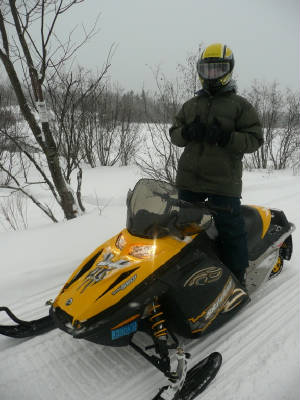 One of the best things about extreme sports is, you get to wear really cool protective gear, and snowmobiling is no exception. The six shirts and 4 layers of pants we were already wearing weren't all that glamorous, and they made us look like overfed Eskimos, but once we put our helmets on we felt like serious professional athletes! A quick lesson in safety and trail etiquette followed, but we were having so much fun fiddling with the straps and visors on our helmets that we really only heard part of Rob's instructions: "Whatever you do, if you get into deep snow, don't stop!"



Out on the trail, the landscape was a flurry of falling snow and glistening pine trees. We first rode along a street, then veered off onto an unbroken trail along a railroad line, getting a feel for our machines, finding the perfect balance between breathing and allowing fresh air into our helmets to keep them from fogging up, and stealing glances at the passing scenery. At a terrifying 20 miles per hour, it felt like flying! But by the time we'd been riding for 30 minutes or so, we had those babies cranked up to 50mph and were starting to get cocky with it. We streaked past icy rivers and ponds clogged by frozen beaver dam, the stillness of the woods echoing with the roar of our passing.

When we reached a small town 2 hours from our starting point, a friendly waitress with steaming mugs of cocoa greeted us as we stomped into her restaurant, already buzzing with other snowmobilers sitting with slushy piles under their boots, their coats tossed aside and snow pants unzipped to the waist. We joined them in a warming drink and animated, convivial conversation, happily recounting the adventures of the trail.
When we set out again Rob led the way, pulling over as we neared a snow-covered potato field. He took Simon and Ben aside, asking if they would like 'an extra thrill'. Was he kidding? They jumped at the chance, following Madonna over a high snow bank and into the potato field. Rob and I took the younger boys up the road to a spot we could watch from, and moments later we saw a Ski Doo streaking across the field at break-neck speed. "That must be Madonna," I commented, noting the remaining two machines had just crested a small hill. But as it drew closer, the unmistakable bright yellow of Ben's machine greeted us, then we heard his shouts of "That was AWESOME!"

Ben was utterly fearless, even after he launched himself 6 feet in the air and nearly went base over apex over the front of his snowmobile when he floored it over a ramp in a second field. He had found his winter sport! When we stopped for another break, Rob sauntered over to Ben and said, "Need some toilet paper? I thought I smelled something after you hit that ramp!"

We returned to the rental center, tired, exalted, vowing this would become a yearly tradition. After four hours on the trail we were all hungry, so lunch at the nearby Bennethums Northern Inn was the next order of business, then we exchanged contact details with Rob and Madonna, feeling as if we had made new friends and grateful for the time they took to introduce us to this incredible sport.

But the day's fun was not over. Later that evening the guys trundled off for their night ski while I moseyed down to the spa for a pedicure. When we met up again for dinner, the boys were red-cheeked, bouncing off the walls, and full of stories from their first time on skis. Because the resort was slow that night, one of the Ski Shop employees offered to give them a quick lesson, and the result was a huge boost in confidence and even greater excitement at our hour long lesson scheduled for the next morning.
As luck would have it, Saturday was the coldest day Gaylord had seen all season, with the mercury dipping to 30-below with the wind chill. The landscape was truly the proverbial 'winter wonderland', a vista of glittering trees coated in a thick layer of stark white frost, as if they had been painted with sugar-icing, then sprinkled with glitter. The snow crunched under our feet as we made our way to the ski rental shop, where we were fitted for skis, poles and boots. Five Ski School instructors were lined up against one wall, waiting for their students to arrive, but once we were fitted out, the instructors all moved our way and said, "Let's get started!" We each had our own teacher? Wow!!

Whether it was luck or planning, we were perfectly paired with our instructors. Young Mark's teacher was a gentle college-aged girl with a bright smile; Anthony's was a burly man who looked as if he was of the 'sink or swim' variety and would give Anthony free rein to move at as quick a pace as he wanted; Ben happily skied off with his cute-as-a-button girl and Simon's instructor was a keen young man with the heart of an artist, who taught skiing to supplement his full time work in theater. My instructor, who claimed he is over 50 but looked more like 35, was suitably sympathetic but also highly encouraging when I told him I had a weak ankle from a break three years ago. Under their collective expert tutelage, our hour-long lesson went by in a flash!

The guys were eager to keep going, but my ankle said, "You're done" and I believed it. While the four of them headed off to the more difficult hills, I browsed the ski shop and took a drive around the resort until it was time to meet at Legends for lunch. The guys stomped into the restaurant, snow dropping off their boots and coats as they chattered excitedly about each run they had made and how much fun they were having. Anthony proved to be the ultimate speed demon, a natural in all things sporting. Ben took it more slowly, with his usual methodic thoughtfulness, and Mark braved the slopes with a fierce determination to employ all the techniques his instructor had given him, carving and snowplowing his way down even the more advanced slopes and looking like a real pro.

After lunch and another hour skiing, it was, sadly, time to head home. We agreed to return for a long weekend next winter, and would make it our pre-Christmas tradition.
A fantastic time was had by all, with our eldest giving the biggest thumbs-up to the snowmobiling, our middle boy voting for the skiing and our youngest enjoying everything. When we returned home we had a foot of snow waiting for us in the driveway, which required half an hour of shoveling just to get the car in the garage.

Michigan is a fantastic year-round holiday destination, and winter is one of the most beautiful times to visit. It's cold (very cold!) but the various ski resorts have plenty of family activities and are a great choice if you want more than just skiing and don't want the expense of a holiday in the Alps. The skiing is different to mountain skiing, with shorter runs and more services (such as restaurants and warming huts) along the way. The whole experience is geared toward family, especially if you have children (or adults) who are beginner-to-moderate level, or teens who like the thrill of flying along the snowmobile trails. Prices are incredibly reasonable, the small-town atmosphere is particularly magical at Christmas, and it really is something a bit special.
A Breeze Through Barcelona

October 2008

Travel is addictive. We probably don't need to tell anyone that. But here's the proof positive. Having returned to the UK to catch up with friends and family for a few days, we couldn't resist the chance to take advantage of the (relative) proximity of Europe by enjoying a short side-trip to the splendid Spanish city of Barcelona.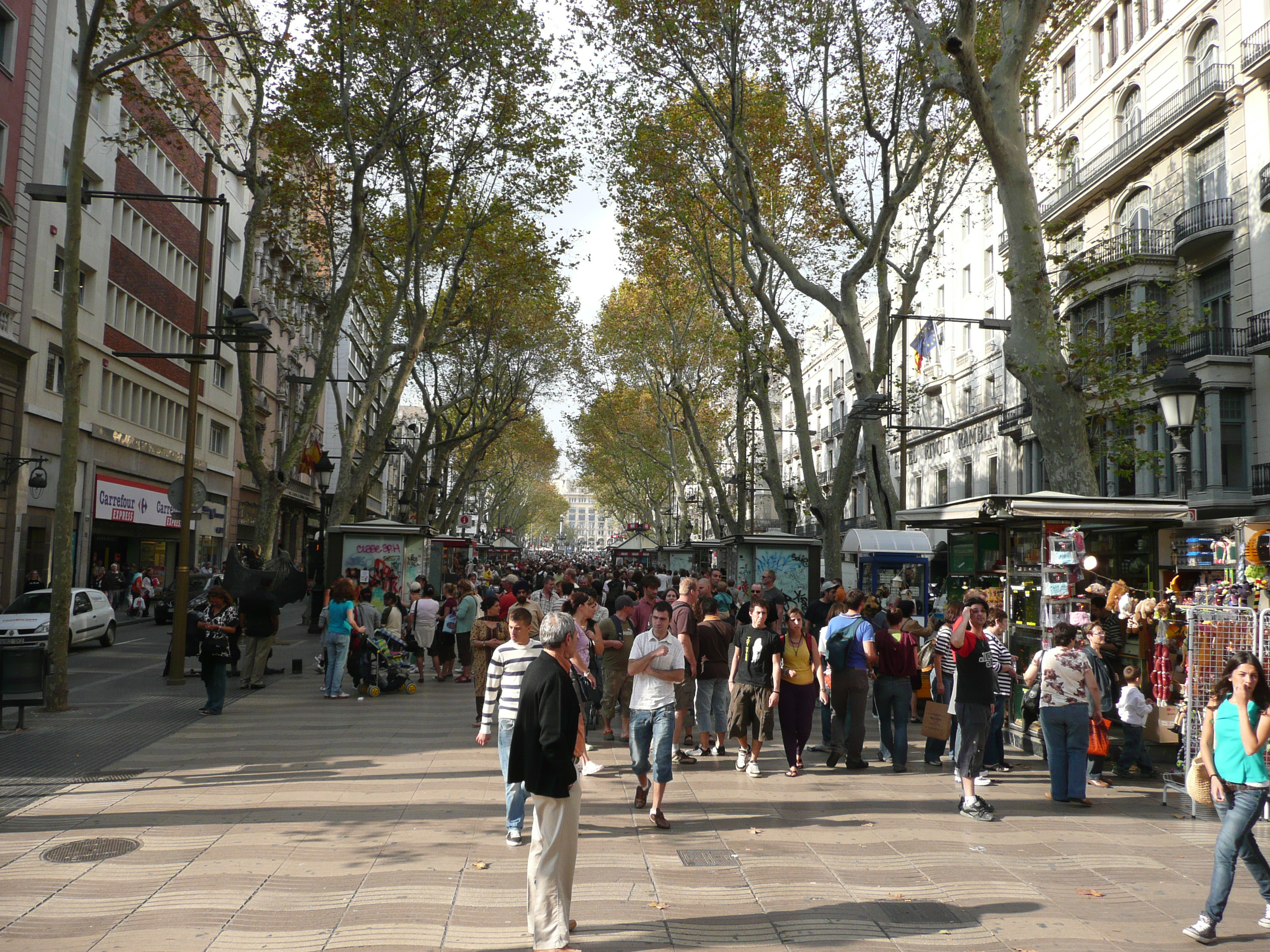 It was Susan's first visit, as well as a first for Simon's parents (to celebrate their Golden Wedding anniversary earlier this year), and the weather put on its best autumn style to welcome the four of us for a 3-day visit which provided a general taste (in quite literal fashion) of this Catalan delight. Given just 2nights/three days, it was really only a question of getting the quickest possible overview of what is now a major city, but the good news was that it was extremely easy to do so.

After landing at Barcelona airport (courtesy of EasyJet), we took a 25-minute cab ride into the city centre to check into our hotel (the Hotel Ayre Caspe, a neat, modern 4-star property within a 20-minute walk of most of the central attractions). It turned out to be slightly further from La Rambla and the city's main restaurant district than we hoped, and the faint whiff of the sewers from time to time was another unwelcome surprise, but heading out for an afternoon and evening along Placa de Catalunya and La Rambla quickly put those distractions in the background.

La Rambla is the heart and soul of Barcelona, if a touch touristy these days for local sensibilities. This long wide avenue of open-air stalls, traders, cafes and street performers is an absolute pot-pourri of big-city hustle-bustle, complemented by the equally frenetic activity of the neighbouring Boqueria Market. Great fun to stroll along (although mindful of the city's reputation for pick-pockets and other petty crime hassles), it provides a snapshot of a metropolis fixated on caged birds, bars, coffee-shops (and not the Starbucks kind!), casual wandering, heavy traffic (inevitably), smokers (equally inevitably) and an architectural melange that is occasionally awkward but always easy on the eye.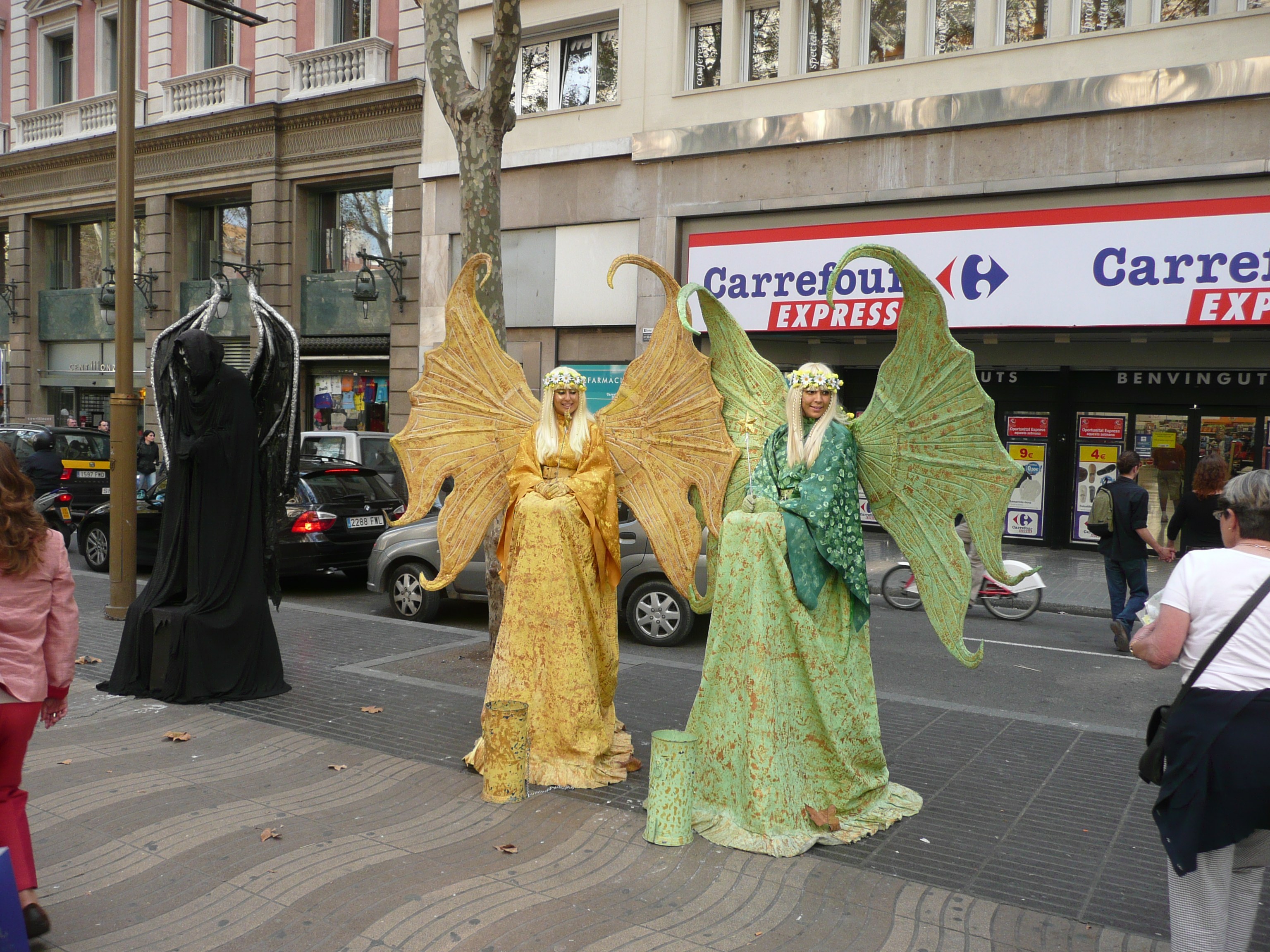 La Rambla borders part of the Gothic Quarter, and that is equally fascinating to wander along and discover some of the smaller-scale delights of the city. La Placa Reial sits between them and was our spot for a memorable dinner - tapas, of course! - during which we managed to persuade Simon's parents that they needed to sample 4 dishes each to ensure sufficient local flavour! Needless to say, our table was groaning under the weight of so much food (plus a lovely bottle of rioja), but we did manage to get through most of it and it was all wonderfully tastyand enjoyable.

Day Two saw us take the full tour on the Barcelona Bus Turistic, the open-top bus which covers, seemingly, every square inch of this sprawling city, from the busy seafront to the heights of Tibidabo, providing a fabulous overview of the whole scene. The 21-euro adult fare proved excellent value as we hopped on and off the various buses, covering two separate routes, at will; enjoyed the constant English-language narration (with soft musical interludes); copped a full eyeful of the awesome works of Antoni Gaudi and Co; and gained a good perspective of the wide variety of attractions within.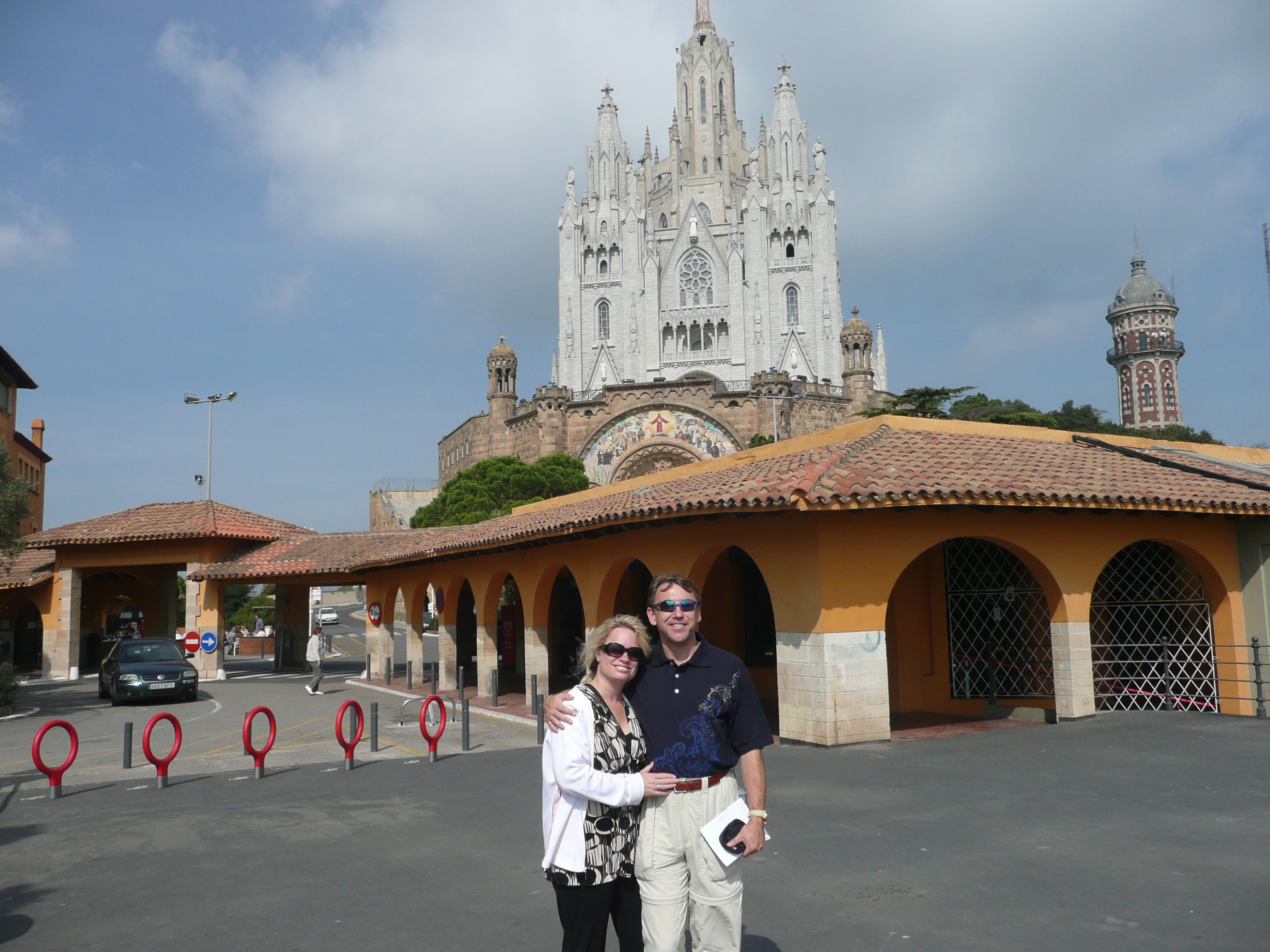 We stopped for an al fresco beer atop Tibidabo; lunched in the square Fransesc Macia (complete with the obligatory glass of sangria); and (eventually) stopped for coffee back at Placa de Catalunya, all the time soaking up some glorious late-season sun which was neither too hot nor too inconsistent. We even braved the metro system, during rush hour (!), to head down to the port/seafront area of Barceloneta, where we strolled further before stopping for another memorable Spanish repast (paella, steak and fresh, grilled vegetables).

Our restaurant was pretty much decided for us by one of the local restaurateurs, prowling the pavement outside his establishment touting for business, and doing a wonderfully friendly and inviting job of it, too! We wandered the full length of Plage Joan de Barbo but still returned to the 'restaurant of choice,' comforted by its busy friendliness, and whiled away another couple of hours in true Mediterranean style.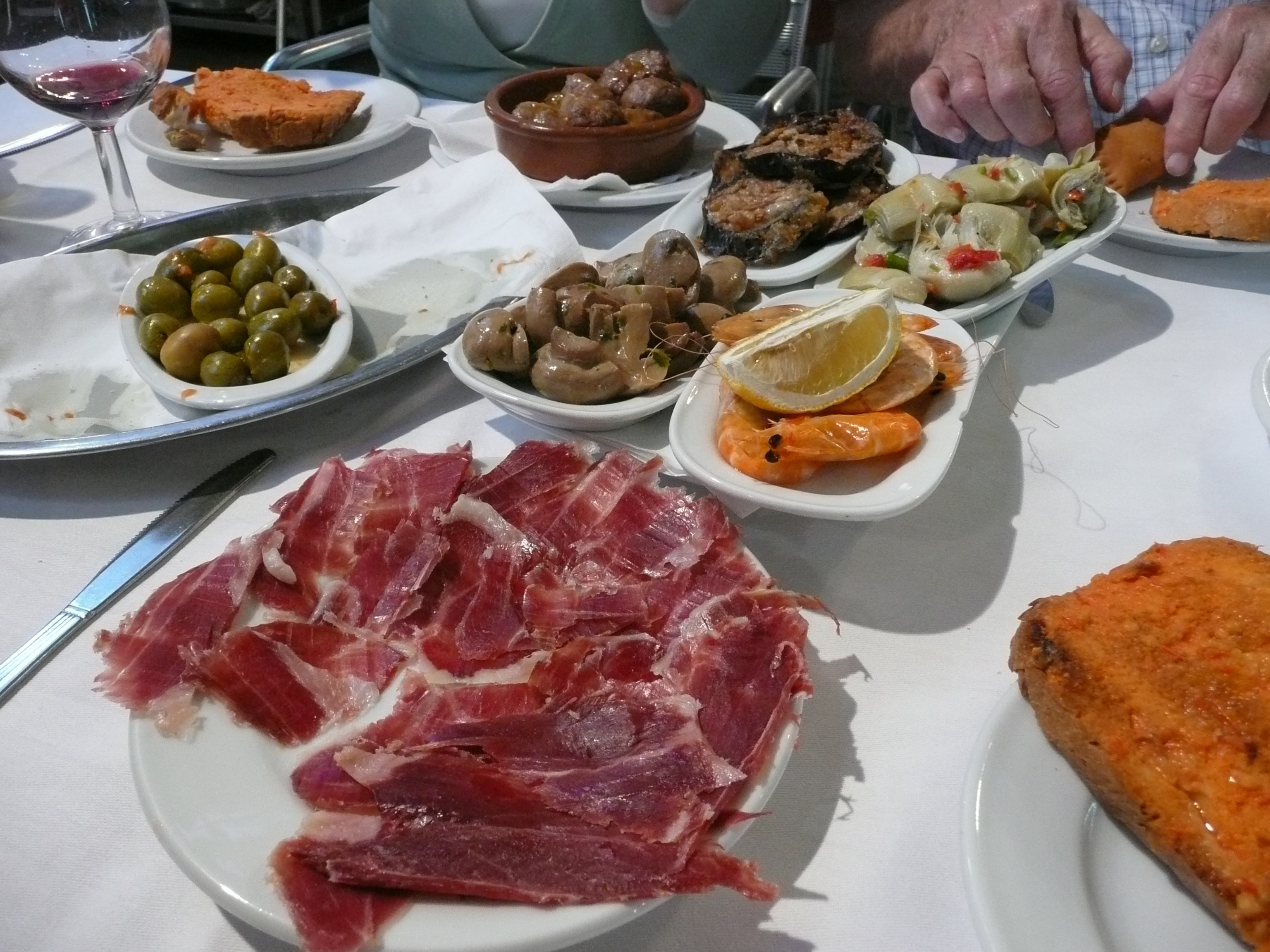 Day three was also our return day, but not until late in the evening, so we reverted to Shank's Pony (after a good lie-in - a real rarity for us!) for much of the time, opting for a full tour of Gaudi's immense Sagrada Familia, where this modern architectural marvel (begun in the late 19th century but still under construction today) eventually capitivated all of us. I say eventually for good reason, as this strange - almost alien - organic style is not everyone's cup of Spanish tea at first glance, but the incredible ingenuity, detail and breathtaking 'modernisme' style (quite a break from the norm back in the 1890s) quickly grow on you and impress with their sheer audacity.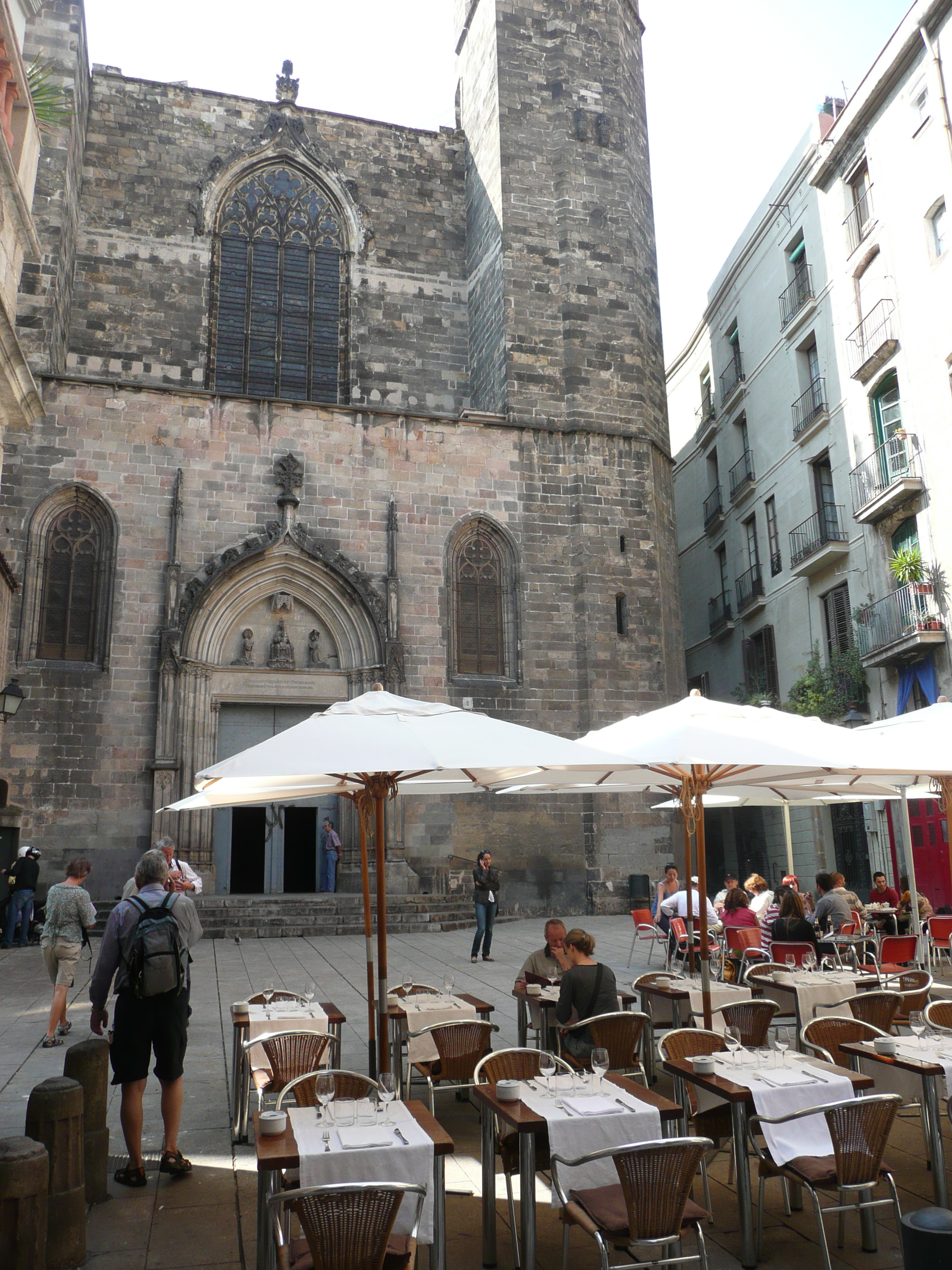 We braved the Metro once more to head back to the Gothic Quarter and continued on foot around the Roman-to-Medieval streets, squares and alleyways, stopping once more for an open-air lunch, and pondering the one disappointment of seeing the Gothic Cathedral frontage completely covered by scaffolding and construction awnings.

All too soon it was time to return to the hotel (stopping en route at Placa de Catalunya once more for a final local beverage!) and pick up our taxi back to the airport.

It concluded three days of fairly effortless (if slightly foot-wearing) touring amid a busy, modern city that still boasts a fascinating heritage - and exhibits it extremely well.
Around The State in 80 Ways

Michigan, August 2008

OK, it wasn't quite eighty different ways, but it certainly felt pretty close after our grand summer tour of Michigan in August with all three boys in tow. It was supposed to be a quick recce for our annual Great Lakes North America publication, for which Susan typically waxes lyrical about her home state, but it turned into so much more thanks to some sharp advice from our friends at Travel Michigan, who helped prepare the ideal itinerary for us.

To start with, we did the sensible thing and upgraded our usual family runabout for a larger car; in fact, a 7-seat Chrysler Town & Country. With 1,000-plus miles on the horizon, we wanted to make sure everyone was as comfortable as possible - and to keep the rear-seat whingeing to a minimum!

So, with everyone sitting comfortably, off we jolly well went for a 6-day adventure that was heavy on outdoor fun and chock-full of interest, activity and entertainment for ALL concerned.

First stop was our long-time favourite Frankenmuth, the 'Bavaria of America,' and its essential attraction of Bronner's CHRISTmas Wonderland and the biggest chicken dinners east of the Pecos (or similar). This is usually a day-trip from home just to marvel at the amazing variety of Christmas ornaments people will actually buy at the incomparable Bronner's and stuff ourselves silly on good, hearty German cooking, but this visit promised a bit more besides.
It was a beautiful August day (as it turned out to be almost everywhere we went) and the additional element of an overnight stay at Zehnder's Splash Village, a superb family-orientated resort hotel with its own indoor water park, ensured everyone got to let off some steam - especially the boys, who we practically had to pry out of the water that evening.

Next up, after the 3-hour drive north, was the newly-enhanced Historic Mill Creek in Mackinaw City, where they have added 'Discovery Park' to the name and improved things about a million per cent. Don't get us wrong; we have always enjoyed this rather pastoral and peaceful 18th century diversion just off the beaten path of I-75, but it had been more a gentle stroll into the past rather than anything especially dynamic. Now, with the addition of zip-line rides, forest canopy bridge, Treetop Discovery Tower, rock-climbing wall and hands-on water power station (a neat water-play area for kids), this is a fabulous all-day attraction that should appeal to all the family.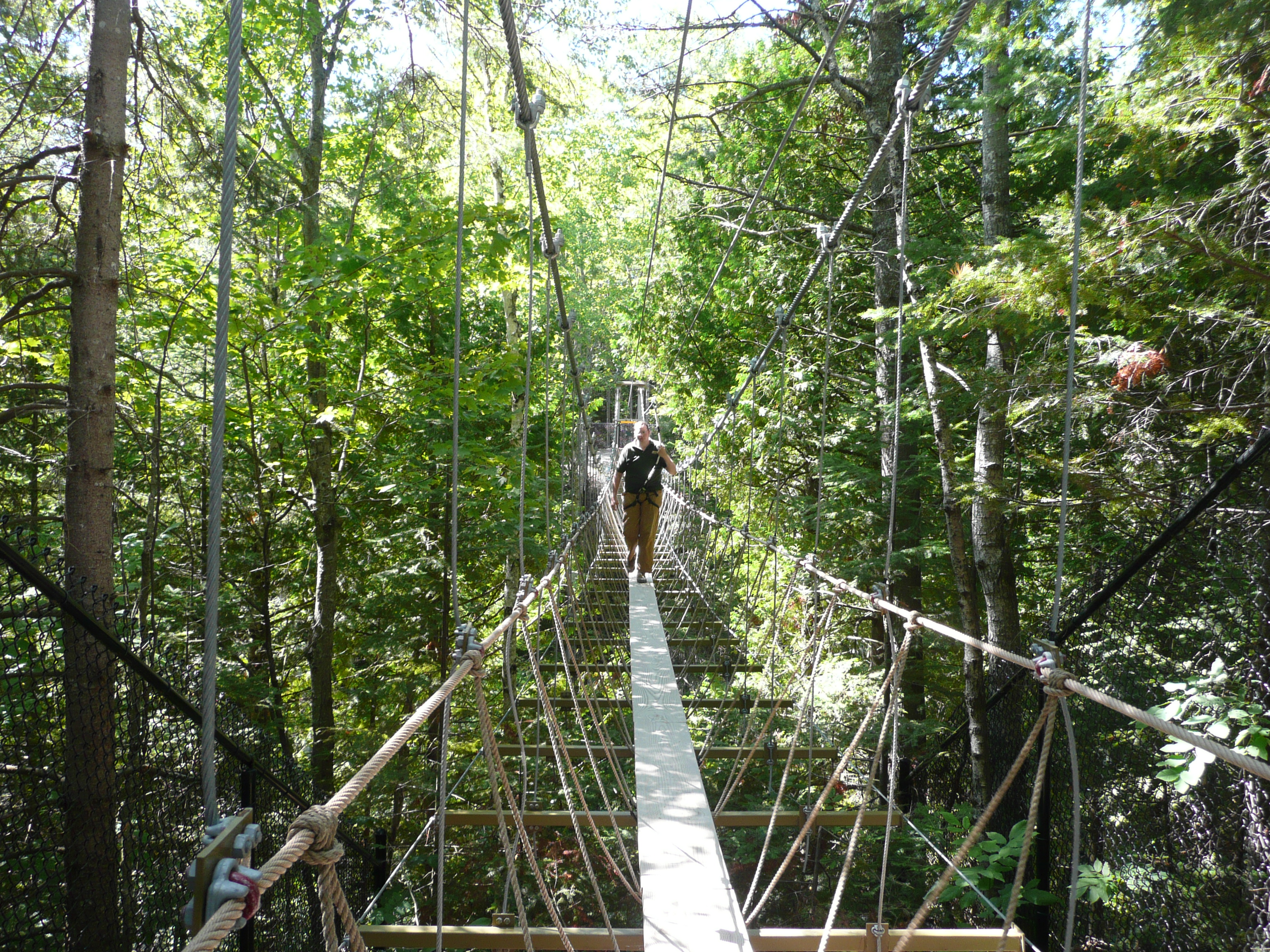 Susan discovered that the zipline ride is probably not best attempted in shorts (well, at least the ones she had chosen for the day!), but her modesty was not seriously compromised and she readily agreed the thrill of 'flying' through the trees was worth the momentary bottoming-out. Or rear view vanity (ouch!).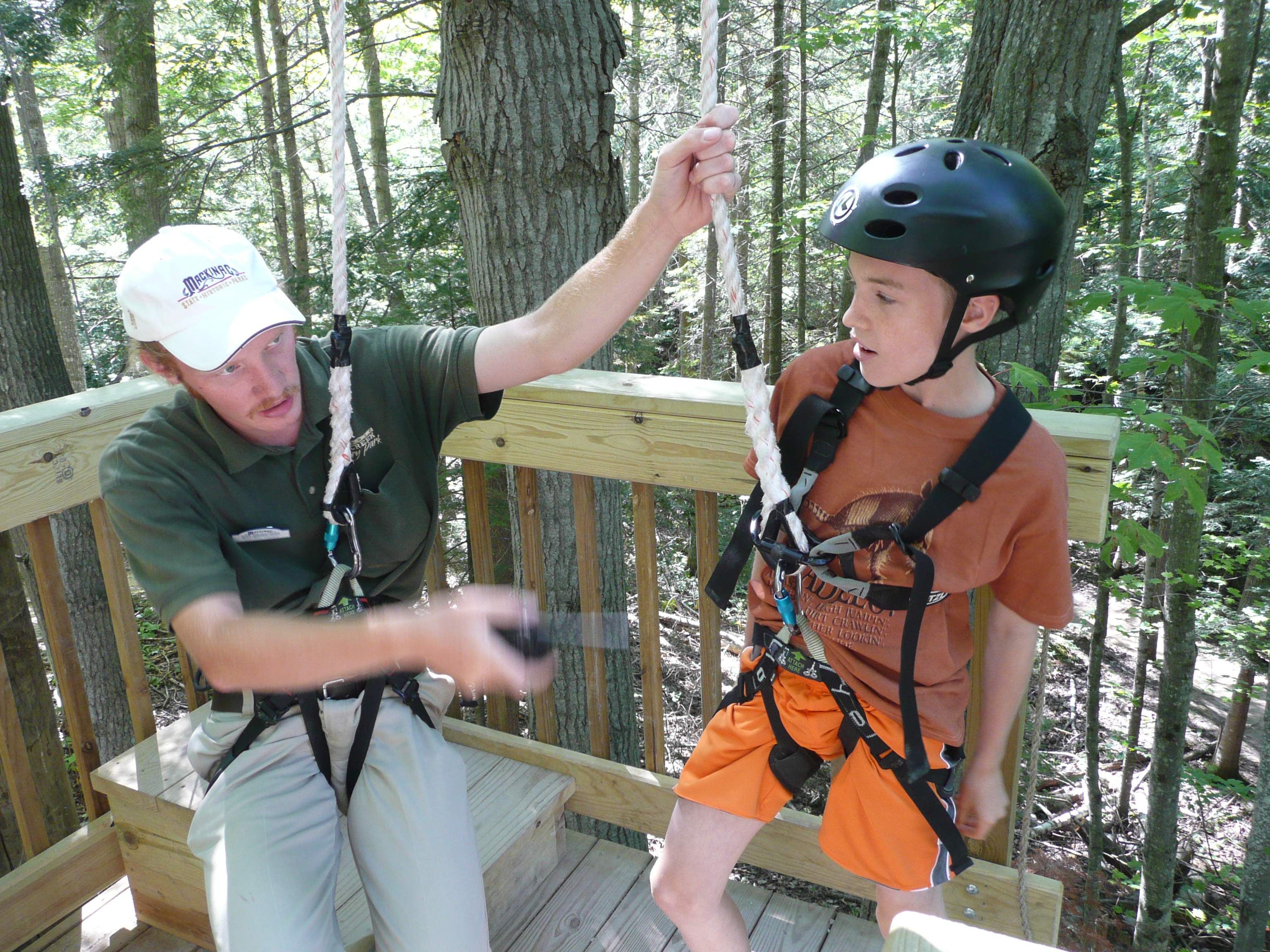 From there, we managed to take in a tour of the Old Mackinac Point Lighthouse, which we hadn't seen before, and then hurried to catch the 4.30pm Shepler's ferry to Mackinac Island for an overnight stay at the splendid Island House Hotel, one of the cluster of wonderfully pretty and atmospheric Inns that are an inherent part of the Island's Victorian style. It is several years since we were last here and it was only the second occasion on which we had been able to arrange to stay on the Island, but Mackinac is very much like an old, dear friend who greets you in the same endearing fashion every time and treats you to a visit of timeless charm.

Truth be told, we had little time to enjoy the Hotel's hospitality as we were soon off for a much-needed dinner and revelling in the waterfront location of the Chippewa Hotel's terrace restaurant (yes, we do like to get about a bit; just put it down to our restless nature - and the need to see and sample as much as possible in the shortest time imaginable!). The next item on the agenda was to meet up with our Island host Greg Hokans, the charismatic chief of development and marketing for Mackinac State Historic Parks, who had arranged an evening's cycle tour of the island for us.

We approached this idea with a small amount of trepidation as it was starting to get dark and our youngest (10-year-old Mark) is not hugely proficient behind the handlebars of a bike at the best of times, let alone one with more idiosyncracies than Howard Hughes, but we needn't have worried. Greg steered us around safely in epic fashion along twilight paths that were empty of fellow visitors but packed with atmosphere and scenic appeal. His knowledge of the Island's back-roads was immense and the pleasure we derived from our unlikely velocipede jaunt was equally high. In fact, the boys were positively breathless in their admiration for the evening adventure. Enid Blyton would most certainly have approved! For anyone also enjoying the lure of an overnight stay on the Island, we would have to say this is an absolute must-do activity to enjoy Mackinac at its most simple and captivating.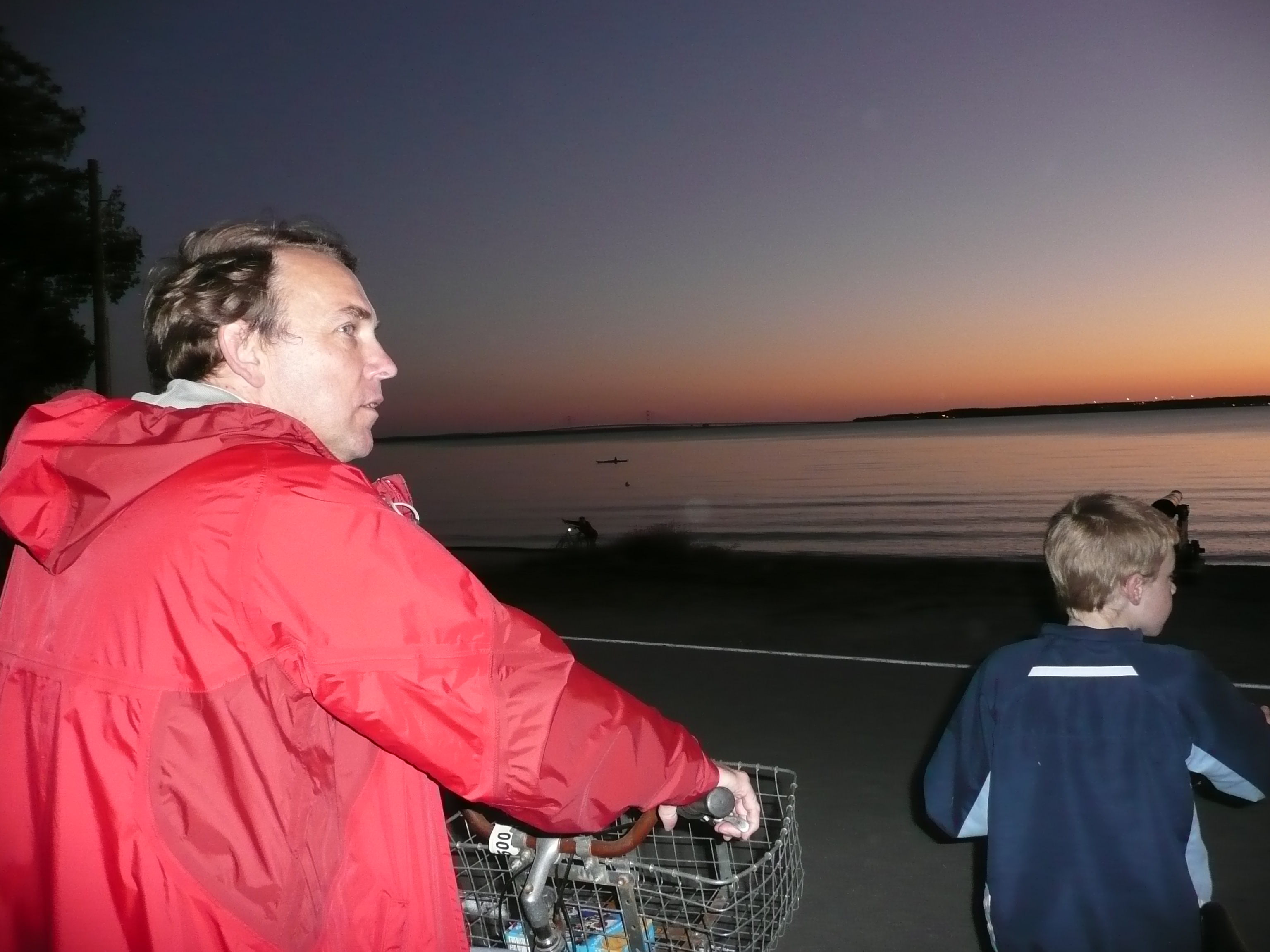 Not satisfied with one fast-paced tour of the Island, Greg also met us straight after breakfast the next day to conduct another whirlwind overview of the main attractions, including Marquette Park, Fort Mackinac and the iconic Grand Hotel, where resident historian and general all-round good egg Robert Tagatz picked up the narrative for us. There was just time to take the horse-drawn carriage ride back to the ferry terminal and then it was back on the road again in our trusty Town & Country.

This time our destination was Tahquamenon Falls, where we were reliably led to believe we would find suitable restaurant-aided nourishment before tackling the walk to the Falls themselves. Bingo. The Falls Brewery and Pub was just what we needed to revive (slightly) flagging spirits and restore the inner adventurer in all of us (especially with a generous sampling of the Blueberry Wheat Ale - delicious!), and the subsequent short trek to see this natural phenomenon on the Tahquamenon River was declared thoroughly worthwhile by all concerned.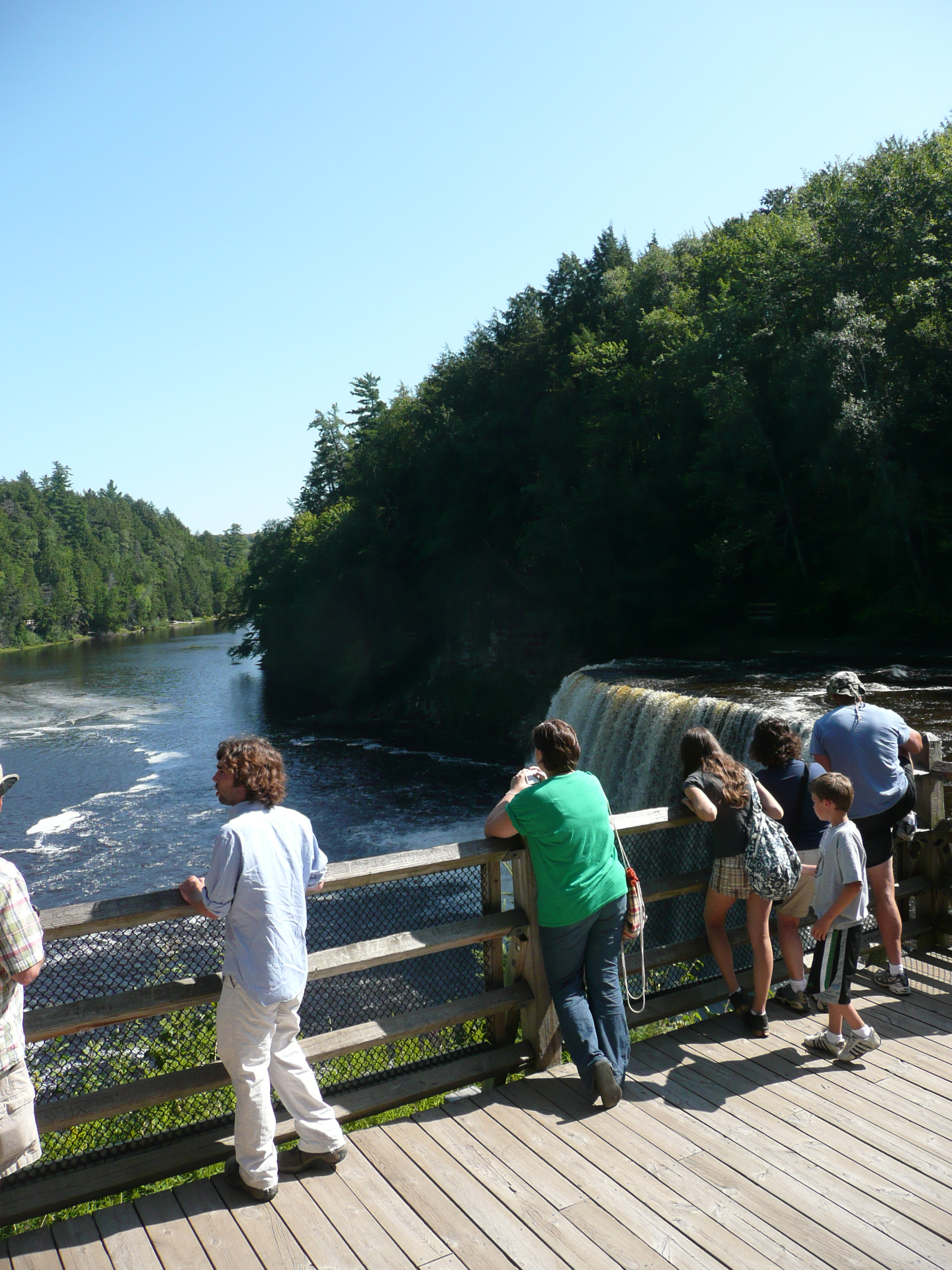 Back in the car, we were now on the road to the Great Lakes Shipwreck Museum at Whitefish Point, having been advised this attraction-on-the-edge-of-nowhere was a little-known gem on the road to Paradise (actually, from Paradise. the neighbouring town). This was probably not the biggest hit with the boys (although you would have thought the mysterious wreck and tragedy of a huge vessel like the Edmund Fitzgerald would be tailor-made for youthful sensibilities), but the presentation and information on offer were first class, and you feel the Museum actually forms a very fitting and poignant memorial to the 29-man crew of the Fitzgerald, who disappeared 33 years ago, on November 10, 1975.

Maintaining our breakneck pace, it was time to head for Sault Ste Marie and a glimpse of 'the oldest city in Michigan.' Prior to our departure, this was possibly the least enticing item on our (packed) agenda but just driving in soon confirmed this as an inspired stop on the Grand Tour. To say we were gobsmacked would be a major understatement (note to our American readers: 'Gobsmacked' is very possibly the best modern addition to the English language as it exhibits a splendid combination of physical astonishment along with a measure of 'Doh'-ness that even Homer Simpson himself would struggle to reach!).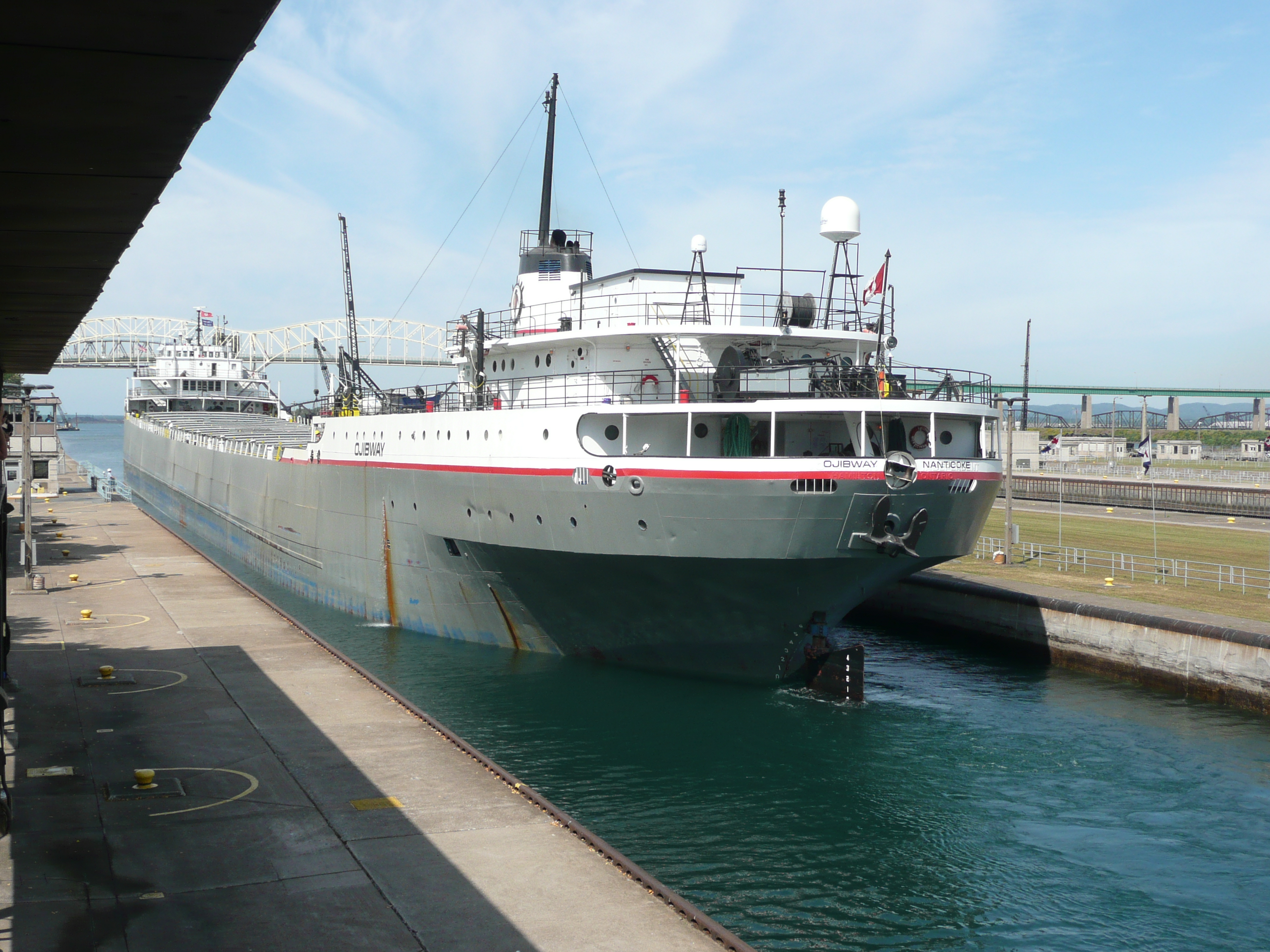 Downtown Soo (and yes, that is how it's pronounced) is a genuinely surprising mix of active history and modern engineering, featuring as it does the huge achievement of the Soo Locks, which are the kind of eye-opening man-made feature that make you cheer for the indomitability of the human spirit. There is a lot more to Soo than that (c. 2,000 years of Native American history, masses of colonial heritage, lock cruises and the fascinating Tower of History, plus a range of seriously hokey shops) and we were fortunate to have our own personal guide for the visit, Linda Hoath of the local Convention & Visitors Bureau, to fill in much of the detail. The real bonus was breakfast the next morning (at local institution Frank's Place), when Linda arranged for Tom Farnquist of the Shipwreck Museum to join us and provide some more excellent insight into the Museum's work and aims.

We couldn't also pass up our visit to Soo without a couple more 'shout outs' to Antlers Restaurant, a superbly eclectic local hostelry - a 'taxidermy restaurant'; yes, really - where their signature 'trick' is to mark the arrival of newcomers by sounding the most bizarre sequence of ship whistles and foghorns in a hilarious cacophony of indoor aural mayhem; and the local Best Western Hotel, one of the most surprisingly smart and stylish Best Westerns we've ever seen. We actually did a double-take after walking through the doors, just to make sure it was, indeed, a BW from the signage outside. It's motor-lodge facade hid a pristine foyer and large, comfy rooms that must have been recently refurbished. Needless to say, we all slept especially well that night!

The pace didn't let up, though, as we left Sault Ste Marie in our rear-view mirror and headed south once more. For once, we had no real idea of where we were headed, except that our destination was the 'Shanty Creek Resort' in Bellaire (or, rather, a mile or so outside this rather cute little town that insisted it was the 'Village of Bellaire'), a name that meant little to Susan and which proved tough to track down on the backroads of north-west Michigan. When we did finally arrive it was certainly worth the excursion. Set amid a scattering of decent-sized hills (even if the locals did insist on calling them 'mountains' - inhabitants of the Alps or Rockies would probably trip over them before they recognized them as 'Mount' anything), Shanty Creek turned out to be a stylishly upmarket and extensive golf resort that doubles up as a skiing destination in winter.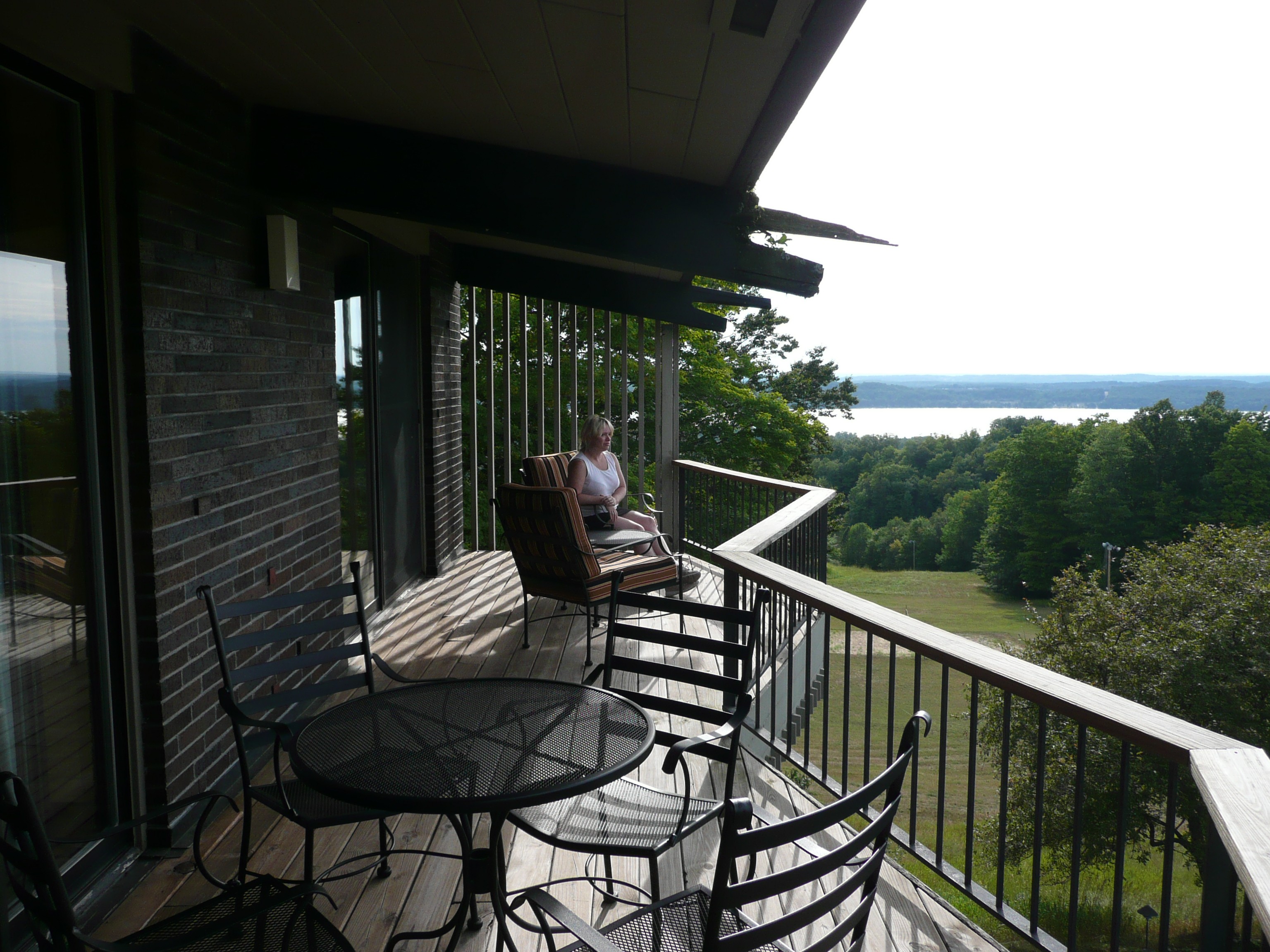 The Alpine chic of the Lakeview Hotel in Summit Village (one of the three resort centres) came as a huge surprise to our rather ragtag little group but we rallied magnificently to its 4-star style (which had been enhanced by a recent $10million renovation) and were soon deeply ensconced in two impressively furnished rooms with wide terraces and an uninterrupted vista of the plain towards Grand Traverse Bay (an inlet of Lake Michigan). A spot of mini-golf (for the kids) and a tour of the 'Summit Village' centre was about all we could manage for our evening activity but breakfast next morning certainly amounted to a room with a view, with the restaurant's huge picture windows affording a glorious view to the west. The one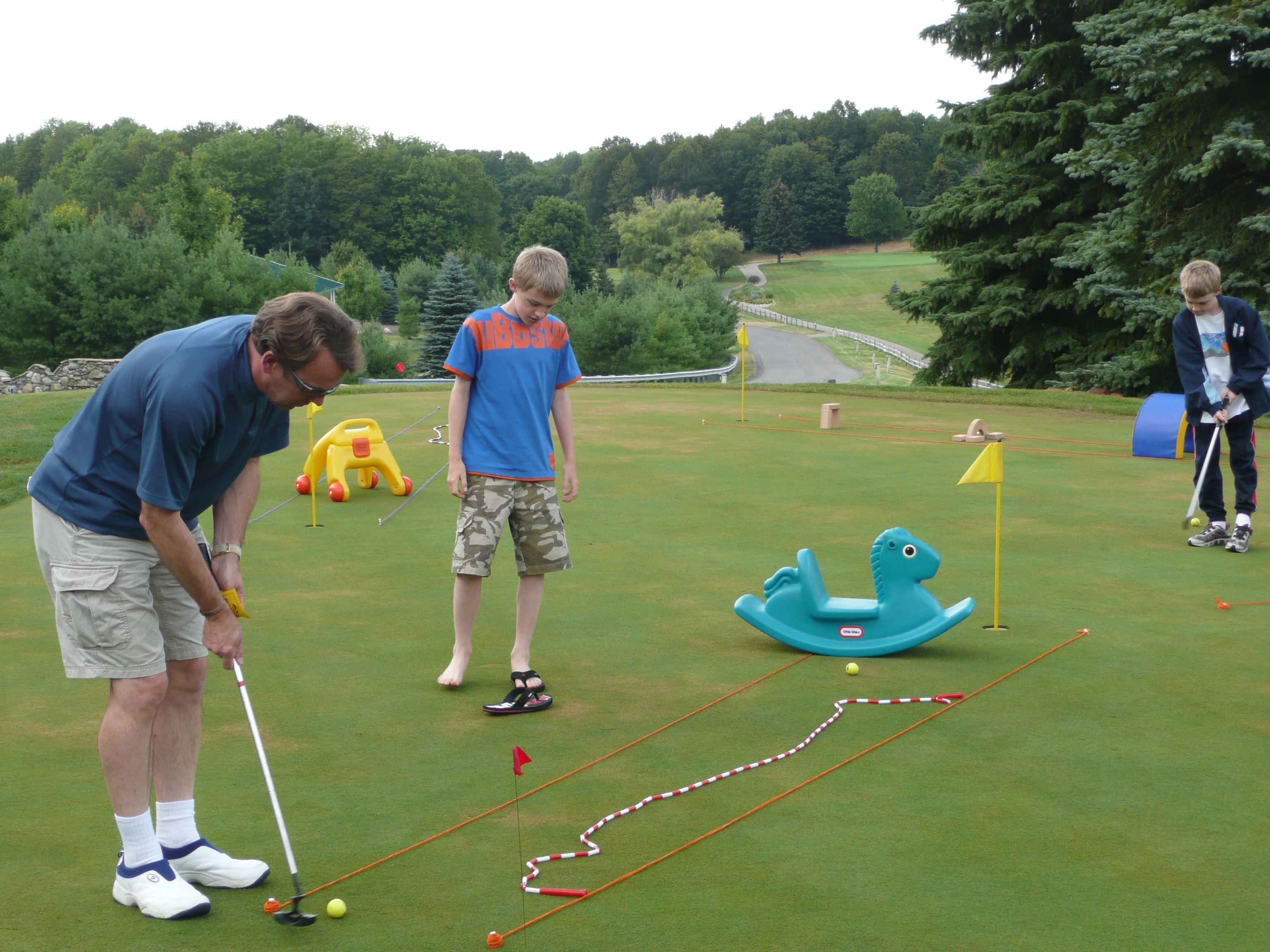 ominous note was a distinct darkening of the skies, with a weather warning for possible thunderstorms later in the day - not what we wanted to hear with a river-rafting trip on the schdeule.

After several phone calls back and forth with the Jordan Valley Outfitters (a highly personable little mom-and-pop company in nearby East Jordan), we decided it was worth heading their way, rain or no rain. Happily for all concerned, no one got soaked, hit by lightning, fell overboard or otherwise put a crimp in the day. In fact, it was an exceedingly gentle one-hour drift along the Jordan River that provided just enough exercise to justify the 'rafting' part and no actual physical discomfort (also from the 'rafting' part). The Jordan Valley proved a delightful stretch of countryside to explore and the ultimate seal of approval came from the fact we left feeling like there was still more we wanted to see.

But our schedule was calling (again) and Traverse City was next on the agenda; more importantly, the Great Wolf Lodge on the outskirts of the city. With the weather outside looming darker and darker, our timing couldn't have been better as the Lodge's great claim to fame is their huge indoor water park. Boasting nine separate elements, plus a large outdoor pool, this was the ideal scenario in which to let loose our tribe once again, oblivious to the outside elements and secure in one area where three boys had ample opportunity to swim, slide, ride, flop and float to their hearts' content.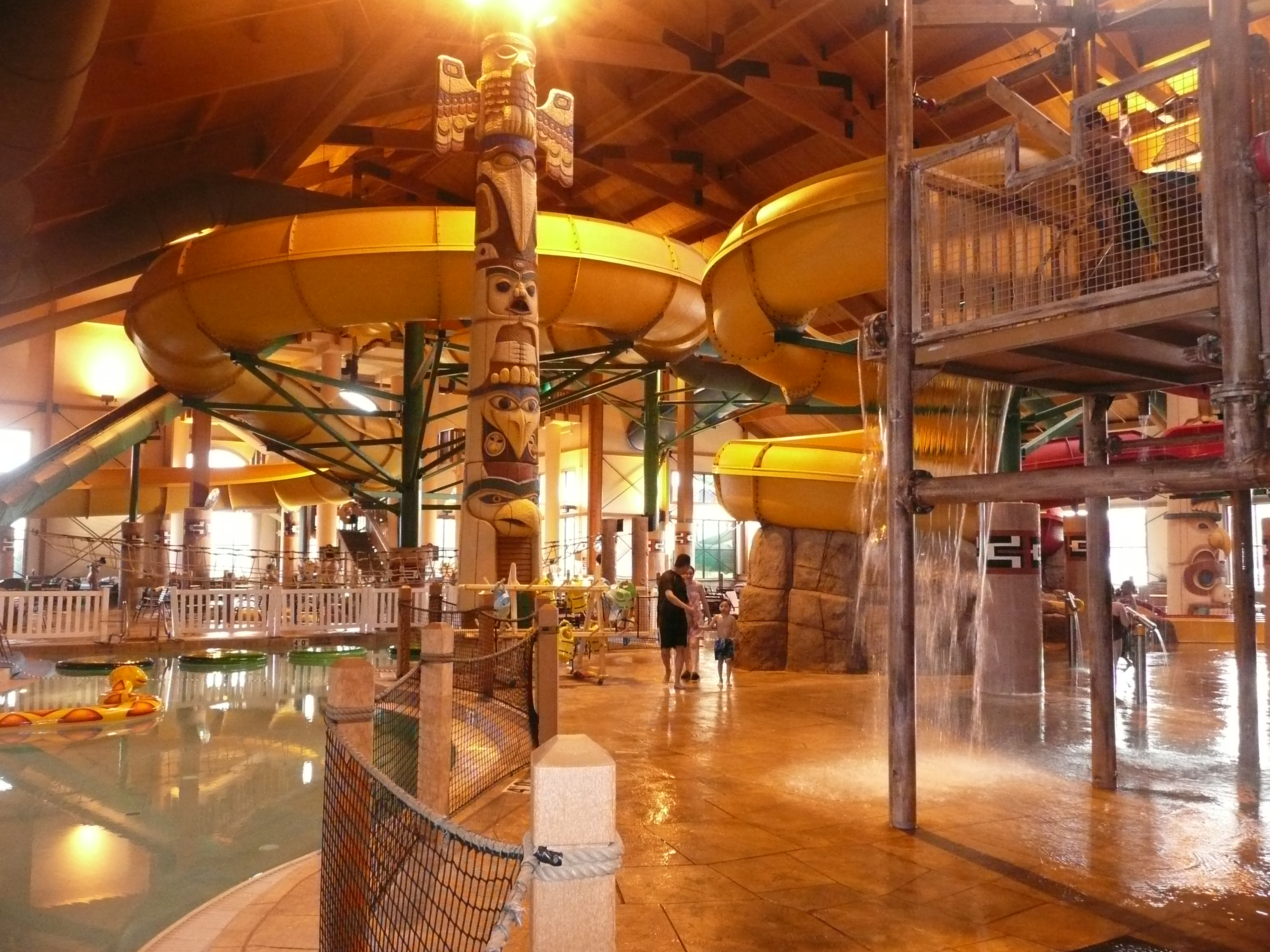 Whether it was the evening's water park exertions, the comfy beds or the general feeling of well-being, we were pretty slow off the mark the next morning. Getting everyone and everything (it's remarkable how quickly your 'stuff' gets spread out in a hotel room, even on just a night's stay) organised and mobilised was suddenly an onerous task and it was fully mid-day before we were ready to roll once more, on the final leg of our great journey, back home via one last port of call.

The weather was fittingly filthy; the previous day's murky skies giving way to the blackest clouds and heavy, squally rain. It turned driving into a watery challenge akin to having to navigate a waterfall from the bottom. It also made trying to locate an appropriate stop for lunch awkward to say the least, as the washing-machine-window effect turned everything into a smeary wilderness of dimly-perceived uniformity, unable to discern if those lights might be an Applebee's or a Jiffy Lube. Eventually, we spotted a Mancino's through the monsoon and pulled in for a much-needed pizza.

Suitably fortified, we continued our journey south and picked up Highway 127 to Mount Pleasant. Here, Dave Lorenz of Travel Michigan had assured us, was one of the state's hidden gems in terms of its Native American heritage and, sure enough, the Ziibiwing Center turned out to be a real jewel for fans of Indian history (as we are). And, while it probably wasn't the most captivating exhibit for the boys, we think they also learned a little in spite of themselves! The Ziibiwing is a cultural repository for the Saginaw Chippewa Indian Tribe of Michigan, one of the Great Lakes Anishinabek peoples, and features one main permament exhibit, the Diba Jimooyung, as well as at least one temporary exhibit at any one time, all housed in a beautiful wood-crafted building which positively shimmers with the spirit of the Anishinabek.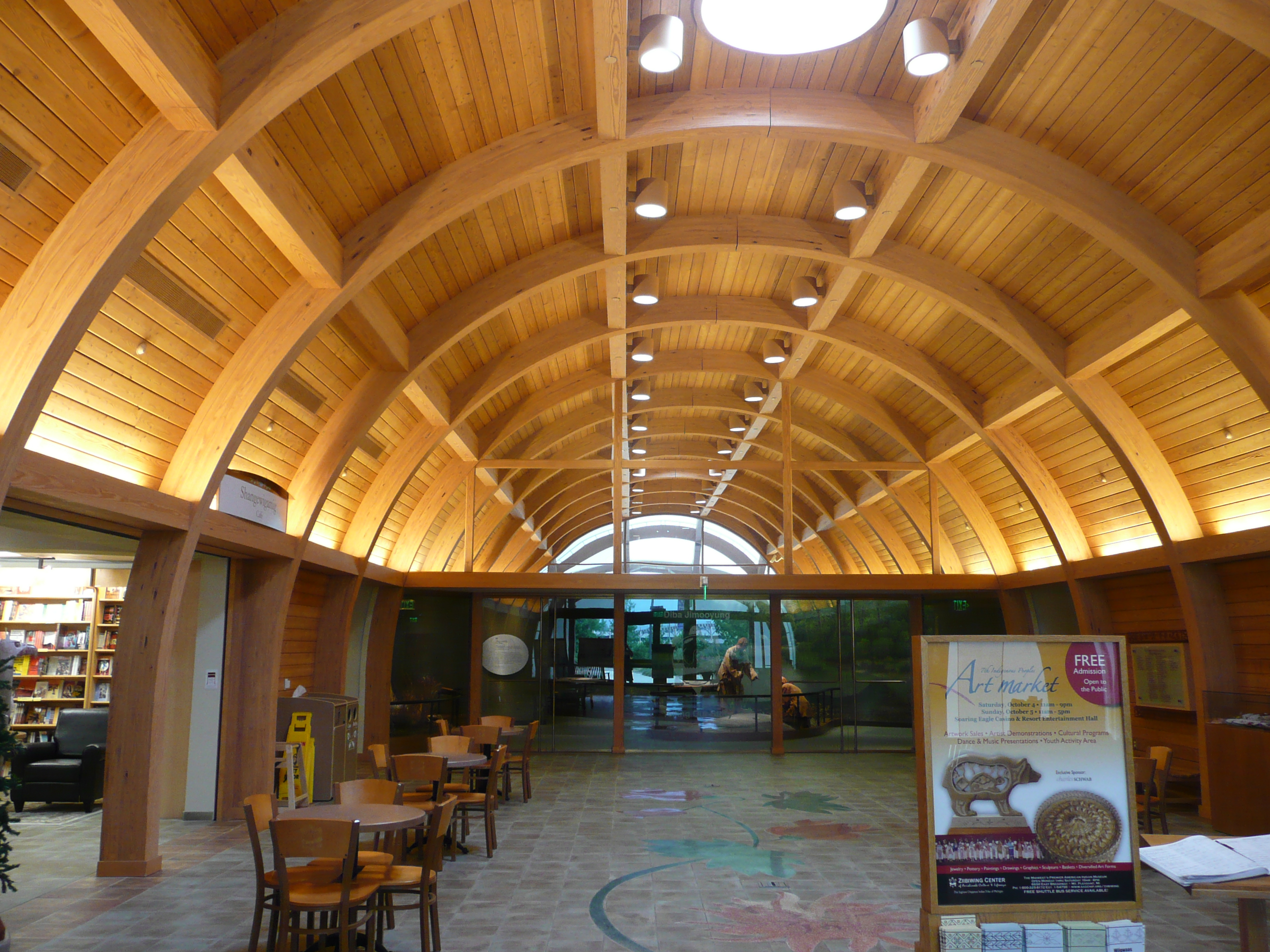 With a mixture of multi-media presentations, art, dioramas and other exhibits, the Diba Jimooyung offers a compelling view of a people, their lives, beliefs and struggles through the story of the Seven Prophecies, which date back thousands of years. We were fortunate to be given a tour in the company of one of the Center's cultural resource staff and it was a wonderful journey through a little-known era (for us) which really does make you wonder what would have happened if the early settlers had found a way to co-exist properly and peacefully with the native people. Somehow you feel we might not be in such a state of environmental and cultural flux as we are these days. *Sigh*

Anyway, the Ziibiwing was a truly fitting and memorable way to sign off our six-day round-Michigan expedition, in which we travelled by car, zip-line, ferry, bike, horse-drawn carriage, river-raft and a fair bit of time on the hoof.

We played in water parks and state parks; watched 1,000ft freighters transiting the Soo Locks and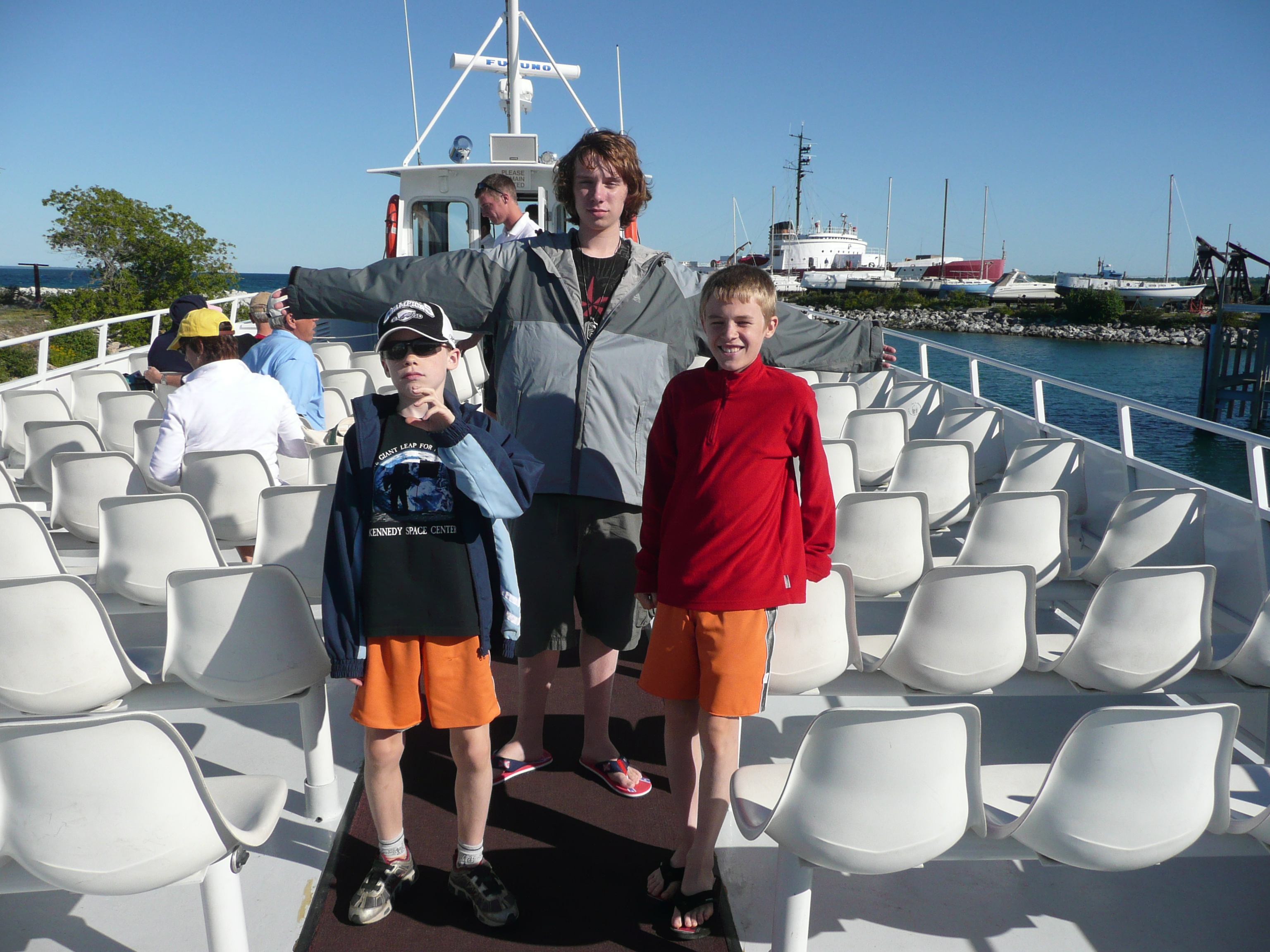 sailed in a 12ft river raft; we took in natural wonders like Tahquamenon Falls and man-made ones like the Shipwreck Museum; we sampled a huge variety of tastes of Michigan, from Blueberry Wheat Ale to dried hominy (at the Ziibiwing); and we had a fabulous time as a family, getting a true cross-section of the state. Mackinac Island remains probably the biggest hit with all of us, and the boys are definitely keen to return and go biking again, but there were many pleasant surprises along the way.

And it all served to underline, yet again, that Michigan really does hold the secret to a fabulous variety of vacation possibilities. We thoroughly recommend you give it a try sometime soon!

Oh, and don't forget to check out what the boys thought of it all on their very own Boys Blog of the trip!
The Magic of Alaska
June/July 2008



This was our major excursion for the year (so far!) and proved an experience beyond our wildest expectations. It was ostensibly for a big section in the Spring edition of

World of Cruising

magazine, but it promises to fuel a LOT more than that.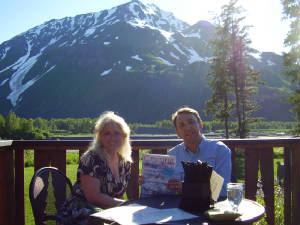 We had planned and prepared for it for months, and the basic schedule was a week's Inside Passage cruise from Vancouver to Seward, sailing with Alaskan experts

Holland America Line

, followed by five days exploring the Kenai Fjords and

Mat-Su Valley

areas.

It began with a flight from Detroit to Seattle followed by an overnight stay in Seattle, with time to explore the city's eclectic

Pike Place Market

the following day then a drive up to Vancouver in the afternoon. We had an evening to enjoy downtown

Vancouver

(thanks to expert local advice from Simon's cousin and her husband!), and then picked up Holland America's elegant ship

Zaandam

the next day.

What followed was 12 days of unstinting travel nirvana; a journey that was beyond spectacular, that exceeded any of our previous adventures, and which provided enough food for thought to fill the largest cranial supermarket.

In short, it was the stuff of dreams (which still recur at regular intervals!), and it has heightened and sparked our writing senses like nothing else. To say we are inspired to learn more, see more and experience more of this vast, wild and majestic territory is a major understatement.

While much of it will seem obvious to anyone who has had even a passing acquaintance with America's 49th state, it hammered home the message to us in glorious technicolour and letters 20,000ft high (that's the height of Mt McKinley, or more properly Denali, by the way).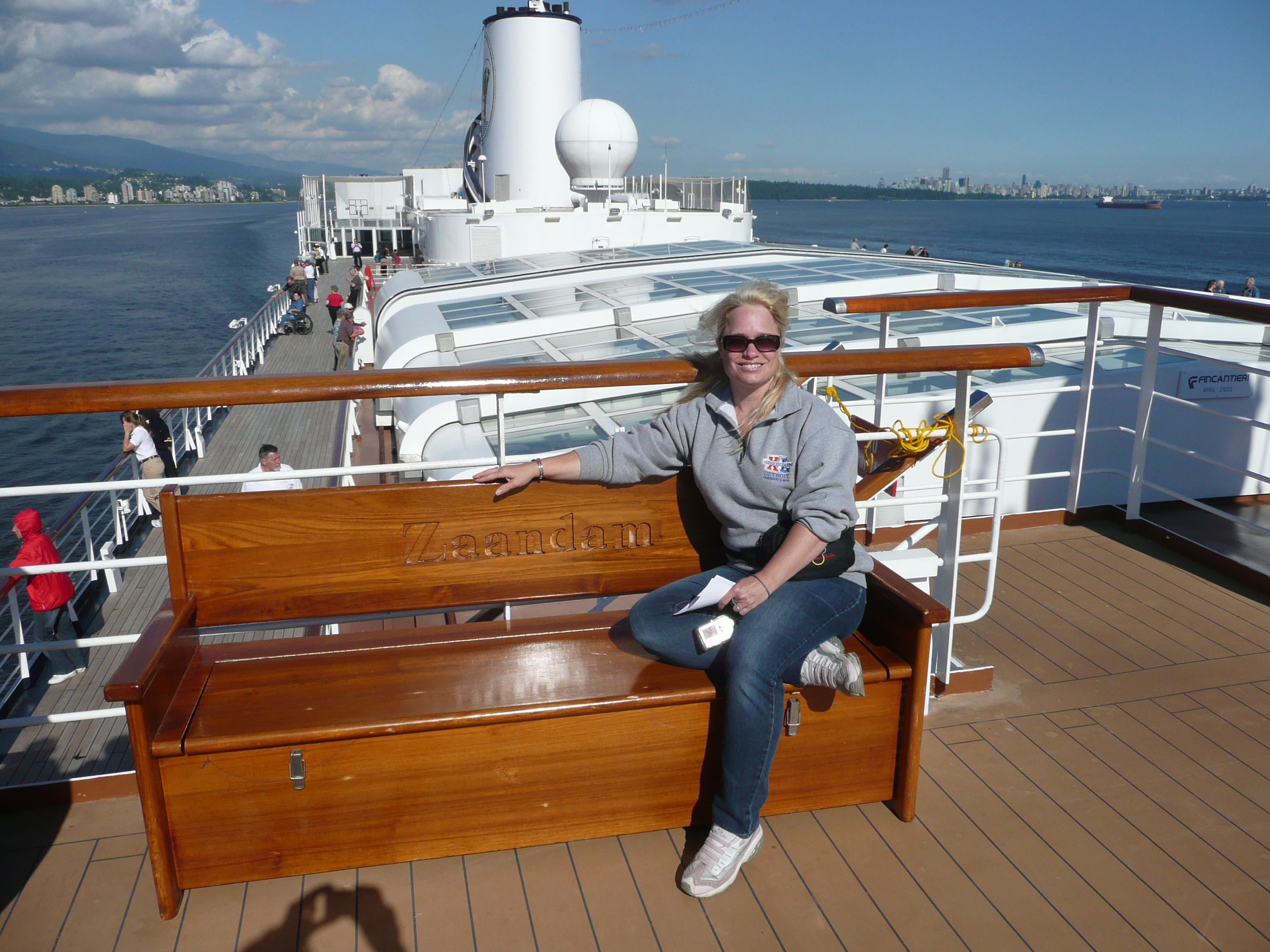 Purely and simply, Alaska fills the senses like the headiest drink and the finest food; it is a feast for the eyes and the soul. And it is full of wonderful people who offer their thoughts and experiences of this frontier region with both a disarming friendliness and a total disinclination to dwell on its harsh, raw aspects.

The plentiful wildlife is captivating; the activities are almost always outdoorsy and health-oriented; and the depth of the history, geology and climatology is staggering. This is a region which can captivate you with tales for an eternity and yet still not reveal the full dimensions of the Alaskan experience.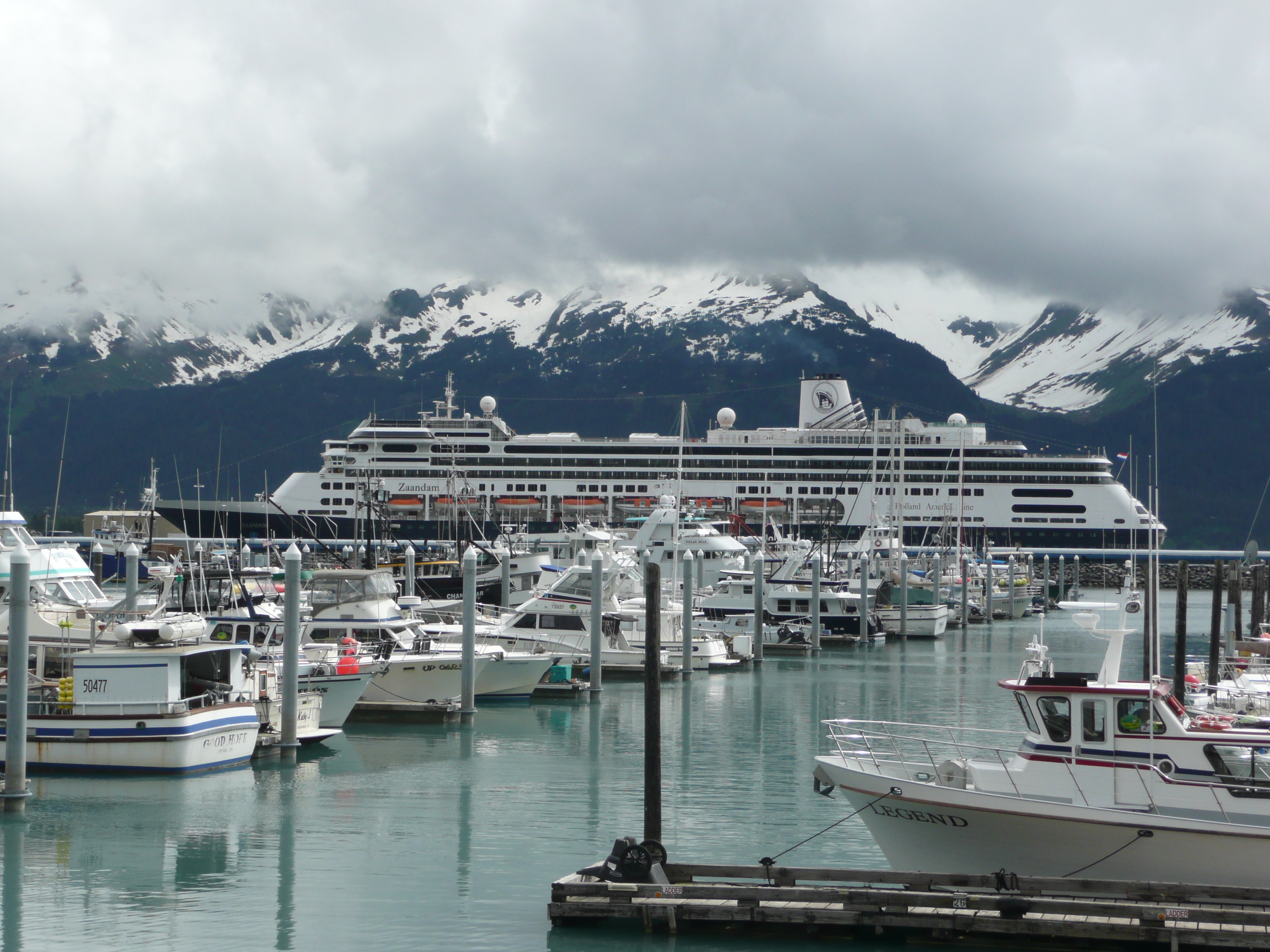 From the cruise ports of Ketchikan, Juneau and Skagway (which all offered several essential and contrasting 'must do' activities and attractions) to the natural splendours of Glacier Bay and College Fjord; from the wildly cavorting Dall's Porpoises and languid Orcas to the sudden appearance of startled moose and playful otters; and from the tsunami-influenced town of Seward to the flight-seeing haven of Talkeetna, our journey revealed new facets of this diamond-in-the-rough at almost every turn.

And then we encountered Denali - all 20,320ft of it - and the experience reached new heights (no pun intended).

For the uninitiated, this is America's loftiest mountain, sitting firmly in the heart of the Alaskan Range of mountains in south-central Alaska. But it is

way

more than that. Denali is an image, a presence that truly gets under your skin, that burns its way into your subconscious and lingers there like a reassuring totem for all things wild and natural.

Our first view of this utterly awesome tectonic outcropping (which, in mountaineering terms, has a higher vertical rise than any other mountain on earth, including Mt Everest - 18,000ft to the great Himalayan's 12,000ft) was completely deceiving. But, as the clouds slowly melted away, the full extent of this massive icon was revealed in ever-clearer detail.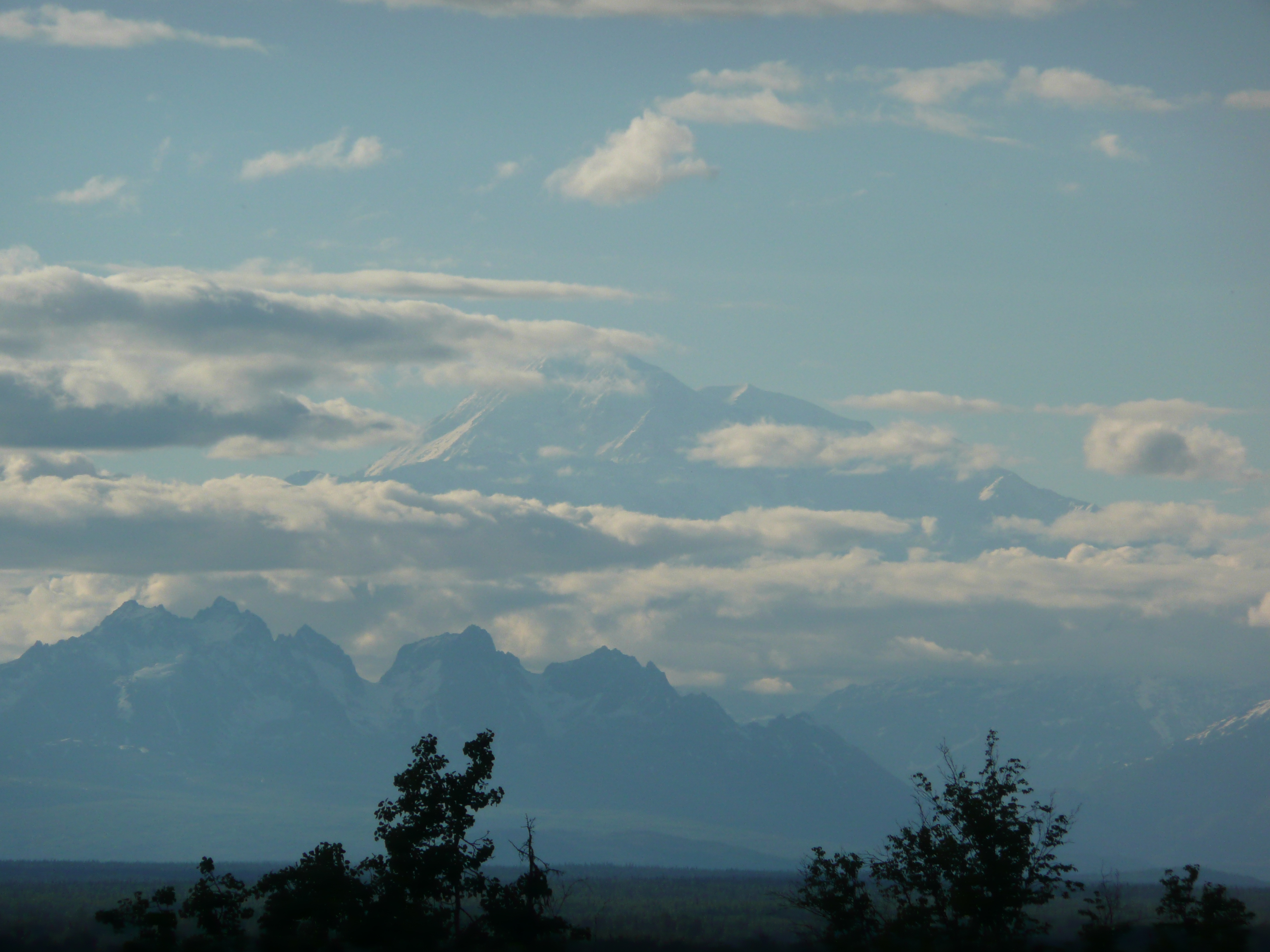 Ultimately, we have no words expressive enough to provide a full and meaningful account of that moment; and Alaska is just too vast and fundamental to be explained in a literal way. Our adjectival verbiage is not up to the task.

However, that will not stop us trying, both in the pages of

World of Cruising

and elsewhere. There are SO many virtues to extol it is hard to know where to start, but start we most certainly will.

Whether we come to a satisfactory ending is probably years away from determining; it is quite possible we never will.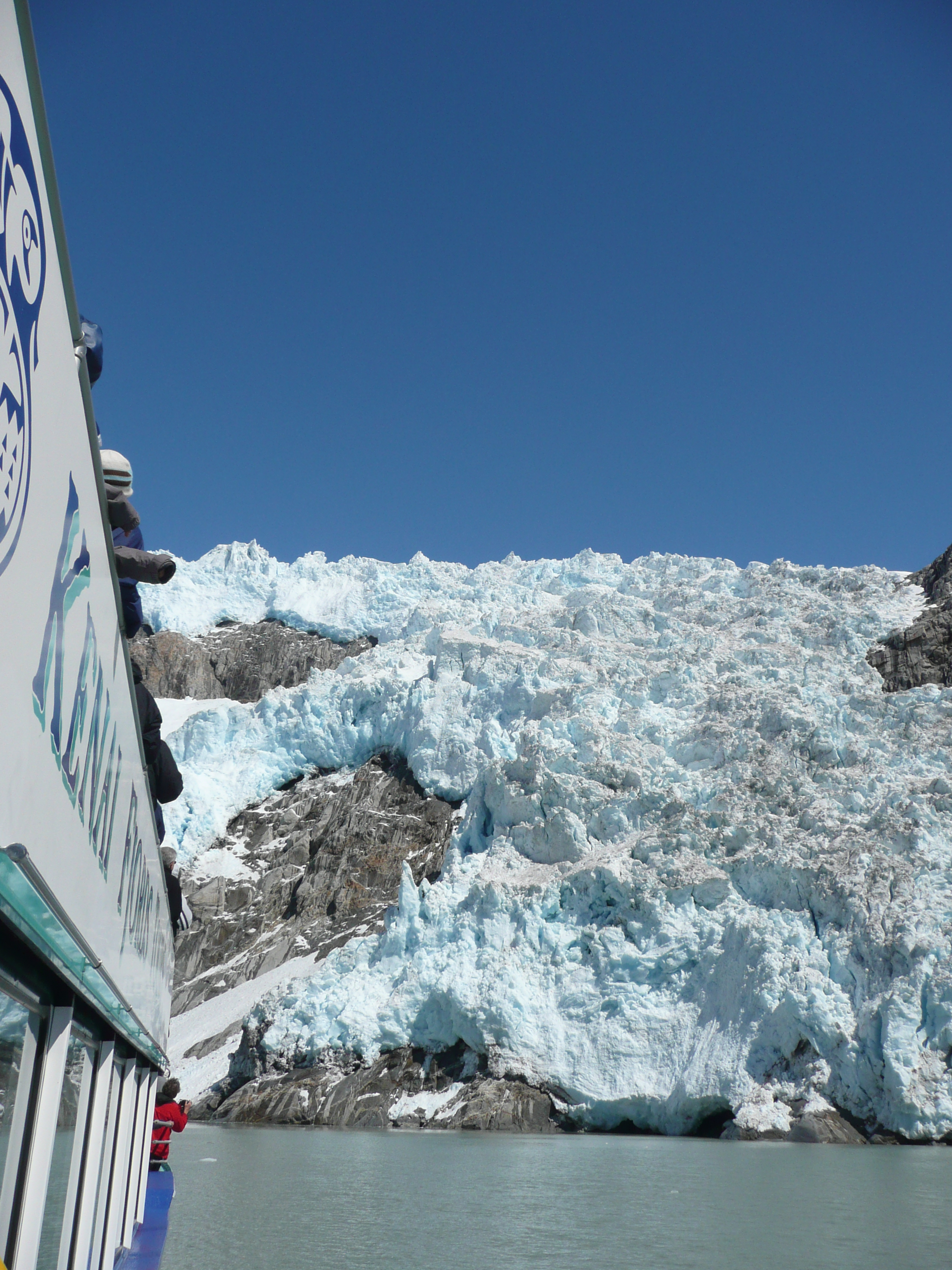 But we most surely intend to give it a really good try!

** Our most grateful thanks and sincere appreciation for help in our great Alaskan Adventure go to the following organisations, all of whom would earn our highest recommendation as first-class travel and information resources: **

Holland America Line - www.hollandamerica.com

Alaska Travel Industry Association - www.travelalaska.com

Ketchikan Visitors Bureau - www.visit-ketchikan.com

Juneau Convention & Visitors Bureau - www.traveljuneau.com

Skagway Convention & Visitors Bureau - www.skagway.com

Alaska Heritage Tours -

www.alaskaheritagetours.com

Matanuska-Susitna Valley Convention & Visitors Bureau - www.alaskavisit.com

We fully endorse and support all these companies.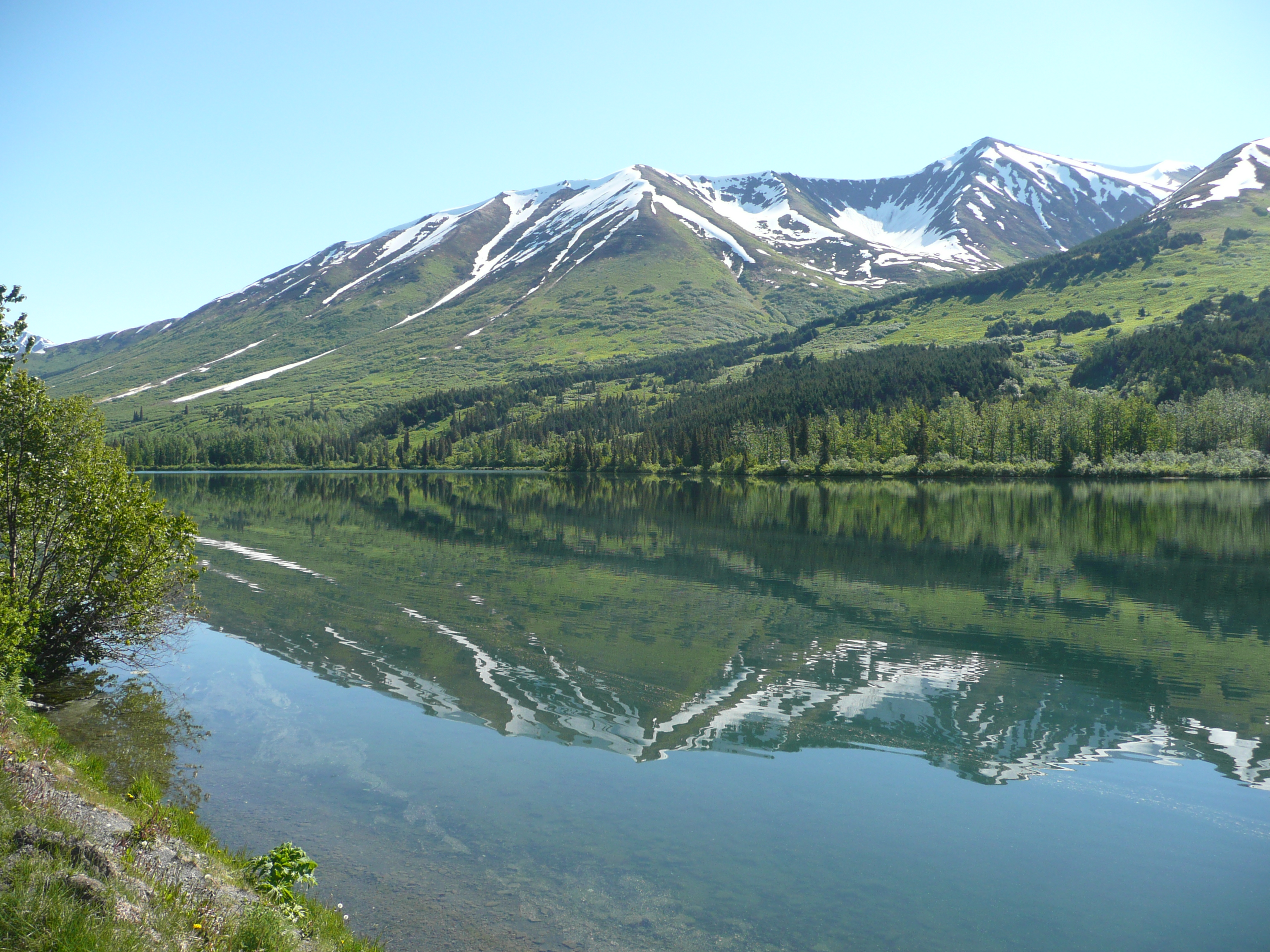 Phoenix, Arizona
Jan/Feb 2008

Travelling out to Phoenix for Super Bowl XLII (Simon's annual sport-fest), we had the opportunity to arrive early and do some touring before the various fan (and media) hordes rolled into town.

That meant a chance to experience Simon's mini-obsession with Cowboy culture and everything that goes with it, hence our first tour was to the south of Phoenix - a 3-hour drive, in fact, all the way to Tombstone, 'The town too tough to die.'

And the reality is this is a genuine, living, breathing slice of 1880s history. Much of the town is pretty much as it was way back in the time of Wyatt Earp, and the extra gloss provided by the costumed characters and live shows around the street is absolutely superb.

Take a stagecoach ride round town, watch the shootouts at Six Gun City, tour the old silver mines (the original reason for Tombstone's boom-time) and then stop for lunch at Big Nose Kate's Saloon. It all reeks of the original 19th century grit and gusto with which people chiselled an existence out of this unforgiving territory.

Touring the next day in the Tucson vicinity, we marvelled at the subtle variations of the desert landscape as we drove through the mountains to the Arizona-Sonora Desert Museum, a wonderful outdoor facility that is more like taking a stroll in the wilds than visiting a conventional museum. Featuring both wildlife and plenty of desert flora, this healthy look at what makes the Arizona scenery so special was a real eye-opener and we could easily have spent most of the day here.


...Saddle up, pardners, for a Wild West adventure!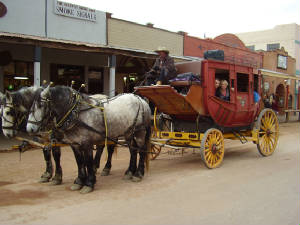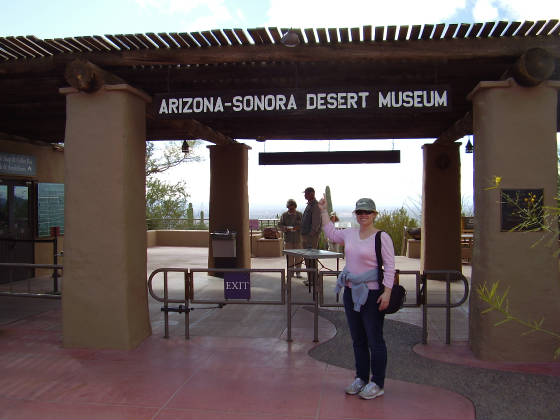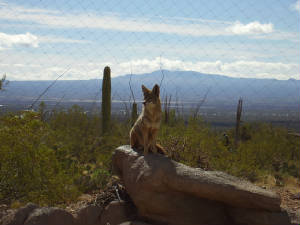 Instead, we headed back into Tucson (courtesy of an excellent schedule worked out for us by the local Convention & Visitors Bureau) for lunch at one of the city's most unique restaurants, El Charro, a 1923 original specialising in real family Mexican cuisine. A bit like dining in someone's front room, every dish comes up fresh and inviting and we left with our waistlines considerably enhanced!


From central Tucson we headed out again to the Mission St Xavier del Bac, 'The white dove of the desert.' This 18th century Spanish mission survives little changed from its 300-year-old incarnation in 1700 and is a poignant reminder of the excruciatingly poor lifestyle of the vast majority of the local populace several hundred years ago.


Our next stop changed the scene completely and underlined Arizona's popularity as an 'airplane parking lot.' The Pima Air & Space Museum is an astonishing repository of military aircraft from the Second World War on. Hundreds of planes (and helicopters) of all shapes and sizes are parked here, mute witnesses to a much more aggressive past, notably during the Cold War era. Taking a tour here is absolutely essential as there is SO much to see and you can completely miss the vast 'Boneyard' if you're not careful.


Back in Phoenix, we took a day to explore out from the wonderfully evocative Apache Junction (actually a fairly nondescript town to the east of the city), which sits at the start of the Apache Trail. Taking a drive along here is another Arizona staple as it takes in the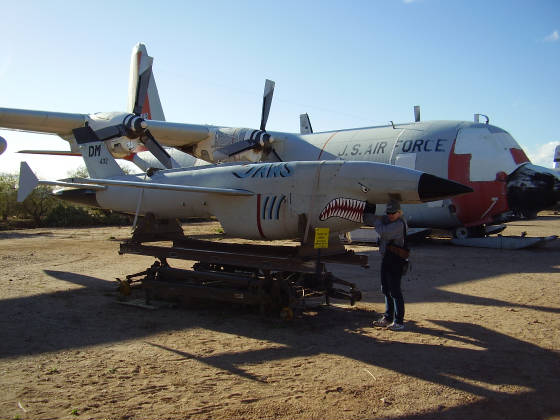 The weired and wonderful are all at the Pima Air & Space Museum
scenic Superstition Mountains, Goldfield Ghost Town (a superb recreated location that doesn't quite seem to know quite what to do with itself), Canyon Lake and wonderful little Tortilla Flat. The latter stagecoach stop is a must-visit if only to try out their bar, where the 'stools' are actually saddles and the beer is served in jam-jars. Tourist heaven!


Another excursion took us to Fort McDowell Adventures, again a desert location to the north-east, where they offer horse-riding tours of an hour to all-day, camp cookouts and Native American interpretations (as well as group events, team building and organised experiences). We managed a 2-hour trail ride in the company of two cowboy 'guides' and soaked up every minute through the near-silent excursion, where our horses' hooves and creaking saddles provided the only regular sounds (apart from some coyotes howling in the distance).


Back in Phoenix, the superb Heard Museum, with its vast store of Native American history, art and oral traditions, kept us enthralled for half a day (it would have been longer if time had allowed), while the Gift Shop was another genuine treasure (thankfully, we had only a limited amount of time,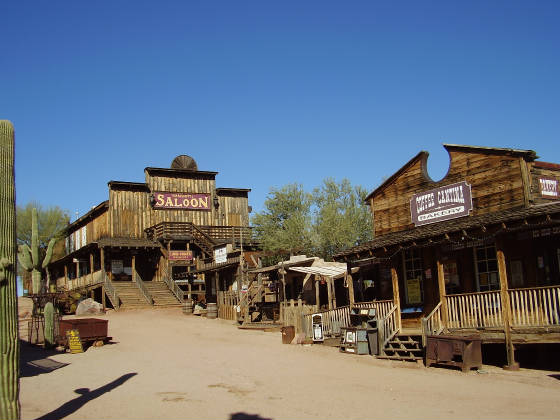 The beautifully scenic Goldfield Ghost Town on a perfect Arizona day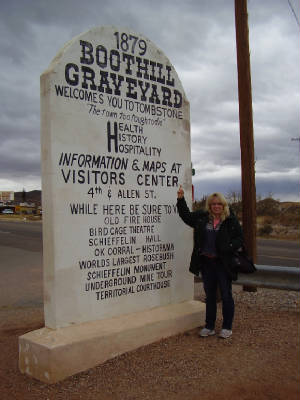 otherwise our credit cards could have taken a serious pounding!).


Then a trip up to happening Scottsdale – where, if everything isn't brand, spanking new, then it is in line for rebuilding in the near future – brought the chance to peruse the vast selection of shops (both boutique and the big-name variety) and sample some of the amazing array of restaurants. We eventually settled on Cowboy Ciao, a pleasant mix of Italian and South-West styles, where their Grazing menu was a total delight (and the signature Mushroom Pan Fry a complete taste sensation).




With the Game looming, Susan had to return home while Simon was left to focus on the Patriots v The Giants, but there was still time for a quick visit to Tempe and the Mill Avenue District, where much of the Super Bowl crowds seemed to be congregating of an evening. The bright streets and eclectic restaurant selection led us to another local institution, Monti's, which served up superb steaks in another unique atmosphere of authentic 19th century charm.


And with that, it was all about New York against New England, at the University of Arizona Stadium in Glendale. A superb venue for a totally memorable game. But still not as memorable as this visit to the Arizona desert, with its myriad of attractions. We WILL be back!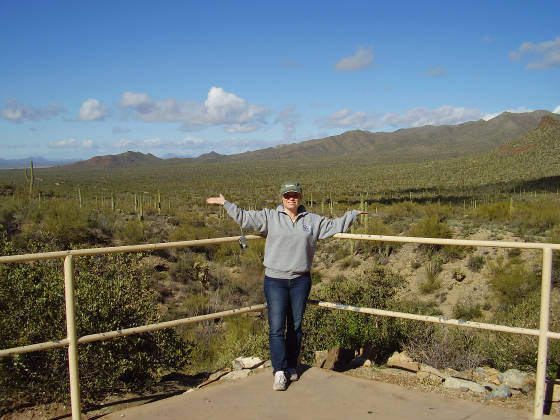 Voila! The magnificent Arizona desert scenery