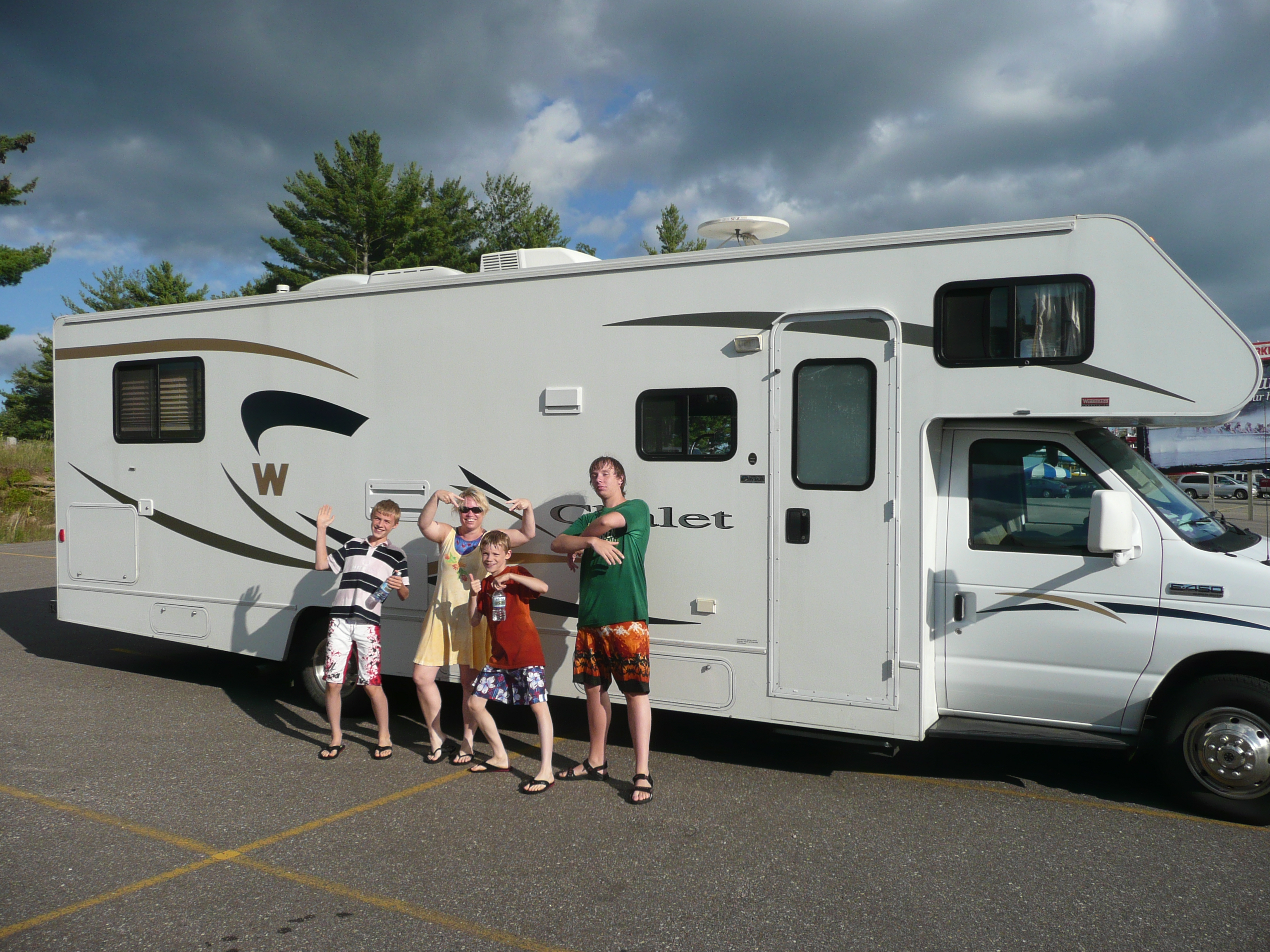 It all started with a 'Grand Idea' earlier in the year. We had noticed a stall for
Moturis RV
at the big Pow Wow travel convention in Miami and began wondering what it would be like to spend some time in one of these huge vehicles, trundling around the US and discovering new places "on the open road."
No sooner imagined than investigated, planned and organized!
We wondered if it might be something the boys would enjoy as part of their summer vacation. Would it be a wonderful adventure or would we all be at each other's throats, all five of us in one vehicle for a week? We wondered, but we didn't ask them. Let it be a surprise, we thought. And a surprise it certainly was - for us.
Having driven up to Island Lake, just north of Chicago, we found the Moturis (Camping World) depot late in the afternoon just as we were beginning to wonder if this was a truly bad idea. The weather was grey and unpromising and the three boys were already starting to get a touch fractious in the back seat.
However, as soon as we arrived and our 'secret' vacation was revealed, the grand scale of the depot and our vehicle quickly had our trio bouncing off the walls (almost literally) in delight. If we had any doubts about how this might work out, they evaporated within minutes. It took us no time at all to get the low-down on our 31ft Type W motorhome, transfer our gear from the car and head off in the direction of Wisconsin.
The sheer novelty of things had the boys hooked from Minute One, and the huge amount of space they each had in the RV, both at night and while we were driving, was akin to giving a buffalo the freedom of Wyoming.
As we headed north, the only real concern was in keeping this monolithic vehicle on the straight and narrow. The roads into Wisconsin all seemed to be in a greater state of disrepair than our bank balance, but, thankfully, things improved significantly as we picked up I-90/94 en route to
Wisconsin Dells
.
It was dark by the time we reached the
Yogi Bear Jellystone Park
campground/resort but we were warmly welcomed (we were indebted to our friends at
Travel Wisconsin
and
Travel Michigan
for helping to set up the visit, and it all went like clockwork) and soon ensconced in Red Carpet berth 118 and setting up for the first time. Ever.
OK, so we didn't get it ALL right first time, but it was pretty darn close, in the dark, having to reverse into the berth, and, with our electricity and water connected up, we were soon able to brew up dinner and get everyone settled. The time it took to re-arrange the interior for sleep mode was minimal and it was clear the novelty wasn't going to wear off on the boys anytime soon!
DAY TWO
Given the chance to be up and about at a decent time, we soon discovered the Jellystone resort was pretty much a destination in its own right - three pools, playgrounds, mini-golf, boat hire, water play area, games room, hay rides, gift shop, snack bar and nightly open-air movies made for a LOT of onsite amenities.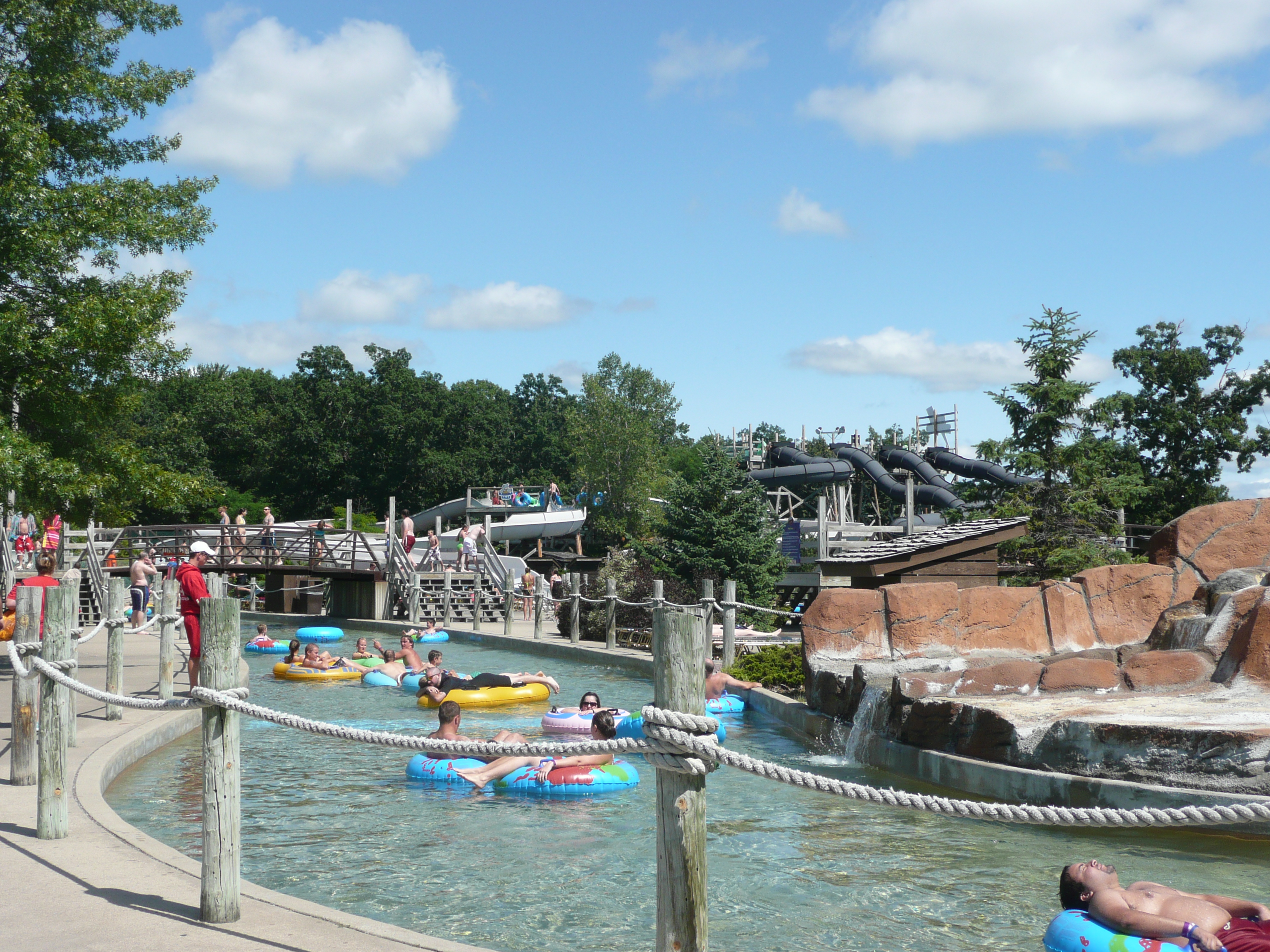 But we were also keen to see something of the Dells - in particular, their world-famous water parks.
Noah's Ark
was our first stop, a truly vast and expansive open-air arrangement of seemingly every kind of water slide, ride, pool, and splashy thing ever invented. The kids' eyes boggled. Mark was convinced this was actually TWO parks (see his
Blog
), and it was pretty clear we weren't going to get the best of it in just half a day. However, we managed to give it a darn good try and, taking advantage of a blissfully sunny but mild day, we probably got about half the rides under our belts in the time available.
Next up on our whistle-stop Dells tour was a
Jetboat Adventure
, with the chance to roar along the Wisconsin River at a ridiculously high speed, take in the scenery - and get very, very wet as our boat captain managed to make this contraption practically do pirouettes on the spot, and then come to a dead stop underneath the tidal wave of water it created. Great fun!
We drove back through the downtown area marveling at just how much there was to see and do here. Clearly, we hadn't budgeted anywhere near enough time to do more than just scratch the surface, but the vast array of activities and amenities will definitely have us back in future. How this isn't the Orlando of the North, we just don't know.
We did have time for another water park, though, and this was the indoor version - the amazing
Kalahari Resort
, which took some time just finding the entrance for as it covers about 50 acres! America's largest indoor park, it truly wowed our boys, and they were off to the races in no time flat. Several hours later it was finally time to call it quits and head back to Jellystone, weary but elated at such a high-quality day out.
DAY THREE
After two nights with 'Yogi,' it was time to head on to the more unexplored parts of Wisconsin, and to get in some more outdoorsy activities.
Wausau
was our destination this time, with the chance to go canoeing on the Eau Clair River with
Grand Valley Adventures
. Ben got to have his own kayak while Simon, Susan, Mark and Anthony split into two canoes. And, for the next two hours, we paddled our way through the heart of peaceful Wisconsin wth a mixture of watery frolics, good-natured jousting and gentle sight-seeing.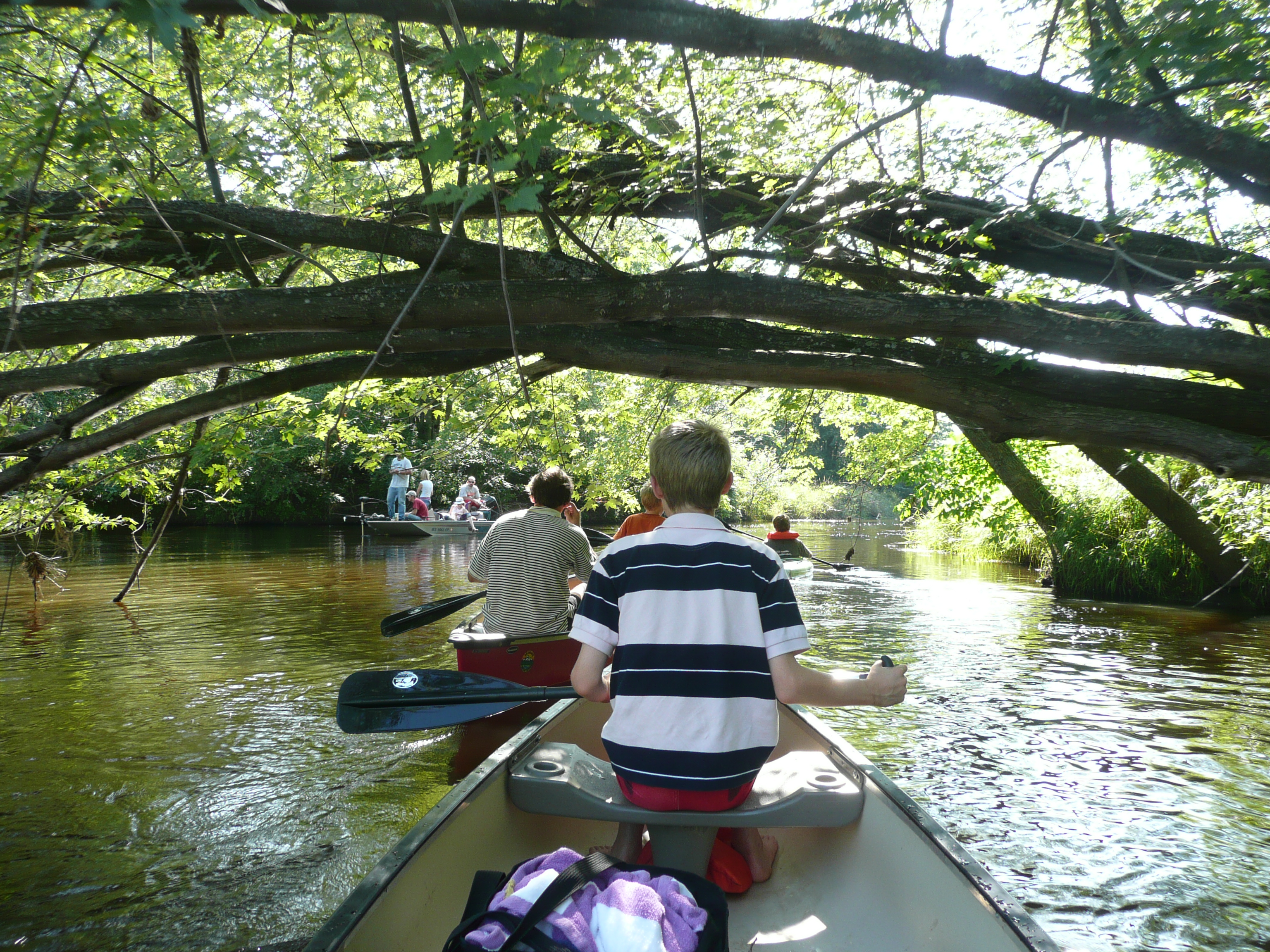 We had all worked up a pretty significant appetite by this stage, and our hosts from the Wausau CVB had the perfect answer in the form of the
Pinewood Supper Club
in nearby Mosinee. A superb dinner was wolfed down by all five of us, while a flock of hummingbirds kept up a lively aerial dance outside on the lakefront verandah.
Our RV camp that night was the superbly scenic
Lake DuBay Shores
, where getting located and set up couldn't have been easier. It was very quickly becoming obvious why so many people opt for this kind of vacation. It is convenient, easy, convivial, family-oriented, healthy and absorbing.
DAY FOUR

We knew we had a longer journey ahead of us as we turned our RV's nose towards Michigan's Upper Peninsula, but the sheer delight of being mobile in this rumbling colossus was enough to make the time pass easily (although having to stop to fill the 55-gallon gas tank was enough to give us a scare as the payment window soared past $70 and didn't stop until it got to $94!).
Being able to eat 'on the go' ensured we made good time, and a pleasant lunch stop in the town of Powers also eased the way, and then we were up in the forest Upper Peninsula, making good time for Gladstone and an overnight stop in
Gladstone Bay Campground
, right on the lake and with a glorious view of the sunset.
Our late arrival didn't give us much time to explore and, with the weather starting to get windy and a threat of rain for overnight, we called it a day quite early. The campground was especially quiet but the small beachfront kept us amused for a while, as well as the pleasant boardwalk.
DAY FIVE
The morning dawned distinctly unpromising and forced a hurried change of plans. Instead of more outdoors adventures in the Escanaba area today, we decided to break camp early and head for St Ignace. However, we did manage one unscheduled stop that turned out to be a big hit with all concerned.
Palms Book State Park
had caught our attention on a previous trip 'up north' and we thought it would make an excellent diversion for an hour or so, if we were fortunate enough to avoid the incoming squalls. We didn't quite beat the rain, but we did get to enjoy one of Michigan's most charming and unique features - Kitch-iti-kipi, the 40ft deep fresh-water spring that boasts a rope-pulley raft across its 200ft width. Pulling the rope to propel the raft and peering into the crystal-clear depths for huge brown trout that drifted across the 'boiling' sand (the bubbling spring gave it a distinctly volcanic appearance) provided plenty of diversion for all three boys, and the weather steadfastly refused to put a damper on things.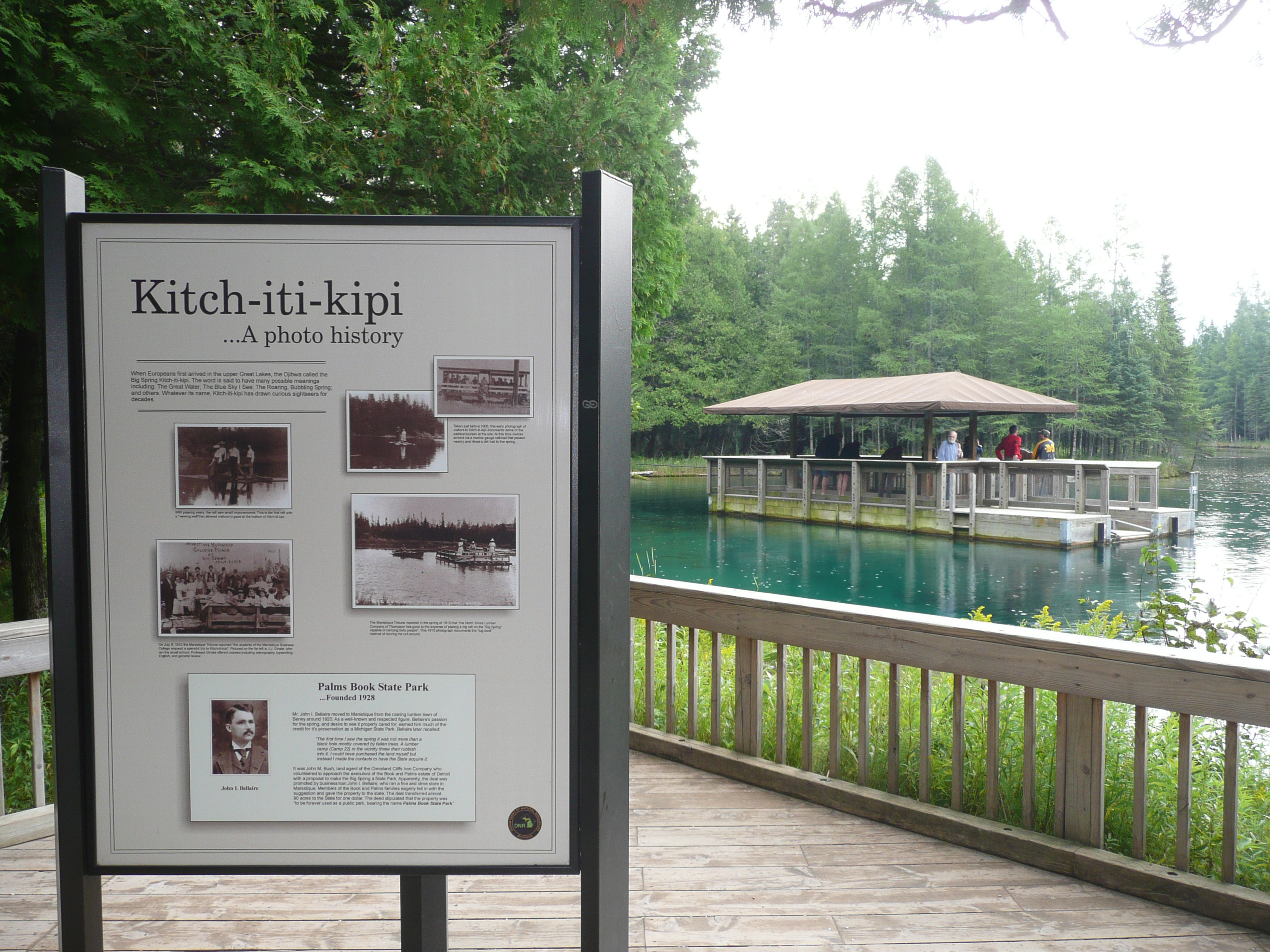 A splendidly rustic lunch at the Big Spring Inn, where the boys could play pool and wolf down huge platefuls of chili, kept everyone well fueled for the drive on to St Ignace, now in heavy rain. The weather put the only downbeat note on the whole trip but our decision to drive on early worked to our advantage as, by evening, the rain had passed on and we arrived at the
Lakeshore RV Campground
, and another perfectly scenic overlook of Lake Michigan.
Once again, we found a friendly welcome and even friendlier neighbors, more proof that the RV life generates a healthy amount of genuinely hospitable atmosphere to go with the fun style of traveling.
DAY SIX

Being back in the vicinity of
Mackinac Island
(one of our favorite places
anywhere
), it was impossible to resist the lure of a day in its wonderful Victorian timewarp atmosphere, so we called up the
Arnold Ferry Line
and they sent out their shuttle bus to pick us up for the 15-minute ride over.
Looking to do something a bit different, we were pointed in the direction of the
Mackinac Breeze
, a wonderful little catamaran offering rides around the harbour and out into the Straits. After yesterday's miserable weather, we had a glorious day to be on the water and took it in turns to sunbathe on the front of the boat and enjoy a chat with the crew. Back on terra firma, a bike ride is absolutely de rigueur for us on any visit here, hence we sought out the nearest rental shop and were soon peddaling around the flat coastal path that circles the full 8-mile perimeter of the island. After a rather mazy drift through the interior (with frequent stops to consult the map!), we decided it was time to give our inner visitor some fuel and headed for
Patrick Sinclair's Irish Pub
in Main Street, where we know from previous experience the hearty fare and decent ales(!) are the ideal combination.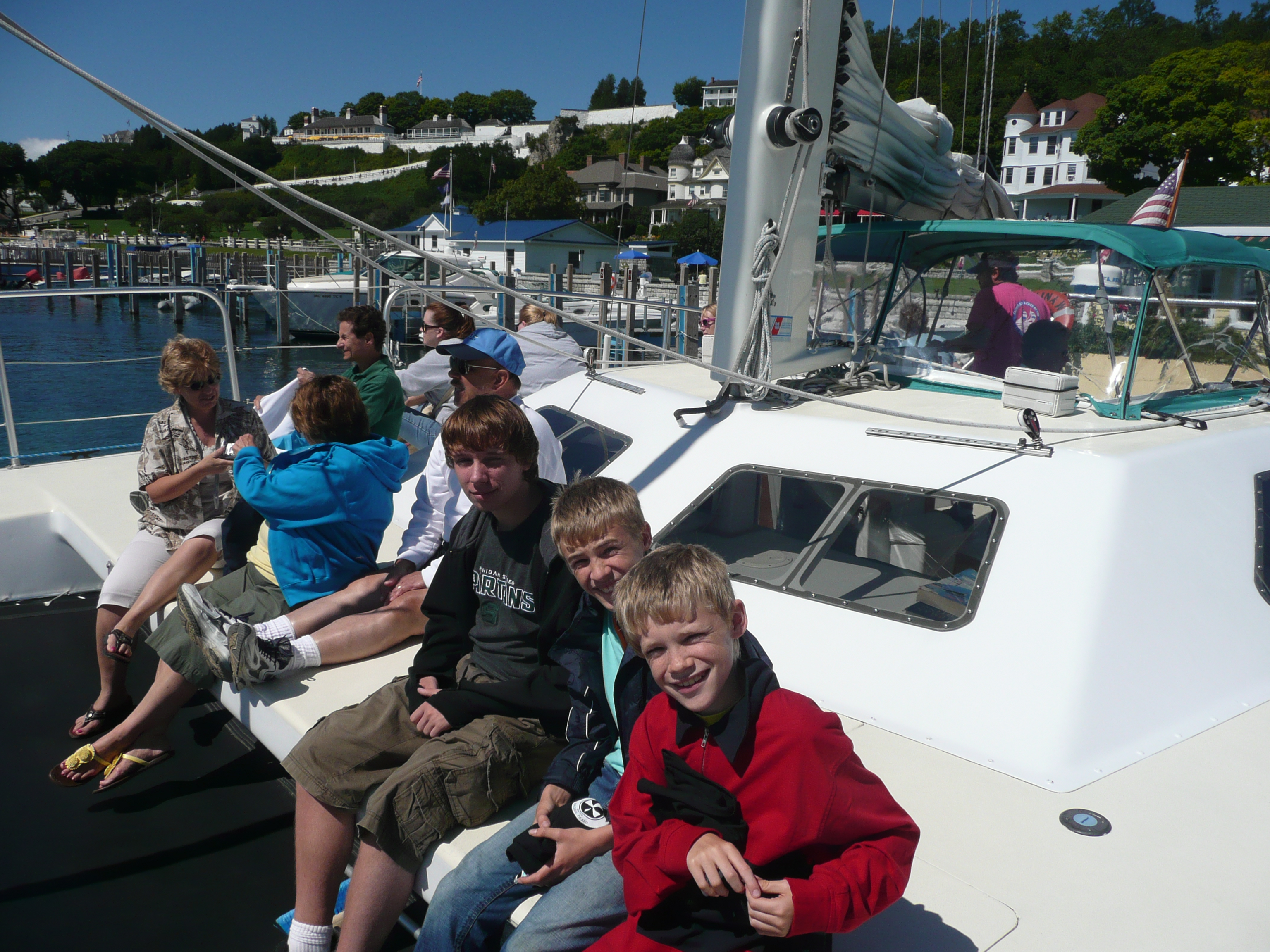 And, with a wander along the shops and compulsory visist to a couple of the Fudge makers, that took care of a full day in truly perfect fashion. Exercise, scenery, good food and that ideal coastal vista (Mackinac really is one of the flat-out prettiest places in the Midwest) all added up to another big hit for all concerned (the boys just LOVE the biking as it is so easy and safe), and we said goodbye to Mackinac in the sure knowledge it won't be long before we are back again.
Back at the Lakeshore Campground, our neighbors were still in convivial mood and we shared some typical RV stories (actually, they just told us theirs, as we didn't have a lot to pass on!) as the sun disappeared off to the far side of Lake Michigan.
DAY SEVEN

We had just one more stop in Michigan, and it was a new one to us.
West Branch
is easy to find off I-75, most notably for the Tanger Shopping Outlet here, but our interest was more outdoorsy, with the local tourist bureau pointing us in the direction of
Big Mike's Canoe Rental
in nearby Lupton, where the Rifle River State Park offered some top quality canoeing and kayaking.
With the boys recalling their canoe efforts from Wausau with a touch of trepidation, we opted for kayaks this time, with huge success all round. Big Mike (who
was
actually pretty big) turned out to be an affable host, providing a tour of the Park before setting us loose for a two-hour paddle along the shallow and easy-flowing Rifle. The gentle current made for very easy progress, albeit with the inevitable periodic competition from the boys to see who could be 'first' for a while.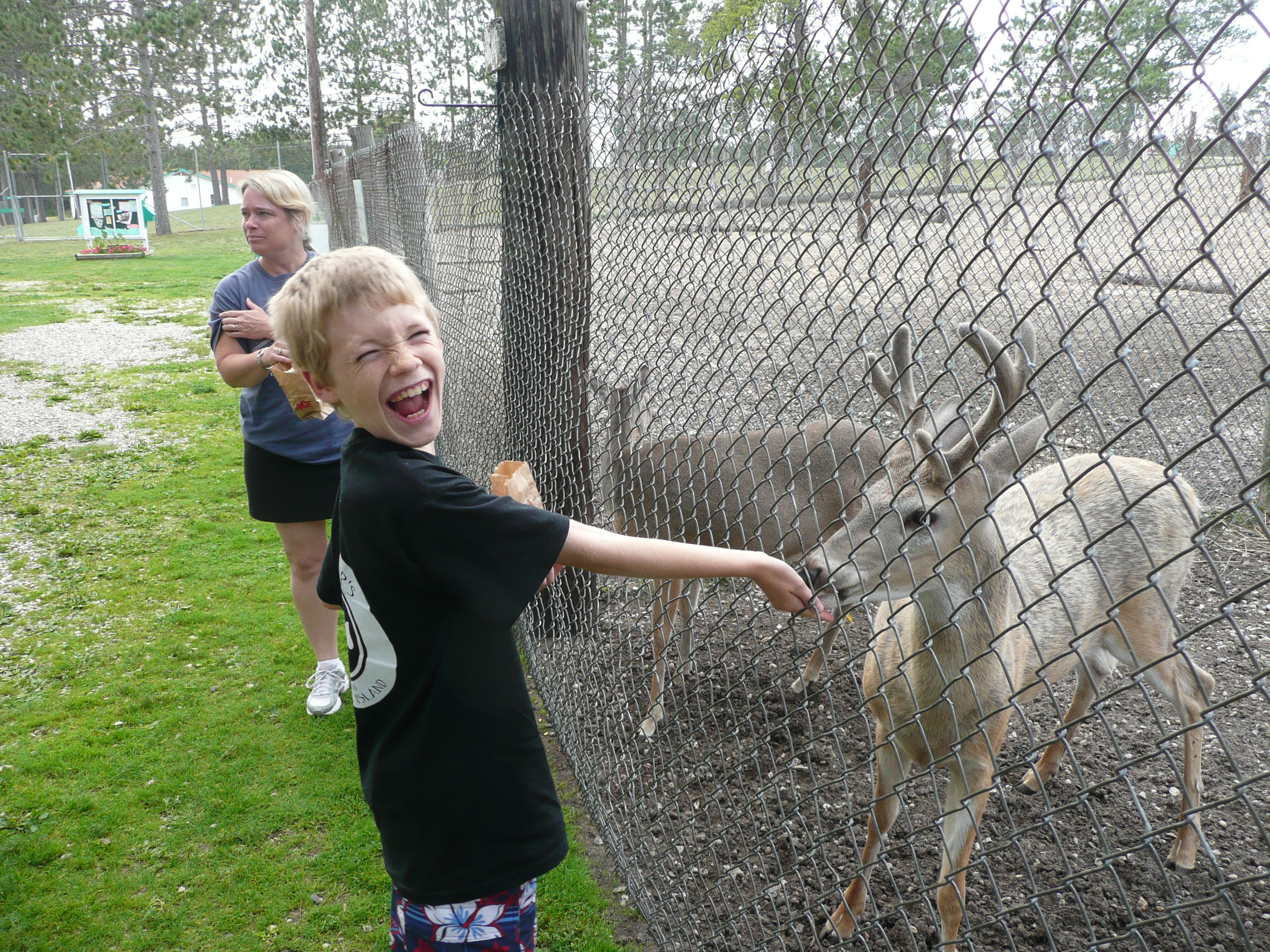 With another major outdoor pursuit checked off our list, we were directed to another nearby location that turned up a real surprise.
Ogemaw Nature Park
was tucked away in the backwoods behind West Branch but was a real discovery with its variety of white-tail deer, picnic area and gift shop. The boys all got to feed the deer and hear some of the local preservation stories, and we all voted this an absolute gem of a place to while away an hour or so.
Back in West Branch, our local host, Steve Leonard of the WB Chamber of Commerce, insisted in taking us for dinner, and we were very glad he did so. The
Lumberjack Food & Spirits
turned out to be a local institution of some repute, with a rich, timber-inspired interior and a series of depictions around the walls of Michigan's lumber industry. The boys loved it and tucked in eagerly to their steak dinners while the grown-ups talked shop (and also enjoyed some excellent fare - there's nothing like some good outdoor activity to inspire the healthiest of appetites!).
The neighboring
Quality Inn Hotel
also had its own eclectic history and design, with a wonderful indoor pool area and several rooms furnished by a local Amish family who wanted to trade for an unwanted coffee-maker! Not the kind of thing you find in most corporate hotels, but a great bit of local lore.
Our overnight stop was at the
West Branch RV Park
, and another fine example of a rural retreat that ensured we had every comfort but in an ultra-quiet setting. Considering this was just 5 minutes from the Highway, we were amazed at how well it was tucked away among the woods. With more time, this would have been an ideal place to wander the trails for a while. But, as it was, we had one more important event to plan - our own campfire, with 'smores! We had been promising the boys we'd have a go at this typical camping opportunity and, while they probably weren't the best Graham-cracker-inspired treats anyone ever had, they still fitted the bill. Check another box!
DAY EIGHT
Sadly, we were now very firmly on the final leg of our Grand Circle Lake Michigan Tour, but we still had time for a stop at another of our Michigan 'regulars,' the town of
Frankenmuth
and the state's own 'Little Bavaria.' This is our excuse to eat WAY too much lunch at the
Bavarian Inn
and buy our annual Christmas tree trinkets at
Bronner's CHRISTmas Wonderland
, which is truly one of the world's most original and eye-catching stores.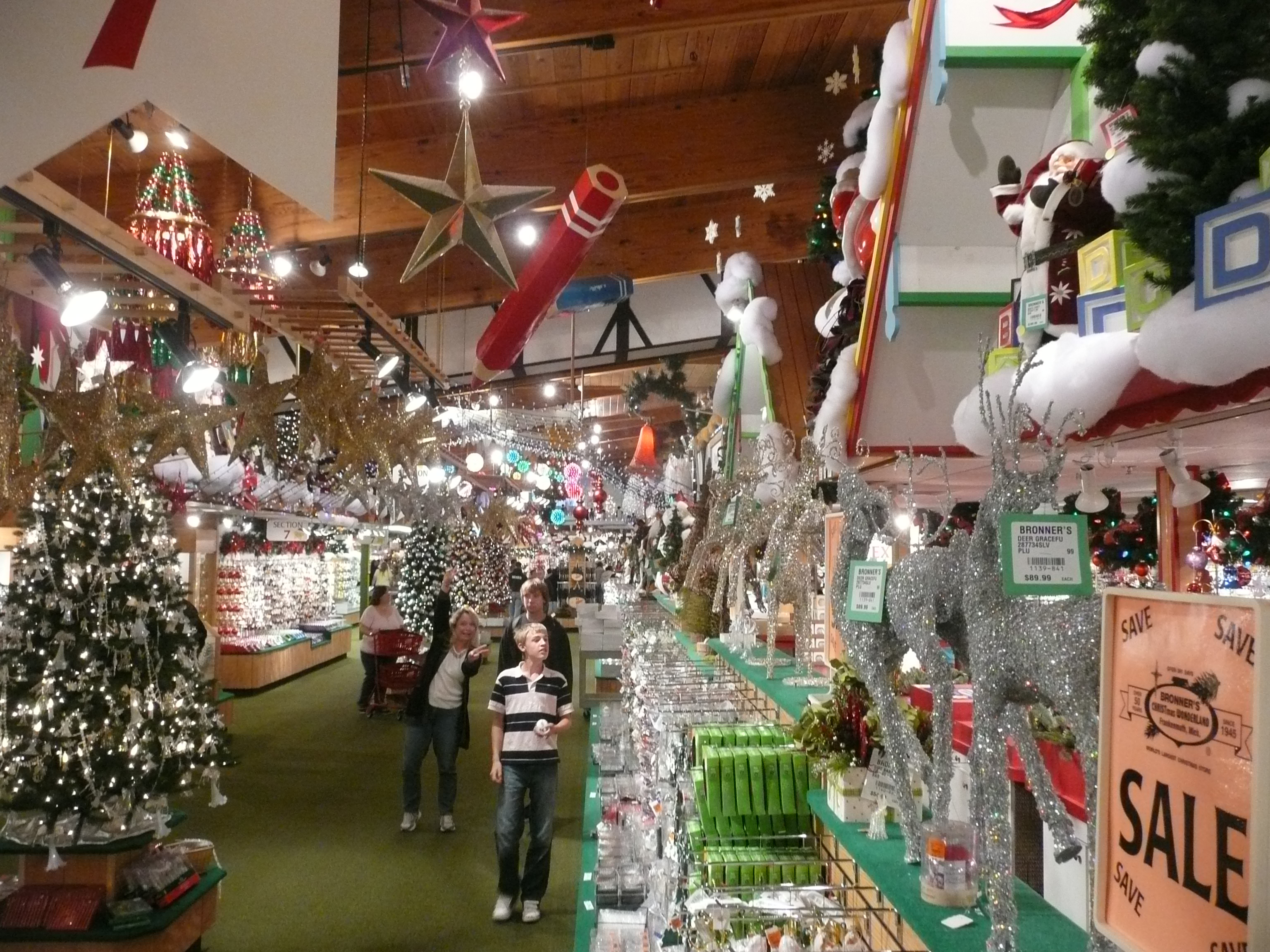 We had hoped to squeeze in a stop at South Haven on the Lake Michigan shore (we'd heard good things about the
Sunny Brook RV Resort
, the biking opportunities at
Kal-Haven State Park
and horseback-riding at
Apple Ridge Farm
) but our schedule got the better of us at this stage, necessitating that we head straight on back to Island Lake, Chicago, to return our trusty RV. An impromptu overnight stop at Michigan City, IN, was the best we could manage in the circumstances, but once again we were struck by the ordered efficiency of the
Campground
there.
Everything is just so well organised for the drive-up, plug-in attitude that you can't fail to be impressed. This was the singular most remarkable feature of the trip and one that certainly encourages us to try this again in future.
DAY NINE
And, finally, back at the Moturis depot at Island Lake in time for the 10am drop-off. With everything ship-shape and accounted for, we were able to return our Ford Winnebago (or 'Winnie' as we insisted on calling her by this stage) with the minimum of fuss. It was the end of a truly classic family adventure, one heartily enjoyed and endorsed by all concerned.
With hindsight, we tried to cram FAR too much into the 8 days available and gave ourselves MUCH too big an area to cover. If we had limited our sights just to Wisconsin or the Upper Peninsula, we would have been in much better shape to enjoy more fully the campgrounds we stayed in (and stick to our schedule!). But we know better for next time, and we are pretty sure there WILL be a next time.
And what about our friend, Winnie? Well, despite it not being the latest model and with a good few miles on the clock, she still did us proud. The overall spaciousness at night (with the slideout in position - the boys had to take it in turns to push the slideout control!), especially for the over-cab bed, which turned it into it's own little 'studio', was a huge success. And the neat compartmenting of all the storage space as well as the 'essentials' of cooker, microwave, fridge, TV and bathroom/shower was quite remarkable. We didn't want for anything, and the ease with which we connected up to the local water and electricity supplies each time was a real eye-opener.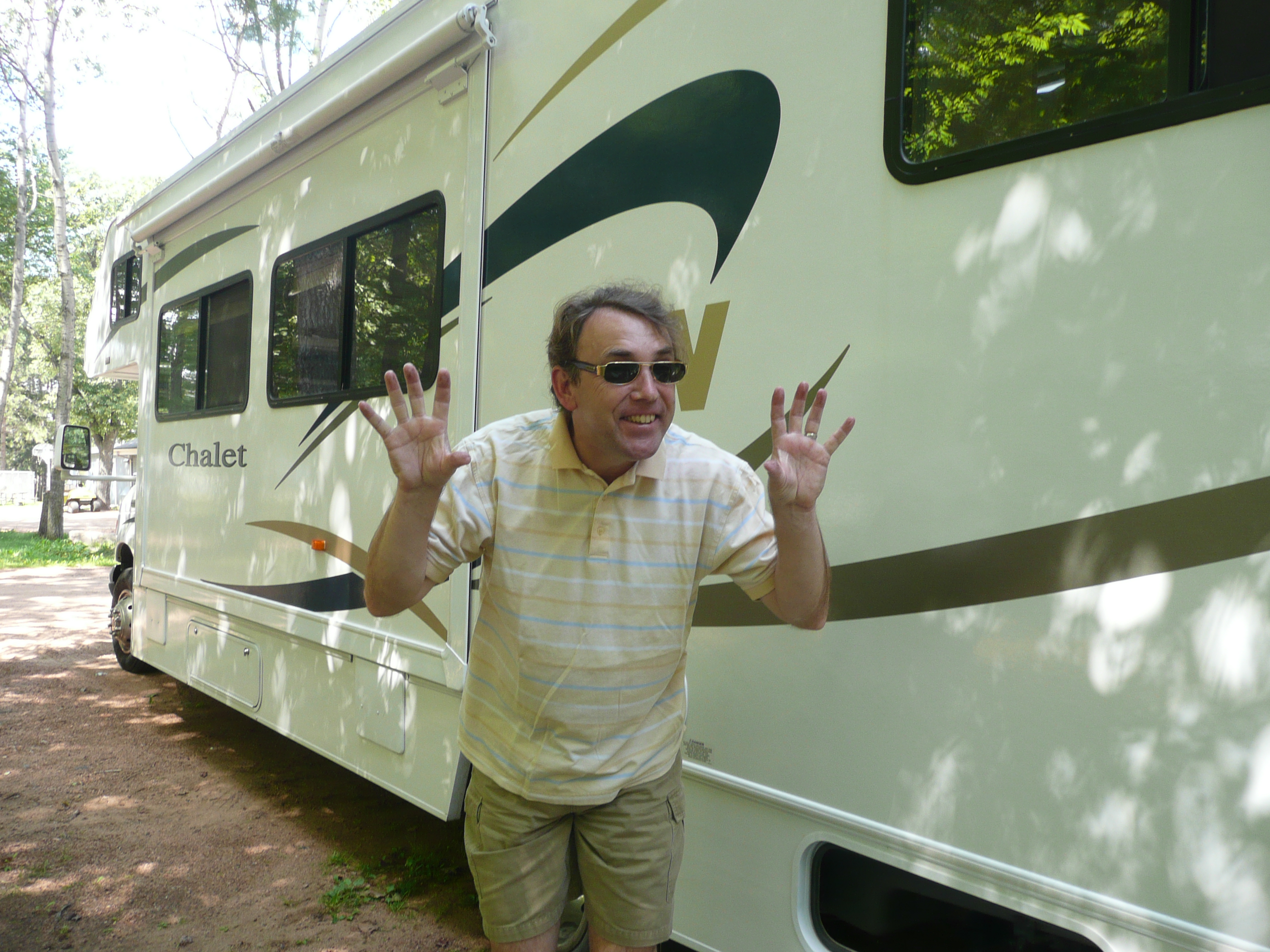 Yes, Simon DID struggle with the sewage hose system at times (not for nothing was he rechristened 'Poo Hands' several times!), but he had a VERY good understanding of the terms 'black' and 'grey' water by the time we were finished.
The ability to prepare and cook our own meals was a big plus (even if we did get the benefit of dinner out on a few occasions), and the breakfast routine would have done an army cookhouse proud for the way Susan had everyone fed and watered in quick succession.
In summary, it was the ideal summer vacation, taking us to new places and providing new experiences that went down well with all concerned. More importantly, with three boys (and two adults) in such close confines, there was certainly potential for a few sparks of aggravation and annoyance, but never once did that particular specter rear its ugly head. In fact, this was probably the most fun we have had together in a LONG time.
And we will
definitely
do it again. So, thank you Moturis, and Travel Wisconsin, Michigan et al. We had a great RV trip. We truly did.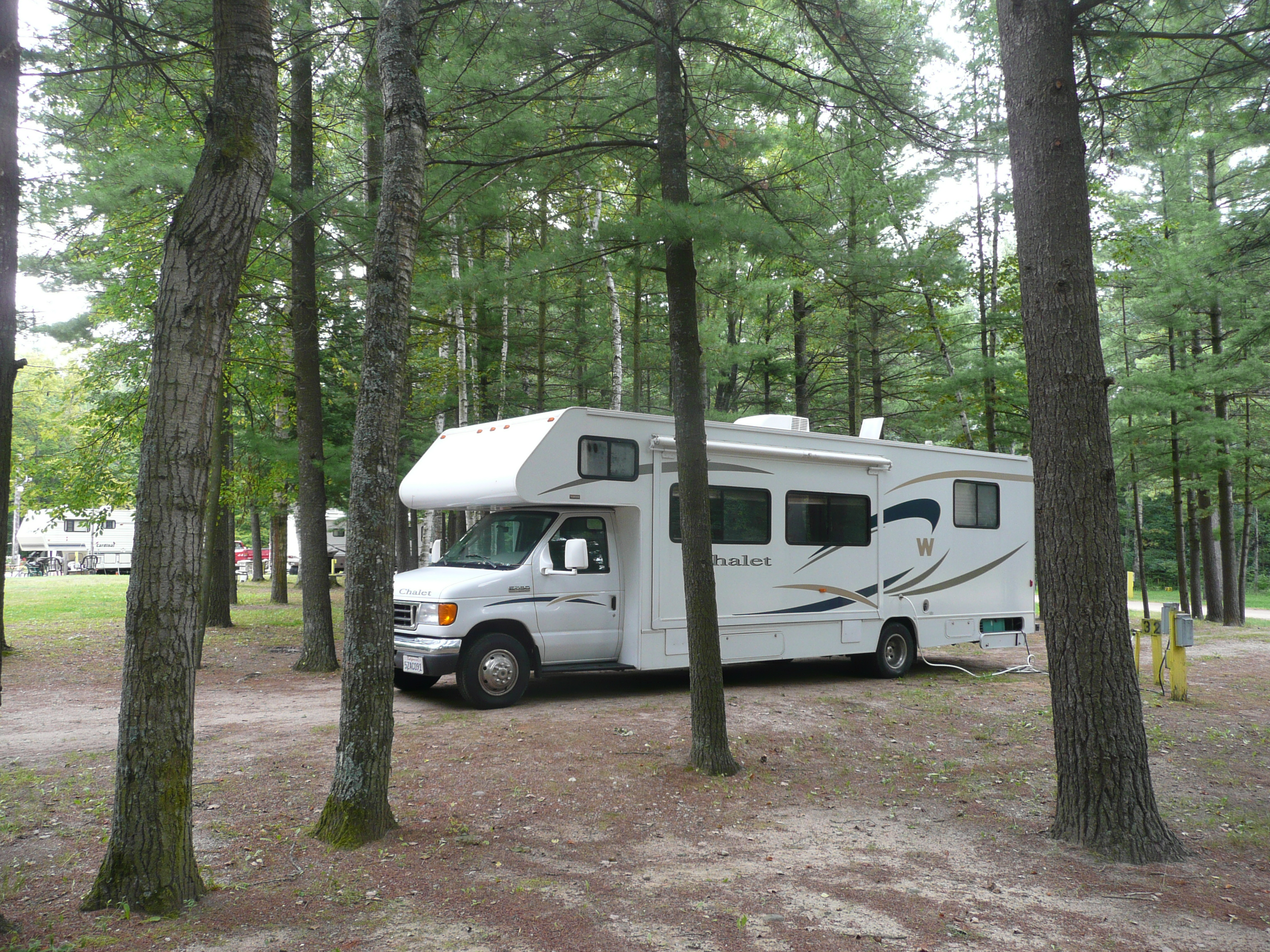 Is it April ALREADY?!

OK, it's not unusual for us to have our heads down, working away at all our various writings and travel projects, and look up to see it's half-past February, or some such.
But to look up and find we are now well into April is not only surprising, it is downright frightening with the imminent approach of various deadlines, not least for the next edition of the Brit Guide to Orlando for 2010.
So where did the first quarter of the year go? How did we get to hear? And did we manage to file our taxes on time?
Well, the answers to the first two are relatively simple to divulge (although they do require an extensive glance or two at the diary). The latter question remains shrouded in mystery and should probably remain so as a harsh dose of fiscal reality at this point in time is just too scary to contemplate.
The Year So Far
The New Year ushered in a relatively calm and peaceful "staying in one place' kind of existence, at least for the first 16 days. Then it was off down to Orlando for an all-important dose of Florida sun, plus the first steps in the annual Brit Guide update process, with visits to SeaWorld to check on the progress of the new Manta coaster and to catch up with a few friends and local business contacts.
Then it was time to head down to Tampa on the 26th to take advantage of this year's Super Bowl being virtually on our doorstep, with an easy drive each day for Simon (and two colleagues from the UK) to keep tabs on the media events and press conferences for his sports-writing duties (for the Sun and News of the World newspapers, plus SkySports.com).
With the Vince Lombardi trophy safely in Pittsburgh's grasp, we could return back to the frozen north. embarking in mid-February on another two-week spell of work on our I-75 project book, this time in the northernmost section from Sault Ste Marie to St Ignace in the Upper Peninsula of Michigan. This was truly a revelation and would provide enough material for several books, both for the people we met and the amazing stories we heard.
The weather was pretty brutal, varying from just cold to downright Arctic, but that was exactly what we hoped for and it helped to ensure the whole trip had exactly the right flavour.
By then it was almost March, and time to head back down to our southern Michigan base for another fortnight, getting our notes in order and preparing for another trip, this time to Europe.
Disneyland Paris has become a task for every other year. And 2009 is Every Other Year in that rotation, hence we needed to take our first look at Disney's great French resort with a view to the update fior 2010/11. That meant a flight back to the UK, a couple of days with family in Hove, East Sussex, then off on the Eurostar to Le Mickey Mouse for 5 days intensive park and resort updates. Thankfully, the weather was as good as it could be in mid-March and we covered almost all the ground we needed.
Then things really began to go into Fast Forward for us. No sooner had we returned from Disneyland Paris, than it was off to London for a weekend Cruise show and exhibition at the vast ExCel Centre in the old docklands area. Again, the logistics worked out well and a good two days was most definitely enjoyed by all.
That left time for a Cruise magazine meeting on the Monday, followed by two days visiting with friends in the West Country (Bristol and Gloucester). Then the flight back to Michigan. Two weeks back 'home' in the Wolverine State ensured Susan was able to catch up with the sudden and huge (and very welcome!) influx of Itinerary Planner business for the Easter holidays. From all but nothing in the first couple of months, the planner service was practically ringing off the wall in March, hence there was some intensive work necessary there.
With the Spring Break and Easter Holidays colliding, we also had some serious family time on our hands so, ever creative, we arranged an early-April week to Chicago to combine both some great time with our boys and the chance to get in some early work on the Great lakes North America magazine which we write and edit each year. Seven days of sightseeing, attractions, driving (inevitably) and a few meetings. And it only snowed on one day!
Finally, bringing things (reasonably) up to date, we are now back in Orlando once more, going through our usual round of meetings, park updates and miles and miles of touring in our Central Florida 'playground.' This involved our fifth flight of the year, our 13th hotel stay (an overnight at Detroit Airport before the flight down) and the umpteenth mile on the road.
And, somewhere in all, this we have kept our usual work going, and are already lining up more for the summer (the words 'gluttons' and 'for punishment' spring readily to mind!).
But that's what we do and it is certainly not a complaint. So, on with the work - next stop(s), the four Walt Disney World theme parks, Downtown Disney, Gatorland, Seminole County, Fantasy of Flight, Cypress Gardens, SilverSprings, Bok Tower Gardens andthe town of celebration. Oh, and a visit to the new Westin Imagine hotel!
On with the show......!