Among our most recent works are features for the Mail on Sunday and Independent newspapers in the UK, the Daily Telegraph travel section online, quarterly Orlando Attractions magazine, a sports blog or three for The Guardian's US incarnation, big features for BBC America online and a weekly News blog for Attraction Tickets Direct.
The Telegraph, June 2014, Inside Harry Potter's Diagon Alley
The Telegraph, June 2014, The world's highest roller-coaster unveiled
The Telegraph, April 2014, The Four Seasons heads to Walt Disney World
Mail on Sunday, March 2014, Splash & Dash aboard the new-look Disney Magic
The Independent, January 2014, A hundred years of the Panama Canal
BBC America, January 2014, Cruising into Gold Rush country
Mail on Sunday, January 2014, We Have Lift-Off - Florida's Space Coast
The Telegraph, January 2014, Florida Travel Guide (updated)
Mail on Sunday, Sept 2013, The new attractions of Theme Park Central
The Independent, August 2013, Rollin' down Ol' Man River
Mail on Sunday, August 2013, A taste of heavenly Hawaii
BBC America, May 2013, Other-worldly Hawaii (for less)
The Independent, November 2012, The rules of attraction (in theme parks)
Mail on Sunday, July 2012; The delights of a Danube cruise
The Independent, April 2012; Travellers Guide, Florida's Gulf Coast; and Disney Fantasy at sea
November 2012; Florida attractions guide
Orlando Attractions Magazine, January 2012; A VIP day at Disney's Golden Oak; plus quarterly features on Be Our Guest restaurant at the new Fantasylad; Raglan Road at Downtown Disney; Boma at Animal Kingdom Lodge; Tutto Italia at Epcot; and Q&A with Sonny Eclipse
World of Cruising, Winter 2012; Cover Story, Hawaii and Pride of America
The Guardian online, November 2012; Shahid Khan has London calling
And something different - the Transformed Traveler blogtalk radio show, November 2012; Talking Cruising; and we will be both be on the March 18 show talking about our Panama Canal cruise with Princess Cruises
Oh, and Simon's Sky Sports column on Indianapolis as the City of Dreams for the Super Bowl back in January generated a record amount of feedback, mostly from Indy residents!
Our other recent credits include The Mail on Sunday newspaper (More Orlando Magic, November 17, 2011; Crystal Cruises, March 27, 2011; Celebrity Cruises, July 4, 2011; Orlando Magic, November 21, 2010), The Independent newspaper (Great Lakes Guide, July 2, 2011); The Daily Telegraph newspaper (Disney Dream, April 16, 2011); Orlando Attractions Magazine the Table Service column, featuring a different Orlando restaurant each edition (winter, Boma; Fall, Hard Rock Cafe; summer, Bice); Captain's Club magazine, Alaska Dog-Sledding (Princess Cruises, Spring 2011), Attractions Magazine Spring 2011 (La Hacienda and One Ocean), Essentially America Winter 2010/11 (The Fun of Fort Worth, The Dazzle of Dallas); The Mail on Sunday newspaper (Orlando Update, November 21, 2010), Attractions Magazine Winter 2010 (Via Napoli and Fantasy of Flight); Great Lakes North America (Essentially America, Jan 2010); Journeys magazine (Princess Cruises, Winter 2009); RCI Holiday magazine (Dec 2009); Sunday Express (Mar 2009); as well as the quarterly World of Cruising magazine and Simon's weekly View From America column for SkySports.com. Susan's The Hidden Magic of Walt Disney World was also published in June 2009 and quickly found its way on to the Amazon.com best-seller list for Florida and we have high hopes for the companion volume this year (2012), The Hidden Magic of Walt Disney World Planner.
Here are a few more excerpts:
World of Cruising - The Mississippi Returns; Fall issue 2011

Editor Simon Veness reports on two major new initiatives that will bring America's major river back to cruise life…

When the 111-year-old Delta Queen Steamboat Company went into liquidation in 2001, it threatened to spell the end for one of the world's most classic – and long-running – cruise styles. For several additional years under differing owners, the three traditional river steamboats struggled along without getting the much-needed TLC they needed, and their audience seemingly died out with them. Mark Twain's much-loved waterway was in danger of becoming a riverboat-less world, no longer able to supply the timeless charm of slow journeys through the heart of America. But, not only is there news of a revival for one of the Delta Queen boats, there are now TWO companies setting out to address the issue in 2012.

First, American Cruise Lines announced they are building the Mississippi's first all-new riverboat in more than 16 years, with the construction of the 150-passenger Queen of the Mississippi, which will be ready for its debut in August. And then the new Great American Steamboat Co rolls on to the scene with the acquisition of the American Queen, one of the classic ex-Delta Queen vessels, and the largest steamboat ever built (in 1994).

See more online here: http://www.worldofcruising.co.uk/destination-features/the-mississippi-returns-1248.html

Orlando Attractions Magazine, Winter 2011 - Boma, Flavors of Africa

Susan & Simon Veness

The idea of "theme" is so fundamental to Walt Disney World it's lmost impossible to think of any Disney experience without considering what it's based on. But there is one place where a manufactured theme takes second place to an even better reality: Disney's Animal Kingdom Lodge and its buffet restaurant, Boma - Flavors of Africa.

Boma highlights the importance of culture as much as cuisine, and Chefs John Clark, chef de cuisine at Animal Kingdom Lodge, and Amber Kent, sous chef at Boma, brought that distinction into sharp focus. Chef Clark told us, "The dining room cast members in blue and white and the kitchen cast members in black are all from Africa. We have eight cultural representatives from Africa in the kitchens for Boma, Jiko and Sanaa. We'll say to them, 'We're thinking of creating this dish,' and they help us make it authentic."

Journeys magazine Winter 2009

It may be best known for its wild weather and wildlife but Alaska has a history that is equally wild, says Simon Veness

Skagway is one of the smallest towns you are likely to visit on a cruise. With a population of just 862, it is barely a blip on the radar of sea-going destinations. At first glance, it is also a hodge-podge of 20th century curiosities - a modern cruise terminal that adjoins a rather ramshackle railway system that leads on to a town that clearly had its heyday before 'tourism' ever got going. But scratch the surface and you discover a compelling history that is startling in its detail and fascinating in its scope. Forget Tombstone, Dodge City and Santa Fe, this is the real Wild West - the Wild North-West.
"Wow…talk about a 'dynamic duo'…Simon and Susan are the Woodward and Bernstein of the travel world! This duo understands the industry and how best to appeal to travel consumers. And because of this, they have written some of our very best travel guide copy."
L. Anthony "Toby" McCarrick
Executive Director
Great Lakes of North America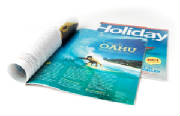 RCI Holiday magazine, Dec 2009
US travel experts Simon and Susan Veness highlight a Great Eight US cities for 2010
America has just about everything you could want from a holiday - and then more besides. You only have to look at the cities and see the vast range of variety, excitement and sheer fun on offer. Take our Great Eight for example:
Glamour 'n Glitz: New York, Las Vegas, Branson
These three all have that 'Wow' factor, a mix of fascination and allure that provides razzle-dazzle entertainment in high style.
New York: Nowhere does glamour better than the Big Apple and nowhere has more of it! From Broadway to the Empire State and Macy's to Bloomingdale's, this is a non-stop, all-action tourist-fest. Arguably the world's most cosmopolitan city, New York offers something for everyone on a scale that is hard to grasp at first. The Must-Do's include the essential theatre district of Broadway - the current smash hit is a revival of the 1960s comedy Boeing-Boeing - and a sampling of the vibrant cocktail culture, where the mixing of drinks has become an art (try new hot-spot the Clover Club in Brooklyn for some of the best).
Orlando Attractions magazine, Fall 2009

Dive In To The Drive-In!

Written by SIMON and SUSAN VENESS

"Hello," said our waitress, Joyce. "I'm going to be your Car Hop today!" And with that greeting, we were conducted inside the Sci-Fi Dine-In Theater at Disney's Hollywood Studios, arguably the park's most iconic restaurant. Some people come to the Studios for the adrenaline rush of Rock 'n RollerCoaster and Tower of Terror; others for the movie-style thrills of Star Tours and the Indiana Jones Epic Stunt Spectacular; some prefer the frantic fun of Toy Story Midway Mania and Muppet*Vision 3-D; and younger visitors gravitate towards The Little Mermaid and Playhouse Disney. But, for a handful of dyed-in-the-wool Disney fans, no visit here is complete without setting foot in the Sci-Fi Dine-In, a true original in the great pantheon of theme park entertainment.

Now check out more of our writing - what we call our 'Freestyle' work - on our various Blog pages, dating back to 2006:
2008 - Including Alaska and Michigan Ski Country
2007 - Including Boyne Country and a Caribbean Cruise