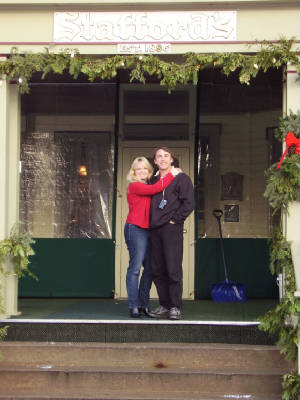 December 2007.

We have discovered our new favourite place to visit - and it is right here on our (Michigan) doorstep.

It will probably come as no surprise to any residents of the north-west corner of the state, but Boyne Country is a major discovery. No, not major; huge, enormous. Of absolutely immense touristic value (to which, all the locals will be going 'Doh! Do these people know nothing?').

And we need to tell the world all about it. We are on a mission - a crusade, no less - to let everyone know what an amazing, inspiring, surprising and downright satisfying place this is to visit in the north-west quadrant of the state

Because, while the locals will all regard it as blindingly obvious, a trip to Boyne Country - and its attendant cities of Petoskey, Harbor Springs, Bay Harbor and Charlevoix - is an adventure into a region of breathtaking allure and character.

Imagine a Victorian world full of the essential values of the time but with all mod cons; a realm of genteel charm and old-fashioned fascination that still has enough high-quality sophistication to make 21st-century visitors feel properly comfortable.

Add in superb shopping and dining, a wide range of accommodations, stunning scenery and attractions as diverse as award-winning ski resorts, extensive marinas, quaint museums, pleasant walks, golf courses, a splendid indoor water park and some genuinely stunning scenery, and that is Boyne Country, a territory that absolutely demands your attention.

And the best thing about it is – there are two completely different versions of the same place.

The summer is a time of non-stop outdoor activities; boating, fishing, golf, hiking, bird-watching, cycling, swimming and lounging on the wide beaches beside the brilliantly blue waters of Lake Michigan. Back in 1873, it earned the soubriquet 'The land of the million dollar sunsets,' and it is every bit as good as the 24-carat label suggests.

But visit in December, as we did, and you discover a genuine winter wonderland of unexpected possibilities and surprising delights.

To be fair, we expected the relaxing olde worlde style at the Bay View Inn, where we walked in to their warming fireplace lobby and gracious ambience. After all, it was Christmas Day and we had carefully researched a venue where we could kick back and relax for a couple of days.

The truly unique appeal of this 19th century hideaway was immediately evident in its range of individually-styled rooms, the airy Sunroom and the wide dining room with its picture windows affording panoramic views of the lake.

But what came as a pleasant surprise was the liberal use of antique furniture throughout the Inn, the beautiful soft furnishings of the rooms (in best Laura Ashley fashion, before the term became a cliché) and extra features like fireplaces and Jacuzzi baths, and the utter warmth of the place, be it in the furnishings or the attitude of all the staff.

(It soon became clear, on talking to owner Stafford Smith, the staff's deportment stems from the charismatic owner, who eschews modern management pretenses for the true, customer-first ethos of a gentler, bygone age)

However, the Bay View Inn was just the first in a series of welcome revelations over the next few days, with a 2-night stay quickly doubling in length as we discovered more and more to enjoy – the idea of sitting by the fire with a good book immediately being forsaken for the chance to explore this jewel of a location.

Petoskey, with its expansive shopping district offering goods you would normally expect to find only in the likes of Harrods, required a full day to investigate fully; Harbor Springs, boasting more one-off stores and fascinating browsing, was another half-day of unforeseen exploration; and Charlevoix, with its sprinkling of curious 'organic' architecture, was another sudden discovery that afforded several hours of delightful encounters.

In between, the totally modern 'village' of Bay Harbor was another curiosity – a millionaire's row of vacation homes and exclusive shops, epicurean delights and the stunning Inn at Bay Harbor, voted one of the world's Top 500 hotels, complete with luxury spa.

Everywhere also boasted a splendid range of dining options, from the five-star Pier Restaurant in Harbor Springs and Chandler's in Petoskey to the more down-home style of Whitney's Oyster Bar in Charlevoix, complete with a startling choice of real ales.

And then we discovered Nub's Nob Ski Resort (in a near-blizzard!), Boyne Mountain, complete with its 'Alpine' resort and state-of-the-art indoor water park, and the chance to go ski-ing (both downhill and cross-country), snow-shoeing, snow-mobiling, snow-tubing and lots of other things that began with snow and ended in great fun.

With everything within a 10-15-minute drive of Petoskey, it all made for an astonishingly compact and eventful few days, way beyond our expectations, but surprising even more in its lack of renown outside the confines of Michigan.

For here, indeed, is the kind of vacation playground which has just about something for everyone, if only they are prepared to take a chance on somewhere not on the usual tourist maps. It offers experiences that are increasingly hard to find in a modern age of hustle-bustle, 24/7 and Starbucks.

But, more than anything, Boyne Country offers the chance to enjoy a Victorian heritage that is alive and well in living, breathing, three-dimensional colour; a bygone age that still panders to the restless spirit of today; and a relaxing, welcoming aura that soothes the soul and revives the mind.

We fully intend to be back to explore more about this remarkable corner of the world – and provide plenty more reasons for others to visit in future. Stay tuned……..!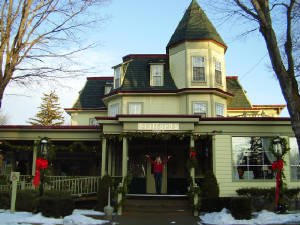 The beautiful Bay View Inn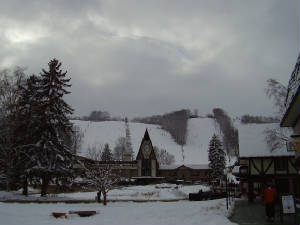 Breathtaking - Boyne Mountain Resort
Europe, July 2007

For once, we were just tourists. There were no media groups to be part of, press events to attend or schedules to keep to. It was just the three of us and three of Europe's biggest cities in the space of 10 days or so (OK, we also had to do some work at Disneyland Paris and meet with a couple of people, but you get the general idea!).

And, just being able to get out and about, walk the streets, take the bus tours, ride the trains and see the sights was a wonderfully exhilarating experience. Dublin was a surprise in many ways - some great sights, but some distinctly unfriendly people in several instances, poor service at our hotel and much of the atmospheric Temple Bar district 'off limits' because so many pubs and bars are "21 and over ONLY". Hmmm, not terribly family friendly, but we loved the bus tours, the parks and squares, Dublin castle, Kilmainham Gaol - and the Guinness Storehouse. The best pint in the world - without a doubt!

Paris was a huge hit with all concerned, but especially with young Ben, who I don't think could believe there was THIS much historic 'stuff' packed in to one city! The open-top bus tour served to highlight how magnificently Paris was designed (and re-designed); there truly is so much here you can only ever scratch the surface in a day or two (but what a scratch it is!). The Eiffel Tower remains one of the great tourist experiences anywhere in the world and getting around the city is just so easy (albeit occasionally uncomfortably crowded on the Metro and RER systems).

After two successive major countries, we got as far as Ashford on the Eurostar from Paris before the UK's transport system let us down. Talk about 'welcome back!' The train broke down and, rather than wait two hours for a replacement service, we hopped on a (slow) train for Brighton and eventually arrived around 11.30pm. Staying in Hove for 6 nights gave us chance to explore something of the south coast, with side-trips to Hever Castle in Kent and Arundel in Sussex. Just wonderful.

Taking 3 days to explore London was enough - the open-top bus tour was, by now, de rigeuer and we rode pretty much all day. Just ideal. Stops for the London Eye and Buckingham Palace; a walk through St James' Park; a trip to the London Dungeons; a drive around the West End at night; and dinner in Covent Garden one night and St Katharine's Dock another were the highlights. But just taking the city at tourist pace and wandering where the mood took us was a truly novel experience.

All in all, it was a valuable and insightful way to revisit old haunts and view things in a whole new light. It just goes to show, you can live somewhere for years, and still not 'see' it.
At Sea, The Caribbean, June 24-July 1!

It has been a while since we were able to sample a full, regular cruise experience, and our one-week sojourn on the Caribbean Princess of Princess Cruises went a long way to restoring our faith in this style of vacation after something of a barrage of negative publicity.

If you were to believe much of the recent news media, you would probably think that a cruise is the recipe for 1) Chronic illness; 2) Omnipresent danger, with people falling over the sides left, right and centre; and/or 3) Being at the source of ocean-wide pollution. Happily, nothing could be further from the truth (as always!).

After seven days cruising the incredibly calm waters from Fort Lauderdale to Cozumel and back (circling Cuba on the way), we can report that the cruise business is still thriving and still making thousands of converts on a weekly basis.

Princess are one of the handful of true mega-ship operators (along with Carnival, Cunard, Royal Caribbean and Costa, all with ships of 100,000-tons plus), and it is perfectly possible they offer the smoothest and most enjoyable experience of them all.

The Caribbean Princess is also among only a relatively few offering year-round, one-week voyages around the Caribbean, so she is already in fairly rarefied territory. But what enjoyable territory it turned out to be.

The food and entertainment lived up to our expectations, with occasional genuine highlights like the speciality Sabatini's restaurant, where the 17-course set meal was truly a feast fit for royalty. But in terms of the service and amenities, Princess really hit the top notes.

Everywhere we went on a ship with some 3,000 fellow passengers, the service was both refined and friendly; efficient and graceful. There was hardly ever a wait for anything, while aspects like our cabin steward, waiter service and out-of-the-way helpfulness (including an incredibly helpful native Jamaican in the beauty salon who was able to mark our card for an excellent visit ashore at Ocho Rios) were as good as we have enjoyed anywhere at sea.

The itinerary was a pleasant surprise, too. While it is the Caribbean, it is also the more mundane part of the region; none of the ports are anything other than mass-market destinations these days, yet all still offered something fresh and inviting.

At the cruise line's private island of Princess Cays, we were able to go for a blissful (if rather hot!) stroll along the wide expanse of beaches; at Ocho Rios we took our beauty girl's advice and toured with a local taxi driver - great fun (especially the stop at the Jerk Center for the traditional chicken-and-rice lunch!); in Grand Cayman, we discovered veritable miles of under-used beaches for another long stroll; and, at Cozumel, we signed up for the mainland tour to the Mayan ruins of Coba, which proved to be an excellent day out.

With two full days at sea at either end of the cruise, it made for an ideal blend of busy shore days and lazy time contemplating the flattest of oceans (truly, the final day was marked by seas that resembled polished glass with barely a ripple to be seen anywhere, except those caused by the occasional flying fish startled by our serene progress!).

On board, we discovered the delights of Movies Under The Stars, Princess's novel LCD screen over the main pool which shows an array of films throughout the day, and which really comes into its own as an entertainment venue at night, complete with blanket-festooned sun-loungers and popcorn!

The other entertainment highlight was the Survival gameshow-type contest on both sea days, which took place at the main pool and was immensely watchable; a real triumph of creative entertainment planning.

But, above all, we enjoyed just watching the sea go by from our pleasant cabin balcony; a pseudo-secluded eyrie (along with hundreds of others!) which allowed us the perfect platform for a leisurely breakfast, evening beverage or late-night contemplation of the swirling universe above our heads.

For, what is a proper vacation without the time to contemplate life's big mysteries; like, is there life on other planets; will we ever get world peace; and, what time is the next meal.........?!


APRIL 2007; Anaheim, California

We're off to the original House of Mouse for Pow-Wow 2007, a wonderful opportunity to catch up with the whole of the American travel scene, AND do some of the groundwork for our next big Brit's Guide project, to Disneyland & Southern California.

It's an exciting, yet nervous, time for both of us as we have a LOT to do in the next month or so just ensuring we stay on top of our regular work, but the lure of Anaheim and the Golden State is too strong to ignore. We've been saying for a couple of years we need to add Southern Cal to our Brit's Guide portfolio, so, rather than put it off any longer, we have decided to add to our workload and see just HOW busy we can be!

It is also a challenge because it takes us away from our regular 'comfort zone' of Orlando and Central Florida and gives us some new areas to get our teeth into. We have both visited Walt's original theme park in the past but this is a whole new way of looking at it, from the ground up; what makes it tick, what are the best ways to tackle it, and how can people get the most out of it.

And, unlike Orlando, where everything is fairly closely grouped around Disney, Universal and Co, this is a HUGE area to cover. So, we need to know where people go, what they enjoy and (more importantly), how to get there!

This will only be our initial reconnoiter; a basic fact-finding mission to make the right contacts, see the lie of the (Disney)land, and work out just how big a task we've set ourselves in the next year.

But there is a lot to look forward to - and, if there's one thing we relish (apart from lots of theme park rides!), it is a bit of hard work. Now, back to the parks..............!